Young Riders are already organizing collective training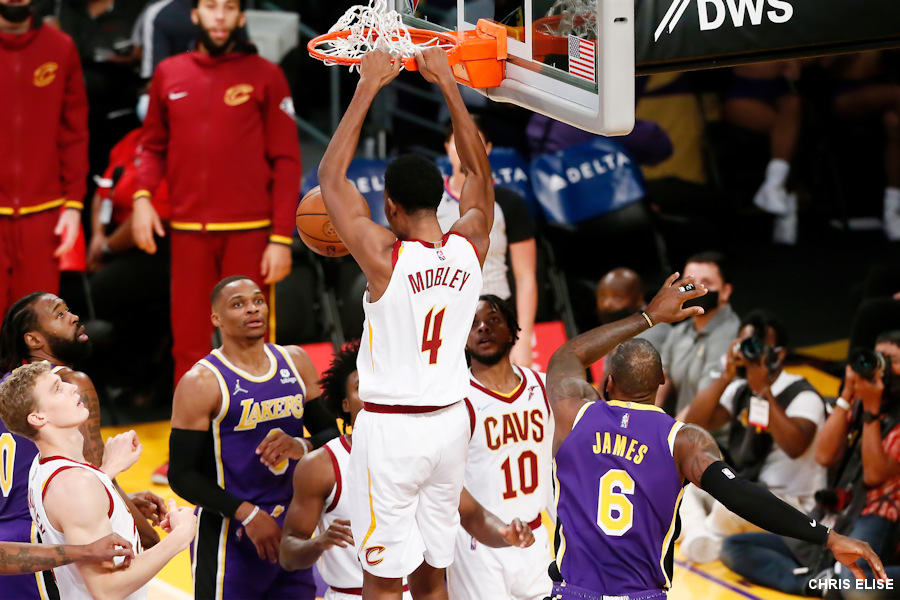 It's holiday homework time for NBA players. And for Cleveland, it's already almost time to return to the gym for collective sessions. Under the leadership of Darius Garland and Evan Mobley, part of JB Bickerstaff's group has planned to meet from next week for training sessions.
These will take place in Los Angeles, in part because the floor of the Cleveland training center is under construction and will not be operational until September.
It is also to continue a tradition established during the LeBron James years, when the group met somewhere to strengthen the cohesion between all the players before the start of the training camp.
« In the past we've been to Miami, New York or Santa Barbara, but thought it would be nice to do something different »said veteran Kevin Love at the end of the season. "I think everyone is pretty excited. I think bringing everyone together would give everyone a bit of life for the new season."
We already know that Cedi Osman (Turkey), Lauri Markkanen (Finland) and Raul Neto (Brazil) will not be there because taken with their respective selections. Jarrett Allen, currently in Australia for the Basketball With Boarders camp, and Collin Sexton will also be absent.
Another rally of the same kind would be planned in the coming weeks, on the side of Nashville this time.
This initiative demonstrates in any case the desire of the players to resume the season on the floor after a particularly frustrating end to the 2021/22 financial year.
Shots
Bounces
Players
GM
Min
Shots
3 points
LF
Off
Def
Early
pd
bp
Int
CT
party
Points
Darius Garland
68
35.7
46.2
38.3
89.2
0.6
2.7
3.3
8.6
3.6
1.3
0.1
1.7
21.7
Jarrett Allen
56
32.3
67.7
10.0
70.8
3.4
7.3
10.8
1.6
1.7
0.8
1.3
1.7
16.1
Collin Sexton
11
28.8
45.0
24.4
74.4
1.2
2.1
3.3
2.1
2.8
0.9
0.0
2.3
16.0
Evan Mobley
69
33.8
50.8
25.0
66.3
2.1
6.2
8.3
2.5
1.9
0.8
1.7
2.1
15.0
Lauri Markkanen
61
30.8
44.5
35.8
86.8
1.0
4.7
5.7
1.3
0.9
0.7
0.5
2.1
14.8
Kevin Love
74
22.5
43.0
39.2
83.8
1.2
6.1
7.2
2.2
1.3
0.4
0.2
1.4
13.6
Caris Levert
19
29.8
43.5
31.3
74.5
0.7
2.7
3.4
3.9
1.7
0.8
0.3
2.1
13.6
Ricky Rubio
34
28.5
36.3
33.9
85.4
0.4
3.7
4.1
6.6
2.6
1.4
0.2
2.2
13.1
Cedi Osman
66
22.1
43.2
35.7
66.4
0.4
1.8
2.2
2.0
1.0
0.8
0.2
1.9
10.7
isaac okoro
67
29.6
48.0
35.0
76.8
1.1
1.9
3.0
1.8
0.9
0.8
0.3
2.4
8.8
Malik Newman
1
7.7
60.0
0.0
100.0
0.0
1.0
1.0
1.0
1.0
0.0
0.0
0.0
8.0
Moses Brown
14
12.5
63.8
0.0
55.2
1.6
3.6
5.3
0.0
0.4
0.3
0.5
1.8
6.4
Rajon Rondo
21
19.5
42.9
39.7
75.0
0.2
2.6
2.8
4.9
1.6
0.9
0.0
1.5
6.2
lamar stevens
63
16.1
48.9
27.7
70.7
0.7
1.9
2.6
0.7
0.7
0.5
0.3
1.7
6.1
Dean Wade
51
19.2
45.6
35.9
66.7
0.6
2.3
2.9
1.0
0.3
0.6
0.1
1.7
5.3
Brandon Goodwin
36
13.9
41.6
34.5
63.2
0.4
1.5
1.9
2.5
1.0
0.7
0.0
1.1
4.8
justin anderson
3
15.5
50.0
33.3
75.0
0.0
2.0
2.0
2.0
0.7
0.3
0.0
1.3
4.3
Tre Scott
2
5.7
50.0
0.0
0.0
0.5
0.5
1.0
0.0
0.0
0.5
0.5
1.0
3.0
Denzel Valentine
22
9.3
37.1
40.9
0.0
0.4
1.3
1.7
0.5
0.5
0.3
0.0
0.8
2.9
Dylan Windler
50
9.2
37.8
30.0
83.3
0.4
1.4
1.8
0.7
0.3
0.3
0.1
0.9
2.2
Luke Kornet
2
7.4
20.0
0.0
66.7
1.0
0.5
1.5
0.5
0.0
0.0
0.5
0.5
2.0
Kevin Pangos
24
6.9
32.6
23.1
75.0
0.1
0.4
0.5
1.3
0.3
0.1
0.0
0.5
1.6
Tacko Fall
11
5.3
41.7
0.0
28.6
0.6
1.5
2.1
0.2
0.3
0.0
0.5
0.3
1.1
Rj Nembhard
14
4.5
33.3
0.0
75.0
0.2
0.3
0.5
0.9
0.2
0.1
0.0
0.1
1.1
Tim Frazier
2
4.0
50.0
0.0
0.0
0.0
0.0
0.0
0.5
1.0
0.0
0.0
1.5
1.0
Ed Davis
31
6.5
68.8
0.0
42.9
0.5
1.6
2.1
0.2
0.2
0.1
0.3
1.1
0.9