Without mercy, Shaquille O'Neal savagely rams Ben Simmons!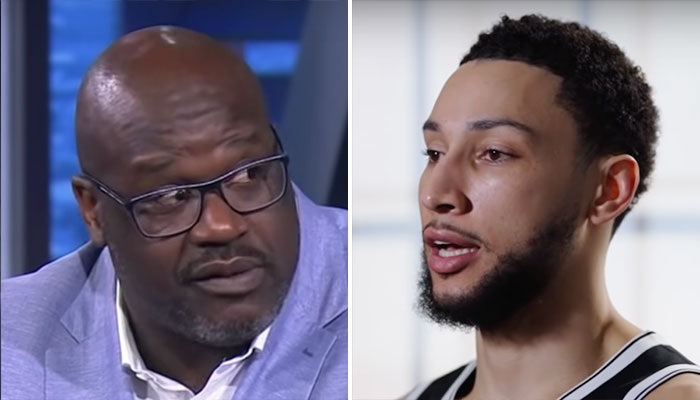 TNT (DR) / Brooklyn Nets (DR)
Regular detractor of Ben Simmons in the past, Shaquille O'Neal logically did not intend to spare him following his perilous debut with the Nets. He was therefore happy to smash the Australian leader in the last episode of his podcast!
Demanding towards the stars of the league who perform, he is not used to being more conciliatory with those who struggle. Shaquille O'Neal therefore only applies this logic to the case Ben Simmons. Author of a white season last year, the star leader of the Nets saw the first complicated steps with his new franchise, and paid the price within the NBA sphere.
Target of many attacks, including the last few hoursBen 10 was not spared by the Shaq, who launched hostilities from the first seconds of the last episode of his Big Podcast :
I want to apologize to you guys for being late. I was at the hospital. I was sick from watching Ben Simmons play! (Laughs) I'm going to be on his side all season.
Shaq goes after Ben Simmons again violently
In big trouble in recent days, Simmons seems to be sorely lacking in confidence. Podcast host Nischelle Turner made that excuse in his defense. However, Shaq did not want to hear it:
Don't do this, Nischelle. I'll tell you something: I love this sport, and I didn't have to get the money I did. If I had only been paid $1,000, I would have remained confident.
This guy makes 30 million a year, so I don't want to hear that excuse. I do not want. I know people who work very hard and don't touch what they touch. Their confidence is at its highest. So why couldn't his be? Stop it.
Certainly, after receiving such a bonanza from the 76ers in 2019, Big Ben should logically not suffer from impostor syndrome. And yet, his psychological concerns remain still and always relevant.
« Devil's Advocate » on this one, Turner therefore wanted to remind Diesel that these problems could be the reason for the Australian's poor performance. It is moreover the story that emerges mainly within the league. But what does it matter for O'Neal, who does not intend to let go of his prey so easily:
I'm not going to discuss PTT, « Psychological Disorder Theory », because I'm not an expert in that. On the other hand, I know how to recognize a person who knows how to play basketball, and a person who does not know how to play. That, I know how to do. (…) I think he cares too much about what is said about him. In this sport, you are always going to be singled out or criticized sooner or later. You just have to know how to accept it.
And unfortunately for Brooklyn, Simmons still apparently won't accept it.
Shaquille O'Neal rarely releases his grip on these favorite targets, and was not likely to do so with Ben Simmons in clear delicacy at the Nets. The Big Cactus announces it: it won't give him a break as long as his level remains as it is!