Why didn't the Bucks keep PJ Tucker? | NBA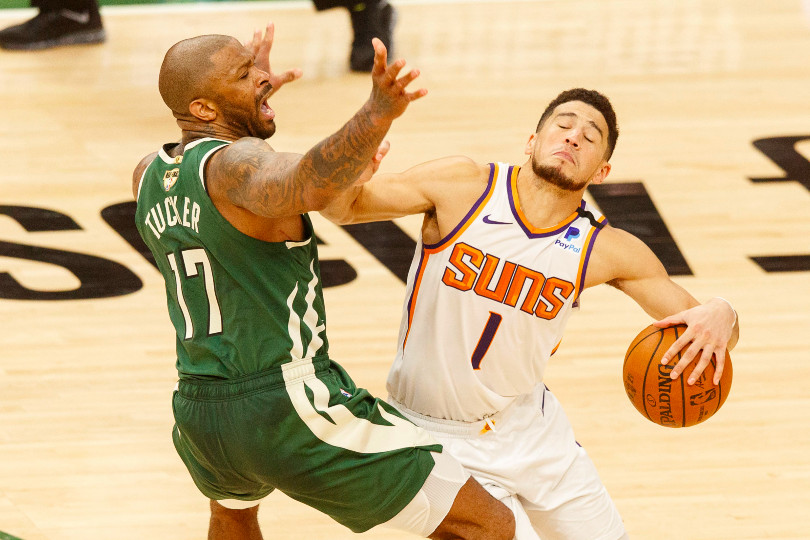 A few days ago, around the Draft, Jon Horst, the GM of the Bucks, was delighted to have the famous « Bird rights » (which allow a franchise to exceed the « salary cap » when it extends the one of his players) with a view to keeping PJ Tucker.
One could then imagine that the 2021 champions would put the necessary dollars on the table to keep the interior so valuable in defense. But finally, Monday for the opening of the « free agency », the former Houston signed in Miami for $ 15 million over two years, including the second optional season.
Milwaukee, however, had the financial means to offer more to PJ Tucker. More money like more seasons. So why did the rulers let him go?
The Athletic tells us that the franchise has simply refused to splurge financially. We know that she will pay the « luxury tax » in the future, in particular because of the bonus offered to Jrue Holiday (one million dollars) after the title won against the Suns, and she did not want to add more, especially after extending Bobby Portis for a very reasonable price.
It's a choice that may come as a surprise, but the Bucks had already sacrificed an important player in 2019, Malcolm Brogdon, to avoid being in the financial red. The full-back had been sent to Indiana as he was coming off the best season of his career and could represent part of the franchise's future.
There, PJ Tucker is already 36 years old and the Bucks can still afford to sign two free agents with more than a minimum wage to replace him. Which would not be too much, because for the moment, the arrival of Semi Ojeleye seems a little short to fill the gap left by the 2021 champion watchdog.
PJ Tucker
Percentage
Rebounds
Season
Team
MJ
Min
Shots
3pts
LF
Off
Def
Early
Pd
Fte
Int
Bp
Ct
Pts
2006-07
TOR
17
5
50.0
0.0
57.1
0.7
0.7
1.4
0.2
0.7
0.1
0.4
0.0
1.8
2012-13
PHX
79
24
47.3
31.4
74.4
1.7
2.8
4.4
1.4
1.8
0.8
0.9
0.2
6.4
2013-14
PHX
81
31
43.1
38.7
77.6
2.0
4.5
6.5
1.7
2.5
1.4
1.3
0.3
9.4
2014-15
PHX
78
31
43.8
34.5
72.7
1.5
5.0
6.4
1.6
2.3
1.4
1.2
0.3
9.1
2015-16
PHX
82
31
41.1
33.0
74.6
2.0
4.2
6.2
2.2
2.5
1.3
1.4
0.2
8.0
2016-17 *
All Teams
81
28
41.3
35.7
77.4
1.4
4.4
5.8
1.2
2.4
1.4
0.8
0.2
6.7
2016-17 *
PHX
57
29
41.5
33.8
79.2
1.7
4.4
6.0
1.3
2.5
1.5
0.9
0.3
7.0
2016-17 *
TOR
24
25
40.6
40.0
68.8
1.0
4.4
5.4
1.1
2.2
1.3
0.6
0.2
5.8
2017-18
HOU
82
28
39.0
37.1
71.7
1.1
4.4
5.6
0.9
2.5
1.0
0.9
0.3
6.1
2018-19
HOU
82
34
39.6
37.7
69.5
1.5
4.4
5.8
1.2
3.1
1.6
0.8
0.5
7.3
2019-20
HOU
72
34
41.5
35.8
81.2
1.6
5.1
6.6
1.6
3.2
1.1
1.0
0.5
6.9
2020-21 *
All Teams
52
26
37.3
33.6
75.0
1.0
2.9
3.9
1.2
2.4
0.8
0.8
0.4
3.7
2020-21 *
HOU
32
30
36.6
31.4
78.3
1.0
3.6
4.6
1.4
2.8
0.9
1.0
0.6
4.4
2020-21 *
MIL
20
20
39.1
39.4
60.0
0.9
1.9
2.8
0.8
1.7
0.5
0.4
0.1
2.6
Total
706
29
41.9
35.9
74.8
1.5
4.1
5.7
1.4
2.5
1.2
1.0
0.3
7.1