why china and india are missing subscribers
Nathalie Belhoste has a doctorate in political science (IEP Paris). At Grenoble Ecole de Management (GEM), she teaches and develops her research on the links between geopolitics and international management, with a particular interest in emerging countries. Here she explains why the two major Asian powers are underrepresented in the World Cup. In partnership with The Conversation.
The two major demographic powers – 40% of the world's population – are the main absentees from this World Cup. Wouldn't there be a culture and a love of football in these countries? As the World Cup draws to a close in Russia, it's interesting to understand why they aren't better represented – at least, for now – at one of the world's biggest sporting events.
Beyond the cultural aspects, there are many structural questions that must be taken into account to understand this situation. In the short term, however, these would be very likely to change to make these two giants the new essential nations of football.
In India, a media sport but a poor federation
When you think of India in terms of sport, the first instinct is to think of cricket, a legacy of British colonization and which breaks records for audiences and income. For example, in 2015 broadcasting rights were granted to $2.5 billion and the National Cricket League reportedly contributed $182 million to India's GDP.
However, football is a popular sport in the media since it is the third most watched sport in the country (after cricket and kabaddi – contact sport practiced in the sub-continent). 216 million people would have watched the matches of the national leagues in 2016.
India has a national football league, the I-League, which has been in existence since 2007 with 10 participating clubs. Co-exists a professional championship, the Indian Super League which brings together 10 teams. Both are managed by the All-India Football Federation (AIFF), created after independence in 1948.
However, compared to other national federations, the AIFF is relatively poor. There are only three professional clubs (Cochin, Mumbai and Pune). In addition, funding for these teams is often precarious and constrained. It is therefore currently very difficult to generate income for Indian football.
Trezeguet, Anelka and Pires
First of all, few clubs have income from merchandising, ticket sales or television rights (which go directly to AIFF and not to the clubs) and are therefore often satisfied with a single private sponsor. Moreover, the team winning the I-League receives only 5 million rupees (about 62,000 euros). Very little compared to the sums granted by the other national leagues (in France, the winner of Ligue 1 receives 17 million euros). Each season is therefore a struggle for funding and does not allow the implementation of real development strategies.
In addition, the regulation of these leagues is relatively strict compared to other championships since each team cannot spend more than 175 million rupees (about 2.1 million euros) for the salaries of its players.
In addition, the composition of the teams must include a limited number of foreign players and a single star player (« marquee player »). The Indian Super League has nevertheless been able to recruit some internationally known players who are more at the end of their career, such as, for our French stars, David Trezeguet at FC Pune City, Nicolas Anelka at Mumbai FC City or even Robert Pires at FC Goa.
Paradoxically, even in this unfavorable context, the Indian Super League attracts 74 million viewers – which puts it just behind the leagues of England, Germany and Spain.
Finally, India also has a national team, controlled by the AIFF. But it has never participated in the World Cup and its last qualification for this sporting event dates back to 1950. In addition, no national team player plays abroad. India is, for now, ranked 96? world team, with nevertheless a spectacular rise of 77 places in two years.
Lack of motivation on the part of the government… and of the families
Despite this precarious situation, FIFA is watching India very carefully. The country held its first global competition last year, the FIFA U-17 World Cup, which hosts the world's best teams under the age of 17 (China, on the other hand, organized the first edition in 1985).
If the Indian team, there too, did not succeed in imposing itself on the podium, the [record d'affluence de cette compétition] was beaten this year with more than 1.2 million spectators. This competition also had the virtue of renewing very aging infrastructures on the territory (26 new stadiums were built) and attracting new sponsors for the I-League.
However, despite this success and the support of the Prime Minister, there is no real political ambition vis-à-vis the development of this sport. The choices related to the development of sports practice are not very ambitious. If « Mission 11 » (attracting 11 million children to amateur clubs, organized on the occasion of the FIFA U-17 World Cup) has been a resounding success, the number of professional schools can currently be counted on the fingers of 'a hand.
Moreover, it is more the private operators and especially the other sports leagues that support the football development project in the country. In 2009, the Cricket League even decided to donate 250 million rupees, or 3.1 million euros, to the IAFF. The same applies to infrastructure investments which are incomparably less important than in China.
Finally, and this is also the case in China, Indian families are generally very reluctant to have their children pursue a career in sport, studies being – especially for the middle class – the only respectable path to ensure a better life. Families in these two countries prefer to spend their money on private lessons rather than on extracurricular activities and do not encourage their children in this way at all.
In China, a sport over-funded and being regulated
The situation is very different in China. The country is looking to invest heavily in the development of its national league, the Chinese Super League (in which 16 teams participate), by offering huge contracts for European and South American players – up to 40 million euros and even 200 million euros for Cristiano Ronaldo, who declined the offer – as well as for renowned coaches to form the teams.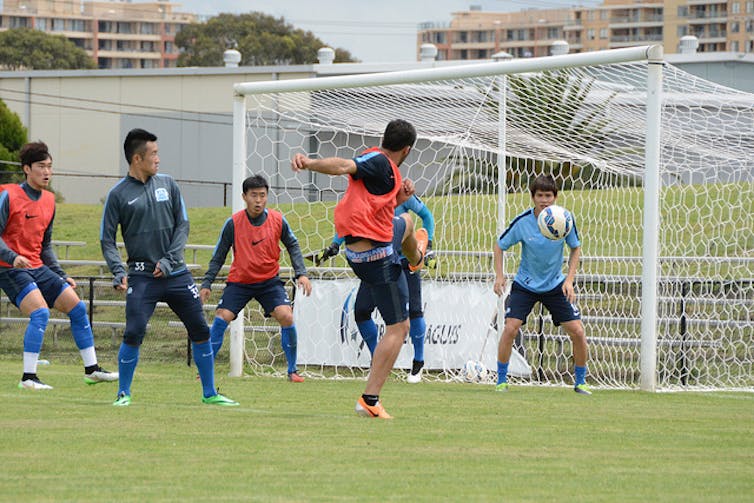 Training in China before a match counting for the Asian Champions League. Pete Nowakowski/Flickr, CC BY
According to FIFA, these Chinese teams would have spent during the winter transfer window of 2016 around 300 million dollars to sign foreign players, exceeding by 150 million dollars the budget of the teams of the English Premier League (the rules of recruitment and financing of salaries being more flexible than in India). A revolution in footballing Landerneau.
These massive investments ended up generating a speculative bubble as well as phenomena of corruption which also worry the government to the point of regulating the championships. In 2012, match fixing caused the interruption of the championship for a few months.
In China, a national ambition for 3 years
China has clearly made football a national ambition for the past three years, backed with great declarations by President Xi Jinping, who is aiming to organize the 2034 World Cup. In recent years, the government has built dozens thousands of football stadiums across the country and set up training programs in hundreds of thousands of schools and aims to create 50,000 football academies. The idea is to encourage 50 million people to play football by 2020, to have 20,000 training centers and 70,000 stadiums.
China has also invested massively in foreign football clubs, particularly in Europe, hoping to be able to capture the expertise of the members of the management teams of these clubs. A study by the WHU Otto Beisheim School of Management shows that 308 million Chinese watch a football match at least once a month and that 237 million make it their favorite sport (basketball still remains the favorite sport of the Chinese).
When Chinese football wakes up…
However, the results are so far not spectacular, especially compared to India, which has invested much less money. If the Chinese Football Association (which oversees the leagues) dates back to 1924, China is ranked only 88and in the FIFA rankings. China may have won the 1999 FIFA Women's World Cup, but are currently placed 13and square.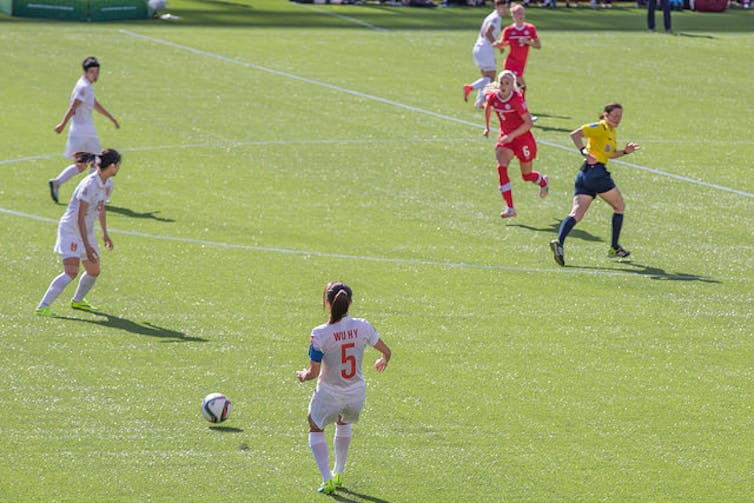 The Chinese women's team against Canada, in 2015, in Edmonton (Canada). IQRemix/Flickr, CC BY-SA
The national team is, as in India, made up of players who play only in national clubs and not abroad, and who have little experience of international competitions. This generation had little exposure to football in their childhood and did not have the chance to have many infrastructures and coaching to develop teamwork (China being very strong in individual sports).
With these massive investments and strong political support, the country has a great chance of becoming a new great power in football by setting ambitious goals, as it has done for the Olympics and to exist in disciplines in which it was totally absent twenty years ago (like fencing or ballet).

It remains to be seen whether football in China will really be able to arouse long-term popular media enthusiasm. If India has invested much less, the success of the Indian Super League in a few years of existence, coupled with a real interest on the part of Indians for European (and especially English) championships, could erect the subcontinent as a new land of football adoration and footballing fervor.
-50% the first year with Google
By choosing this promotional subscription path, you accept the deposit of an analysis cookie by Google.
The original version of this article was published on The Conversation.