Why 3DiTex is pivoting to making bike frames made in France
It was only a few weeks after the remote edition of CES 2021 in Las Vegas that Bertrand Laine had the click: « After discussing with our prospects and our customers, we realized that we were still far from having the technology adapted to the market. Clearly, we would have run out of cash before being able to respond. to their needs… »
A pivot towards low-tech
The leader and founder of the startup 3Ditex – for 3D Innovative Textiles – created in 2018 then decided to abandon his initial target of technical textiles and 3D surfaces to pivot his know-how in weaving composite materials towards other more accessible and more low-tech. And therefore more compatible with its roadmap.
« It was also during this period, while discussing with players in the bicycle world, that we discovered that there was an unmet need for hollow and tubular parts. Parts which are now mainly manufactured in Asia because we don't know how to manufacture them here at a competitive cost. This is precisely what we are able to do at 3Ditex », continues Bertrand Laine.
Coleen's 8,000 euro electric bikes in compulsory liquidation
To successfully manufacture walking sticks, ski poles or even bicycle frames in Bordeaux at costs similar to those practiced in Asia, the company relies on its know-how developed in recent years and has a prototype machine « continuous multi-layer winding ». The tool is installed in the premises of Canéjan, south of Bordeaux, where ten 3Ditex employees are busy: doctors, engineers and technicians in electronic engineering, mechanics and software programming.
« We offer a global solution that includes both algorithms and a machine capable of producing at very competitive costs and in France textiles and hollow and tubular composites that can be bent and with perimeter variations. has a slight additional cost but which can be absorbed in a product which becomes Made in France and which will be sold to people who play sports in the middle of nature and therefore, a priori, attentive to the environment »explains the manager.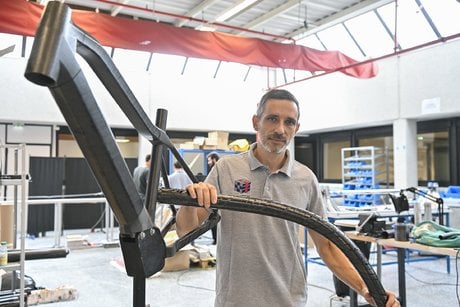 Bertrand Laine holds a carbon fiber bicycle frame produced by 3Ditex (credits: Agence APPA).
Urban logistics: Midipile Mobility stops in Bordeaux on the road to industrialization
Produce 100,000 frames by 2025
And while transport costs continue to soar, relocation is seen as a basic premise of his project, regardless of the material used: carbon fiber, glass, linen, plastic or other. A proposal that is attracting more and more customers, funders and the general public. And the demand actually seems to be there since 3Ditex is now talking with customers and funders to enter the pre-industrial phase. Objective: to be able to produce 100,000 bicycle frames in 2025 with a first qualified bicycle frame for the market by the end of 2023.
The second market is that of energy storage, in particular pressurized gases such as medical oxygen or hydrogen. The startup is currently co-developing with the French chemical group Arkema (9.5 billion euros in turnover in 2021) hydrogen tanks to manufacture small and medium series. Finally, the third outlet includes industrial applications such as aeronautics or health where 3Ditex will adopt a different strategy. The startup has just signed with the tricolor equipment manufacturer Hutchinson (3.9 billion euros in turnover in 2021), a subsidiary of Total Energies, supplier to the automotive and aeronautics industry, to develop prototypes and then, transfer technology. « In these two markets, we will agree to sell machines and technology since they are too difficult to access for a new player like us, but for the other outlets, the objective is indeed to produce ourselves, to to be an industrial enterprise »specifies Bertrand Laine.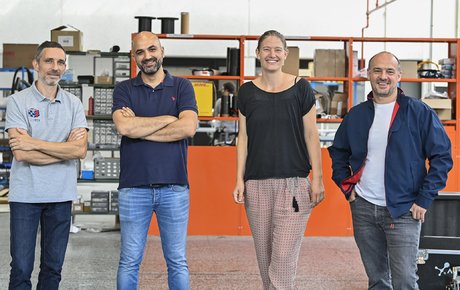 Canéjan's roommates: Bertrand Laine (3Ditex), Jad Rouhana (Lynxdrone), Alice Lassalle and Ludovic Dufau (Nimbl'bot). (credits: APPA Agency).
20 million euros in turnover in 2025
The startup aims « between 300,000 and 350,000 euros in turnover in 2022, two-thirds of which have already been signed », ten times more than in 2021, and has set itself much more ambitious objectives for the future: around 20 million euros by 2025 corresponding to 100,000 bicycle frames. Until then, a new funding round of a few million euros will have to be completed with a French fund to finance the pilot production line in particular in the coming months.
« Our real challenge today is the industrialization of our technology. We have demonstrated that it works but we now have to prove that economically and on a large scale it still works by going from a few tens of parts to a few tens of thousands the rooms ! »
Deeptech: what drives researchers and doctoral students to create their own company
fbq('init', '1025010277520259'); fbq('track', 'PageView'); fbq('track', 'ViewContent'); fbq('track', 'CompleteRegistration');