What Polls Say About Trump 2024 Run as Ex-President Considers Early Launch
Former President Donald Trump is reportedly considering launching a 2024 presidential run as early as this month as polls show he could force President Joe Biden into a tight race.
Trump, who has for years teased the possibility of another presidential bid, is reportedly hoping to capitalize off Biden's waning poll numbers and announce his campaign this summer, even though prospective candidates typically wait until after the midterm elections to announce.
Biden's popularity has been damaged by economic concerns including inflation and high gas prices, largely fueled by the Russia-Ukraine war, giving Republicans hope to not only retake majorities in Congress this year, but to defeat the president in 2024—though the Supreme Court's overturning of Roe v. wade has seen Democrats make a comeback in polling this week.
Should Trump announce his campaign in the coming weeks, he would instantly be favored to win the Republican Party primary, but would be in for a tight race against incumbent Biden, according to recent polling.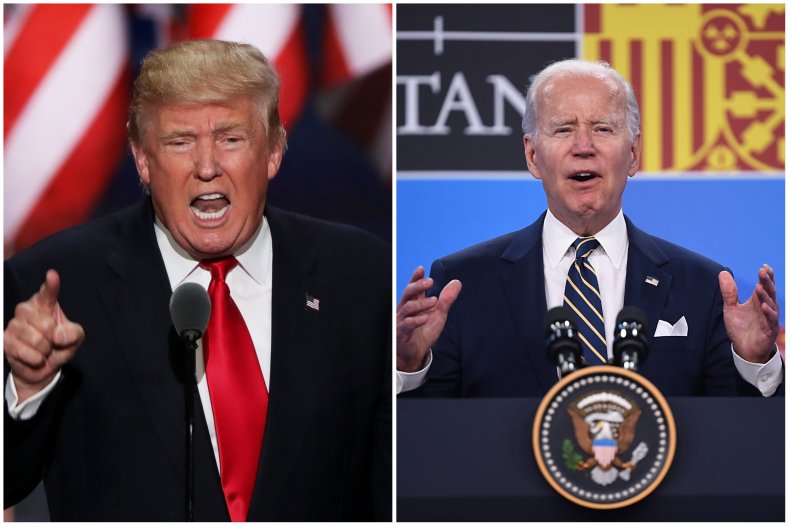 Republican Primary Polls
Trump has largely maintained his popularity within the Republican Party, but has faced new controversies in recent weeks. New bombshell allegations have been made against the former president during last month's House select committee's public hearings, which is investigating the events that led up to the attack on the US Capitol on January 6, 2021, appearing to cause his approval rating to drop.
However, Trump still remains the overwhelming favorite to win the GOP primary, with his closest competitor being Florida Governor Ron DeSantis, who has also not announced a presidential bid.
An Emerson College poll released June 29 found Trump leading the Republican pack, earning the support of about 56 percent of primary voters. DeSantis followed with just under 20 percent while former Vice President Mike Pence received about nine percent of support. Only about eight percent said they were undecided.
Meanwhile, a Yahoo News/YouGov poll released two days earlier showed Trump leading DeSantis by 11 percentage points. The former president held a 47 point lead in a head-to-head against Pence.
The poll suggests the Florida governor could be narrowing the gap between him and Trump, as a May 9 YouGov poll showed Trump leading by 29 points.
General Election Polls
While Trump is the favorite to win the GOP nomination, he would likely face a close election against Biden, who narrowly defeated him in 2020. Since the election, Trump and his allies have made baseless claims of widespread voter fraud that lack substantial evidence.
Biden is expected to run again, though some members of the Democratic Party have raised concerns about his electability. Still, Biden is overwhelmingly favored to win the Democratic primary should he run.
The June 29 Emerson College poll found Trump holding a five-point lead in a head-to-head with Biden. YouGov, on the other hand, found that Biden holds a three-point lead against Trump. Other polls have also found that the race would be close, regardless of whoever ekes out the win.
Despite the general election polls showing a toss-up between the two, Trump has continued to boast about his polling. He wrote on his social media platform Truth Social Saturday morning that he is « beating everybody in the polls by really big, record type, numbers! »