what Christelle Fotso said to Samuel Eto'o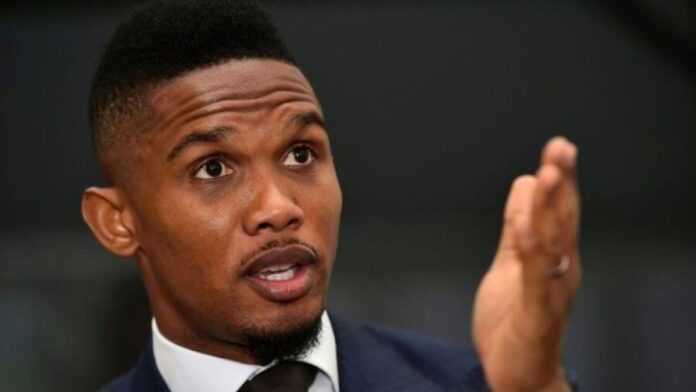 In a post on his page Facebook, this Monday, November 8, the Cameroonian lawyer Christelle Fotso issued criticisms, virulent certainly, but visibly sincere, against the former Cameroonian international striker Samuel Eto'o, candidate for the presidency of the Cameroonian Football Federation ( FECAFOOT).

Samuel Eto'o Fils is certainly not unanimous for his candidacy for the presidency of the Cameroonian Football Federation (FECAFOOT), as when he defended the colors of the Indomitable Lions. The quadruple African Golden Ball is often the subject of criticism from some of his compatriots, since he has shown his willingness to want to take control of the football administration of his country. The latest is that of Cameroonian lawyer Christelle Fotso, who visited her page Facebook, in order to send a small public letter to the candidate Samuel Eto'o Fils.
"Mr. Eto'o, I wouldn't be being honest if I didn't admit the superficial animosity I have towards you right away. However, it is tinged with indifference and due to our only meeting in the early 2000s in a Paris-Yaoundé flight. You had wiped your shoes on my crutches knowingly without the slightest excuse … There is also what the feminist that I am knows about your carnivorous relations with women but I will hide it by pretending to accept that the intimate does not. is not political ", first camped Christelle Fotso.
For the writer, who is also an entrepreneur, indicates that "the goal is to draw your attention to the danger of the top of the class in Cameroon who, when they are daring and believe that their genius can be transposed, are crushed by an infernal machine. Surrounded by courtiers, intriguers, charlatans and cynical opportunists, they end up like Icarus or Fotso. Great talents and great ambitions are not enough for either great achievements or major projects. A collective is essential to form a team strong enough to develop a federation, a village, a city, a country or a continent ".
"You don't need FECAFOOT to enter African sports history either. It should free you and allow you to resist the temptation of omnipotence which isolates and destroys more than it builds "
Evoking her late father, Christelle Fotso recalls that "Fotso Victor did not need the town hall of Bandjoun to remain an African legend. My child thought that with his fortune he could make Bandjoun and develop Cameroon. His village did not even know how to defend him, mourn him and bury him. Today too many Bandjouns dare to say that he did nothing, destroyed everything, wondering what he did for them without meditating on their own responsibility and wondering what they themselves did for the village apart from eating Fotso or being silent and letting it happen. You also do not need FECAFOOT to enter African sports history. It should free you and allow you to resist the temptation of omnipotence which isolates and destroys more than it builds ".
"These adventures, because they are first and foremost individual, end at best in a huge mess and at worst in an unbearable human comedy and tragedy. Mr. Eto'o, of course, you have the appetites and a little of the excellence of Last Bamileke, but unfortunately you seem to have above all the village and predatory pretensions of my sister-in-law Njitap. Yes, you are a pleasure-seeker who had a destiny but everything seems to show that you do not have enough bottle not to give in to the childish need to possess Hiala and prove more things to you. Building a chiefdom, a village, a federation or a country is more perilous than becoming mad ", notes Christelle Fotso.
Christelle Fotso persists: "It is impossible to buy everything and do everything. The most important task of the gifted and gifted is Herculean and most thankless: to learn to refuse to be gods, to be all and to do everything in a chaotic and unstructured environment by relieving those we want to serve but who want to eat of responsibility. without contributing. The question is, Mr. Eto'o, neither your legitimacy nor your capacities but the din of your opacity and your arrogance which make that your candidacy, and I fear it, your possible presidency, are not up to your career. footballer. If you are elected, you will do the job like your predecessors and that is the problem since you are a legend ".
« Cameroonians want change without changing and think that all they have to do is choose a hot guy who will inevitably be a great chef by becoming their father, right Papa Eto'o? »
"Obviously Eto'o can but what, how, for and with whom, especially to go where? It is not only your fault that these questions are unanswered; Cameroon also seems to skip the essentials to focus on sweetness, forgetting that it causes cavities. Cameroonians want change without change and think that all they have to do is choose a hot guy who is bound to be a great chef by becoming their father, right Papa Eto'o? Your program is you! The stars may shine in the dark, but they only produce if they are not asked in addition to being the sky and the sun. Your fellow citizens believe that development and wealth are important and will ask you for everything but the essential without supporting you. You will give them something to eat and talk. They will be satisfied with it until your njitapage then will say, Samuel Eto'o looked for and it is normal that it is njitapé! ", Estimates the black dress.
In the opinion of Christelle Fotso, "the concern is therefore not your campaign but your success at the head of a federation which, like Cameroon, needs rigorous water carriers without ego and without court. The fact that you are already not unanimous when no one has your background shows that in the best cases, you will be badly elected and will have enemies from within whose sole reason for being will be your failure. at all costs. You have not learned to seduce without buying, to win without despising and not to step on those who seem insignificant to you ".
"I can only wish you to be more than a shooting star who will dazzle Cameroonians enough so that they continue to wait for Godot convinced that it is all about Mbolè, Ndolè and maraboutism. At least you know what to expect when / if you stop being an Indomitable Lion: a merciless turn at the American Hospital in Paris. Nothing can ever take away from you what you have done on the football fields, but many will try to make you forget it. The continuation and the end will be pschitt or boom if you do not learn from the history and from Fotso ", estimates Christelle Fotso. For the time being, Samuel Eto'o fils has not reacted to the lawyer's message.
To read : Christelle Nadia Fotso: « Cameroon is a physical country, but not erotic »