Welcome to the small hands fan zone of the Mondial
14 kilometers from the center of Doha, a cricket stadium was transformed into a fan zone during the World Cup. Far from everything, it is mainly intended for immigrants who have come to Qatar to work around the competition, who all live around this industrial zone.
Unless they get lost or get the wrong address, no supporter present in Doha for the World Cup will see this place. To get to this cricket stadium, in the middle of a huge industrial area 14 kilometers from Doha, you have to drive 25 minutes. It takes a little over an hour by public transport.
Since the beginning of the World Cup, this stadium has been transformed into a fan zone. The colors of the World Cup, turquoise, pink, burgundy, are displayed everywhere. A huge screen has been installed. On the lawn or in the stands, during the matches, no women, but hundreds of men watch the matches.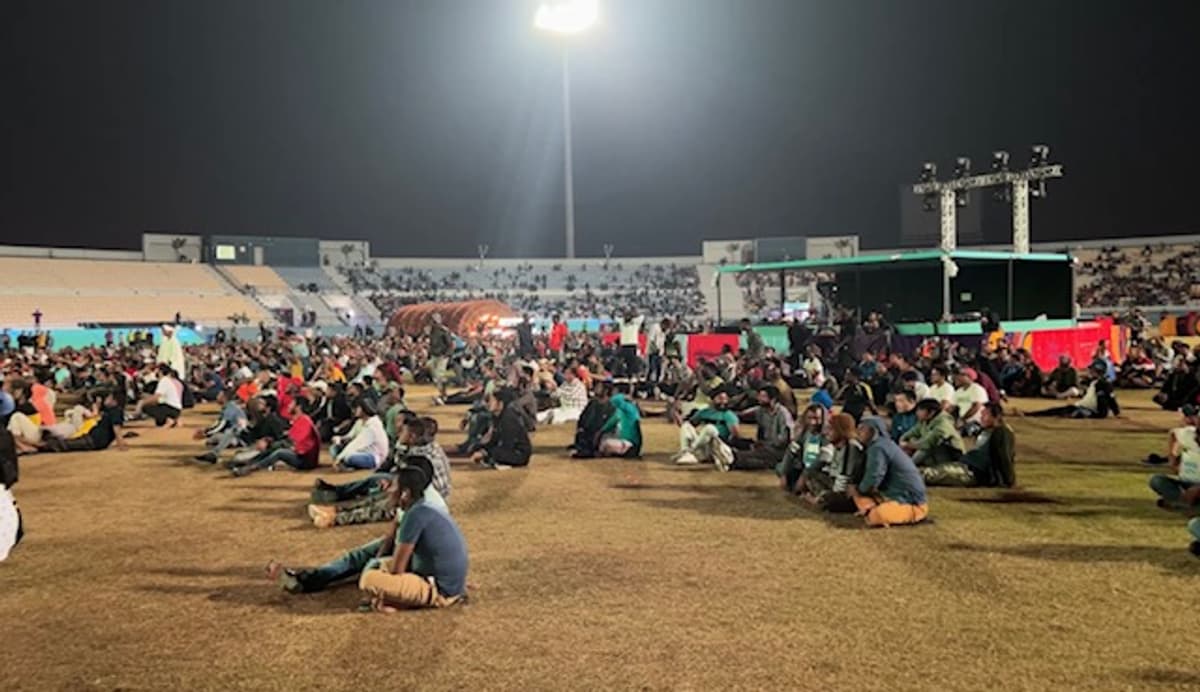 The indications here are translated into Arabic, English, as in all FIFA zones. But also in Hindi, the language spoken by the vast majority of these men. « There are Ugandans, Somalis, Indians, Kenyans, Pakistanis, people from Bangladesh, Nepal. It's great, we're following it all together, » smiles Junaid, who arrived here seven months ago. All are small hands of the World Cup: they work in hotels, in stadiums, in security, in public reception areas.
« We support our African teams »
« If there was not this fan zone, we would watch the matches on our mobiles, in streaming, in our rooms. It would still be much less comfortable », explains Ephraim, originally from Kenya. His smile seems sincere. Like all the others, he is happy to be there. It shows during the game. When Morocco qualified against Spain, many of them jumped for joy. « We support our African teams », breathes a Ugandan.
And even if it is far from the fervor of downtown Doha, even if there is no flag here and very few football shirts, no one has the impression of being excluded. « We feel like we are living the World Cup from the inside. We are not sidelined. We are living this World Cup », insists Junaid. « They brought the World Cup to us, » said another worker. « And then it's not that far. I live not even two kilometers away, » insists Ephraim.
Because all of them live in this industrial zone. After the meeting, Lauben, a 28-year-old Ugandan takes me to his accommodation. A 4-storey building, about twenty minutes walk from the cricket stadium. In the corridors, about fifteen of these compatriots are having fun and planning their program for the next day. All work in the same hotel.
« I could never have earned so much in Uganda »
« This is my room, » says Lauben, pushing open a door. We enter a room of about ten square meters. Ten lockers, five bunk beds and a small coffee table make up the furniture. « There are ten of us living here ». The next room is the common kitchen. A refrigerator, two sinks, a drinking water fountain and three gas stoves not really in good condition.
« It's very good, I'm good here. My accommodation is taken care of by my employer. When I arrived, I expected something bigger but we are satisfied with it. » For him, like for all the others, coming here is a real economic opportunity. He explains that he earns 1,300 Qatari rials per month, or about 350 euros. « I could never have earned so much in Uganda, the salaries are much less. »
Of this salary, he keeps only the minimum to live on. He sends the rest to his family. Lauben signed a two-year contract. After that, he will return to Uganda to find other professional opportunities. In the meantime, he will continue to work at the hotel from 8 a.m. to 5 p.m. And in the evening, until the end of the World Cup, he will go to the Fan Zone located twenty minutes from his home. « I would like to go to the stadium. But it's too expensive. A place costs a month's salary for me. I know why I came, I know my motivations: to help my family. The Fan Zone is free, and that's great! »
By Martin Bourdin, in Doha