Warriors on the lookout for Bradley Beal | NBA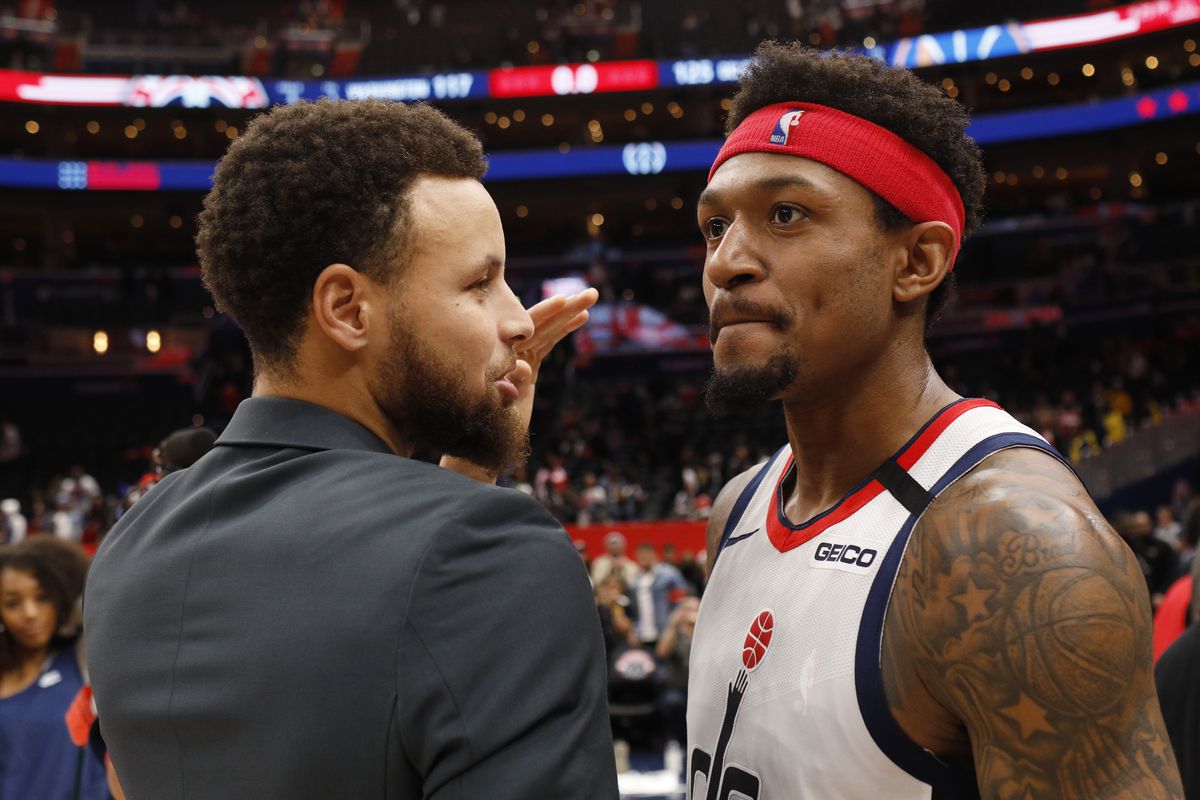 Even though they've already achieved fame with three NBA titles, the Thompson-Curry-Green trio want to stay competitive. Now in their thirties, these three have no time to waste to seek a fourth ring and as Kevin Durant is no longer there, the management of the Warriors wants to find them reinforcement.
Holders of the 7th and 14th pick in the next Draft, the Warriors intend to part with it to attract a big fish to the market. And according to Marcus Thompson of The Athletic, GM Bob Myers is keeping an eye on the Bradley Beal case in Washington.
If he swears loyalty to his franchise like a certain Damian Lillard, the All-Star back could be tired of not playing for the title and putting pressure on his leaders like the leader of the Blazers.
At 28, the league's second-best scorer is playing the best basketball of his career and may not want to waste his best years on a team that is only fighting to make it to the playoffs. In San Francisco, Bradley Beal would step into another dimension and he would greatly relieve Stephen Curry and Klay Thompson in offensive responsibilities. Exactly as Kevin Durant had been able to do from 2016.
Andrew Wiggins sacrificed?
If the two Draft picks won't be enough to convince a tough Tommy Sheppard on the subject, Golden State could put James Wiseman in the balance in addition to Andrew Wiggins to balance wages. The Golden State winger has two more years of contract at 65.2 million dollars while Bradley Beal has two more at 71.5 million dollars (including a player option at 37.3 million).
If they got their way, the Warriors would then supplement their squad with experienced players looking for a lower cost ring. Like the Heat and the Lakers have done in the past.
Bradley Beal
Percentage
Rebounds
Season
Team
MJ
Min
Shots
3pts
LF
Off
Def
Early
Pd
Fte
Int
Bp
Ct
Pts
2012-13
WAS
56
31
41.0
38.6
78.6
0.8
3.0
3.8
2.5
2.0
0.9
1.6
0.5
13.9
2013-14
WAS
73
35
41.9
40.2
78.8
0.7
3.0
3.7
3.3
2.1
1.0
1.8
0.3
17.1
2014-15
WAS
63
34
42.7
40.9
78.3
0.9
2.9
3.8
3.1
2.2
1.2
2.0
0.3
15.3
2015-16
WAS
55
31
44.9
38.7
76.7
0.8
2.7
3.4
3.0
2.1
1.0
2.0
0.2
17.4
2016-17
WAS
77
35
48.2
40.4
82.5
0.7
2.4
3.1
3.5
2.2
1.1
2.0
0.3
23.1
2017-18
WAS
82
36
46.0
37.5
79.1
0.7
3.7
4.4
4.6
2.0
1.2
2.6
0.4
22.7
2018-19
WAS
82
37
47.5
35.1
80.8
1.1
3.9
5.0
5.5
2.8
1.5
2.7
0.7
25.6
2019-20
WAS
57
36
45.5
35.3
84.2
0.9
3.3
4.3
6.1
2.2
1.3
3.4
0.4
30.5
2020-21
WAS
60
36
48.5
34.9
88.9
1.2
3.5
4.7
4.4
2.3
1.2
3.1
0.4
31.3
Total
605
35
45.6
37.7
82.0
0.9
3.2
4.1
4.0
2.2
1.1
2.4
0.4
22.0