Warriors kids overthrow Wizards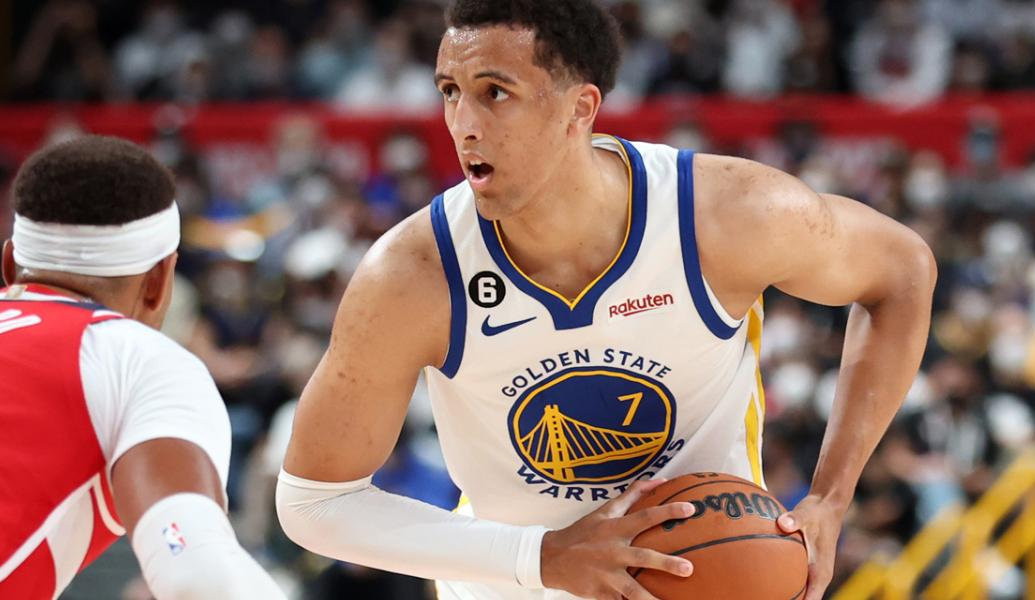 Yet led by 16 points in the 4th quarter, the Warriors leave Japan with a second victory in two matches. In Saitama, Stephen Curry's teammates (17 points in 16 minutes) won 104-95 after a one-sided fourth quarter.
As Stephen Curry, Draymond Green, Andrew Wiggins and Kevon Looney only played in the first half, it was the young shooters of the team who made the difference with rookie Patrick Baldwin Jr. and Moses Moody, authors 12 points each. Pat Spencer and Mac McClung also stood out to respond to Kristaps Porzingis (18 points) and Rui Hachimura, who signed a double-double with 11 points and 10 rebounds.
As expected, Klay Thompson did not play.
Golden State

/

104
Shots
Bounces
Players
Minimum
Shots
3 points
LF
O
D
T
pd
party
Int
bp
CT
+/-
Points
Rating
D.Green
17
2/3
2/2
0/0
0
3
3
5
0
0
0
0
-2
6
13
A. Wiggins
16
4/9
1/5
1/3
1
0
1
3
5
0
0
0
+2
10
7
K. Looney
15
2/3
0/0
0/1
3
4
7
3
1
0
1
0
-1
4
11
S.Curry
17
7/13
3/8
0/0
0
5
5
2
1
0
4
1
-2
17
15
J. Poole
18
3/7
1/4
0/0
0
1
1
0
2
1
5
0
-4
7
0
J.Kuminga
25
2/5
1/2
0/0
1
3
4
1
2
1
2
0
+7
5
6
J. Green
14
0/2
0/1
0/0
0
3
3
1
2
0
1
2
-12
0
3
P. Baldwin Jr.
17
4/6
4/5
0/0
1
5
6
1
2
1
2
1
+23
12
17
T.Williams
9
1/3
0/2
0/2
3
3
6
2
1
0
0
0
+3
2
6
J.Wiseman
18
2/7
1/1
3/4
1
2
3
0
6
0
2
1
-7
8
4
Q. Weatherspoon
6
2/2
0/0
0/0
0
1
1
0
0
0
0
0
+1
4
5
D.DiVincenzo
13
0/3
0/3
0/0
0
2
2
2
1
1
3
0
-10
0
-1
Mr McClung
12
4/6
1/1
0/0
0
2
2
2
0
2
0
0
+20
9
13
Mr Moody
25
5/10
2/5
0/0
0
0
0
2
2
0
2
0
+6
12
7
R.Rollins
6
0/4
0/0
2/2
0
0
0
2
0
0
0
0
+1
2
0
P Spencer
12
0/0
0/0
6/6
1
2
3
3
0
0
0
0
+20
6
12
38/83
16/39
12/18
11
36
47
29
25
6
22
5
104
118
Washington

/

95
Shots
Bounces
Players
Minimum
Shots
3 points
LF
O
D
T
pd
party
Int
bp
CT
+/-
Points
Rating
R. Hachimura
26
4/10
1/3
2/2
1
9
10
2
1
2
2
0
+6
11
17
W.Barton
23
3/10
1/7
5/6
1
0
1
3
3
0
0
0
+8
12
8
K. Kuzma
23
3/11
0/3
2/2
0
4
4
2
2
0
0
0
-1
8
6
K.Porzingis
22
5/9
2/4
6/6
1
5
6
2
5
2
1
2
+8
18
25
Mr Morris
21
5/8
1/3
0/0
0
1
1
3
1
2
1
0
+6
11
13
A. Gill
12
4/4
1/1
0/0
1
1
2
0
0
0
0
0
+6
9
11
I. Todd
12
0/1
0/1
0/0
0
0
0
0
2
0
0
0
-20
0
-1
T.Gibson
12
1/3
1/2
2/2
1
1
2
0
3
0
2
0
-20
5
3
J.Schakel
16
3/9
0/3
4/4
1
0
1
0
2
0
1
0
-18
10
4
C.Kispert
4
0/3
0/1
0/0
0
0
0
0
0
0
0
0
+3
0
-3
D.Gafford
19
0/1
0/0
3/4
3
4
7
3
1
0
2
0
-1
3
9
V. Carey Jr.
7
0/3
0/1
1/2
2
2
4
1
1
0
2
0
-16
1
0
D.Wright
18
2/6
1/2
0/0
1
2
3
6
0
2
4
0
+3
5
8
J. Davis
25
0/7
0/2
2/2
0
5
5
1
2
1
1
0
-9
2
1
30/85
8/33
27/30
12
34
46
23
23
9
16
2
95
101