Vincent Collet is considering a change of starting five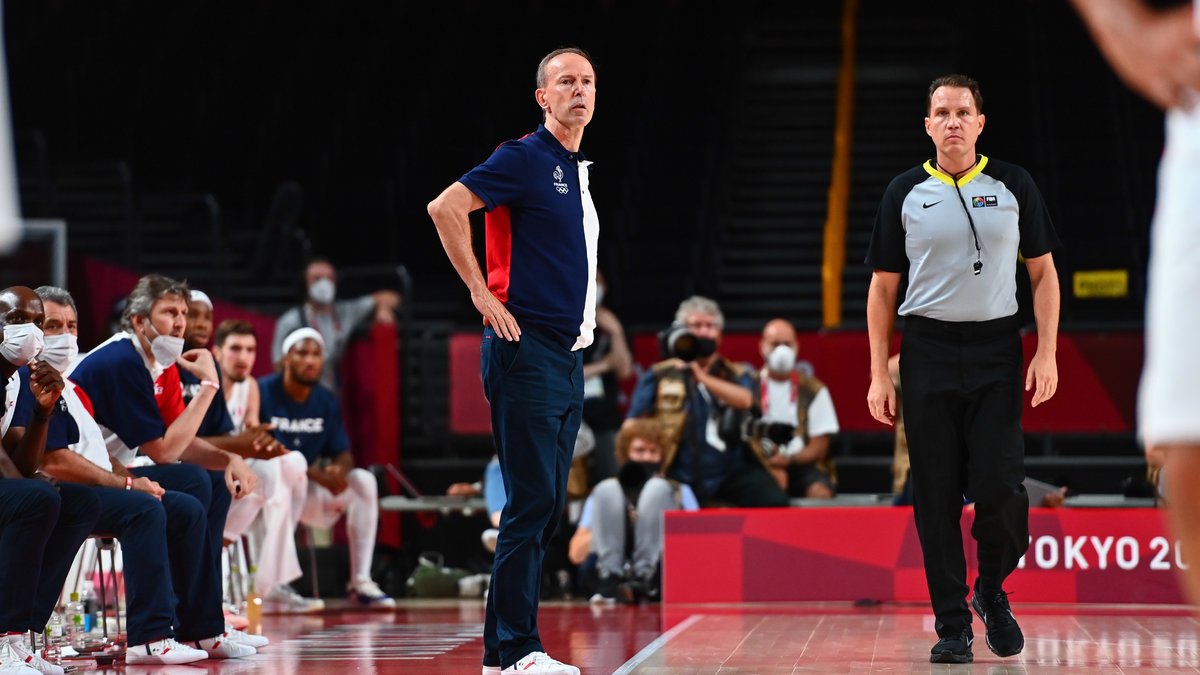 Still undefeated ahead of the next EuroBasket, the Blues were again dominating in this qualifying match for the World Cup. But, not without difficulty in the first half…
Vincent Collet believes that there is still work to do, in particular to start the matches better. A recurring evil in this preparation.
What was your reaction after this very laborious first half?
"They shot well, they found good positions on the drives. We let them get into the paint too often, we were too naive. The half-time, which was long, helped us a lot, it allowed us to put our ideas back in place. Our level of aggression was much higher [après la mi-temps]. »
Wouldn't these beginnings of diesel matches become a bad habit on this preparation? Isn't it alarming so close to the start of the Euro?
"It already worried us before this match, we hoped to correct the situation but that was not the case. It can be a change of players, it can be a change of five too, to find a good balance, we have a very good balance at the start of the match. We need to find a better one. We corrected the situation at first, to 10-2, and behind we came back to 14 everywhere. We thought we had done the hardest part but we fell behind. What worries me the most is that we are not able to put the same intensity at the start of the match that we put afterwards. Of course, the opponents have more freshness to resist the pressure, but it also comes from us. And then, tonight, we were clumsy. All our first shots were correct, but we did not put them. We missed a lot of shots. It doesn't matter, what matters more is our defense at the start of the match. We accept things defensively, we go out late on the screens and that leaves the best shooter free in front, who finds himself at 14 points at halftime. It can't be in our standards! This type of match was a good opportunity because it presented us with more difficulties. »
What about the injured: Moustapha Fall, who we saw behind the bench, will he rejoin the group on the one hand? And, on the other hand, will Andrew Albicy play against Bosnia?
"Moustapha Fall has not returned to the group. He is still in treatment. Conversely, Andrew Albicy has been with the group since Monday and his training sessions are encouraging. Probably he will play on Saturday. There will be a selection process and it will be decided at the team meeting the day before the match which other player will be released. [pour lui faire une place dans l'effectif]. »
Defensively, we felt a clear rise in pressure on returning from the locker room, what was your message to the players?
"Our difficulties in the first half were sometimes coordination difficulties but also a lot of individual difficulties. When we let the players pass on the drive, it's one against one, we were under pressure and we let ourselves be overwhelmed. Then we came to help, but in an uncontrolled way. On the picks, we had significant delays. Rudy was a bit low, we asked him to go up a bit more and it was much better after that. The carrier's defender was often late. Andrew is what he does best. It passes with the screens. »
What did you think of Terry Tarpey's contribution to this match, knowing that his entry into play corresponded to the reversal of the match in the 3rd quarter?
"At the moment, we are in the period of refining everyone's roles. We refine the roles of each. Him, there is nothing to refine, he has already understood everything! There is no question. Tonight, he makes 8 of evaluation without scoring the slightest point. He defends like a dog. We need that. It corresponds to our identity if we want to be efficient. We must make defensive stops, to restart clean and quickly. »
Interview in Paris