« Victor Wembanyama is like Rudy Gobert the crybaby, he's going to be soft »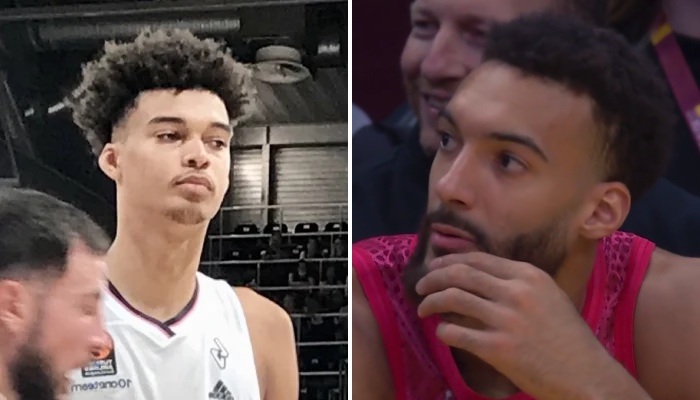 Fraile (Let's Talk Basketball) / NBA (DR)
If Victor Wembanyama makes the majority of observers across the Atlantic salivate, it is not yet the same thing on the fan side. Some have also attacked the French nugget badly recently… and poor Rudy Gobert took a big stray ball in the process.
Barring disaster, it would seem that the first pick of the next draft has already been determined. And for the first time since the creation of the event, it is a French player who should be the lucky one in the person of Victor Wembanyama. He has been the favorite for months and the hype around him in the US does not calm down, the boy continuing to put out great performances. For some, he's the best prospect since LeBron Jamesjust that !
Victor Wembanyama is the REAL DEAL you better believe it 🗣 @vicw_32 pic.twitter.com/hHFgR7z2ze

— Overtime (@overtime) September 20, 2022
It must be said that the pivot of the Metropolitans 92 has many arguments to make, in addition to having measurements that would be all-time in the NBA. His technique is well above average for his age and position, which suggests an almost unlimited potential. However, not everything is perfect and to come back to his physique, he is still very frail. When we see a Chet Holmgren who is now on the floor for the season because of a foot injury and who displays a similar body, it is not to reassure.
Victor Wembanyama clashed by fans on Twitter
Will the V be able to withstand the much rougher contacts of the big league, and avoid repeated visits to the infirmary? This is a big question, especially since the person concerned experienced physical glitches last year at ASVEL. Suddenly, several American fans are still far from being convinced that he can break through far from the Old Continent. A feeling relayed through some very violent comments towards him, but also from Rudy Gobert who took a stray bullet:
He's French which means he has the potential to carry the soft gene ala the cry baby Rudy gobert … we shall see

— Adrian (@Notkatty12whopp) September 20, 2022
He's French, which means he'll carry the soft gene like the crybaby Rudy Gobert… we'll see
I bet he will be a bust

— YE (@pdfizzy) September 20, 2022
I bet it's gonna be a bust
Victor Wembanyama questions as much as he seduces with his physical profile, he who has also chosen not to gain weight this summer. Let's hope the bet will pay off, because a big part of his future NBA career will depend on it.