Tyrese Maxey, the Sixers' rare ray of sunshine in Miami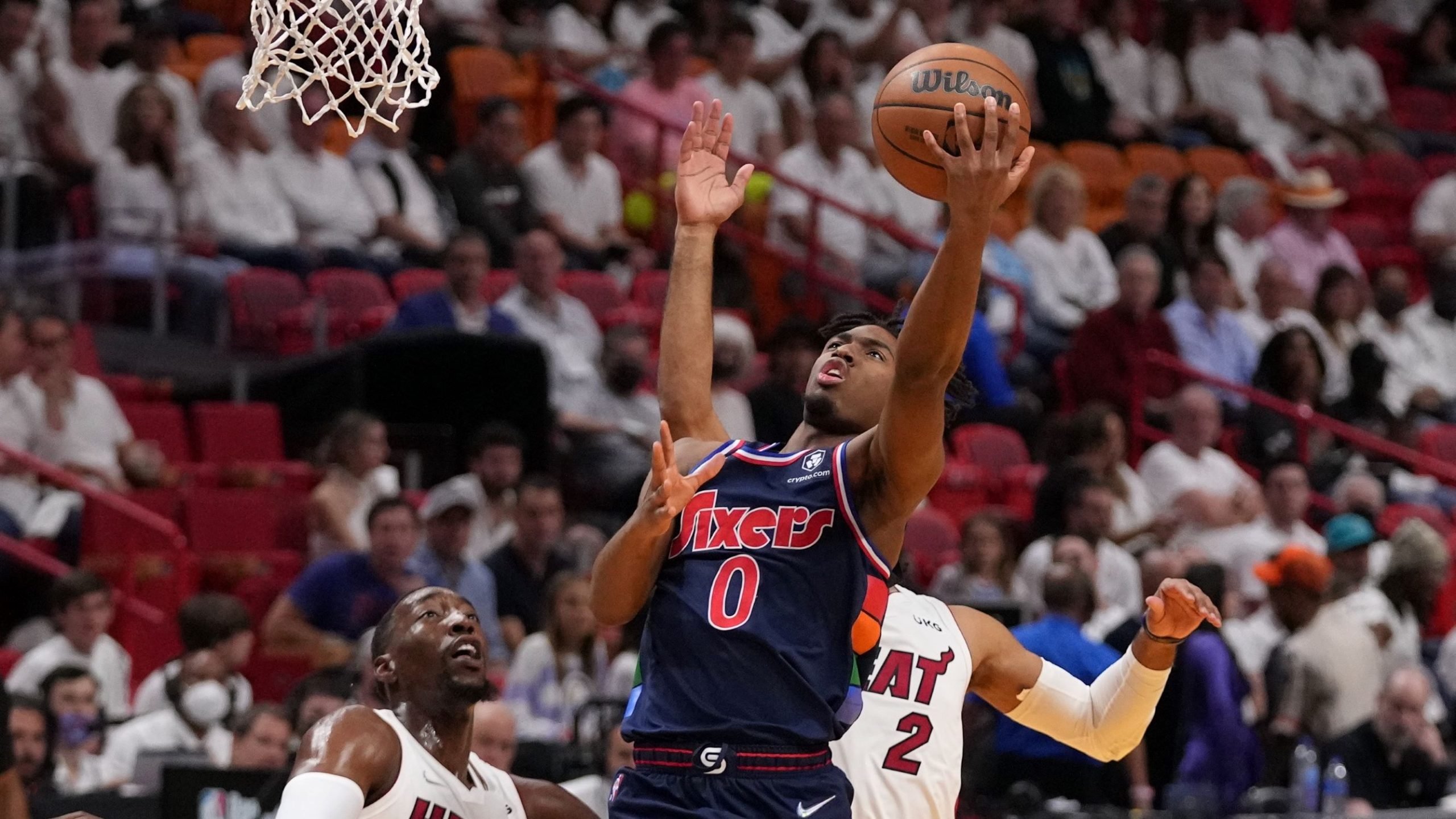 For the second round of this Eastern Conference semi-final in Miami, the Sixers again suffered the law of the Heat. In contact without being too close, Philadelphia only maintained the illusion in the second half thanks to the performance of their young leader/back, Tyrese Maxey.
Author of 23 of his 34 points after returning from the locker room, he was indeed one of the rare good news in these two net defeats for Philly in Florida.
"I just tried to be aggressive"soberly commented Tyrese Maxey for USA Today. "I was content with too many outside shots the last two games. When they changed on the screens, I backed off but there I attacked while being thrown to try to create play for my teammates or myself. I started to understand some things in the second half and just carried on like that. »
With 21 points, 5 rebounds and 5 assists on average in the first round against Toronto, Tyrese Maxey confirmed his excellent regular season. Going from 8 to 17 points between his rookie season last year and the campaign which has just ended, he is clearly one of Philly's major assets, especially in the absence of Joel Embiid.
« Maxey finished on 34 points but I didn't like how he played in the first half »tempers Doc Rivers. "In the second half, he finally found his rhythm. We found him in the right positions. The double screens in the axis [« double drag »] that we used at the end of the match were good for us. He and James have been a good tandem for quite a while. »
"I figured out how to work my way through the paint on almost every action"
Best known for his ability to change gears in the blink of an eye, Tyrese Maxey is above all a particle accelerator. A scoring point guard who can leave defenders behind like a downhill skier through gates. As a result, his performance in the first game against Miami, 19 points from 6/15 on shots including 1/6 from 3-pointers, was not to the liking of his coaching staff, who especially want to see him attack and use his impact speed.
» [Doc] talked to me a bit at halftime. He told me to stop shooting outside. I stuck with hard shots that I didn't need to take. But I figured out how to get my way into the paint on pretty much every action, and it's not always going to be for me to score. Most of the time, I will take the ball out for open shots. »
Much sharper in his attacks from the circle in the third quarter, Tyrese Maxey got the message. Now, he just has to continue his work… while waiting for a helping hand from his teammates. Some of whom (Danny Green, George Niang) have disappeared from the radar…
« He must continue to be aggressive », concludes a frustrated James Harden. "They prevent me from getting the ball, they put all their attention on me. He sees the flaws and he is very fast. He can go all the way to the circle and he has to make the right choices. We're going to need him and he's been very good to us. He must continue like this. »
Tyrese Maxey
Percentage
Bounces
Season
Team
GM
Minimum
Shots
3 points
LF
Off
Def
Early
pd
party
Int
bp
CT
Points
2020-21
PHL
61
15
46.2
30.1
87.1
0.2
1.5
1.7
2.0
1.3
0.4
0.7
0.2
8.0
2021-22
PHL
75
35
48.5
42.7
86.6
0.4
2.9
3.2
4.3
2.1
0.7
1.2
0.4
17.5
Total
136
26
47.8
39.6
86.7
0.3
2.3
2.5
3.2
1.7
0.6
1.0
0.3
13.2