Trump 'Heading Towards an Indictment' as Allies Receive Warnings: Expert
Attorney Norman Eisen predicted Friday that former President Donald Trump is « heading towards an indictment » in Georgia after some of his allies there received so-called « target letters » from the Fulton County District Attorney's Office.
The Georgia County District Attorney Fani Willis launched the investigation into Trump early last year after he pressured officials in the state to help overturn President Joe Biden's election win. That effort drew national attention after audio of a call between Trump and Georgia's Secretary of State Brad Raffensperger leaked, in which the then-president urged the Republican official to « find » enough votes to change the election's outcome.
Yahoo News first reported Friday that David Shafer, the Georgia GOP chair, and state Senators Burt Jones and Brandon Beach received target letters from Willis, warning that they could face indictment in connection to her investigation. Jeff DiSantis, a spokesperson for the district attorney, also told the Associated Press that Willis is considering to subpoena Trump to testify before the special grand jury convened for the probe.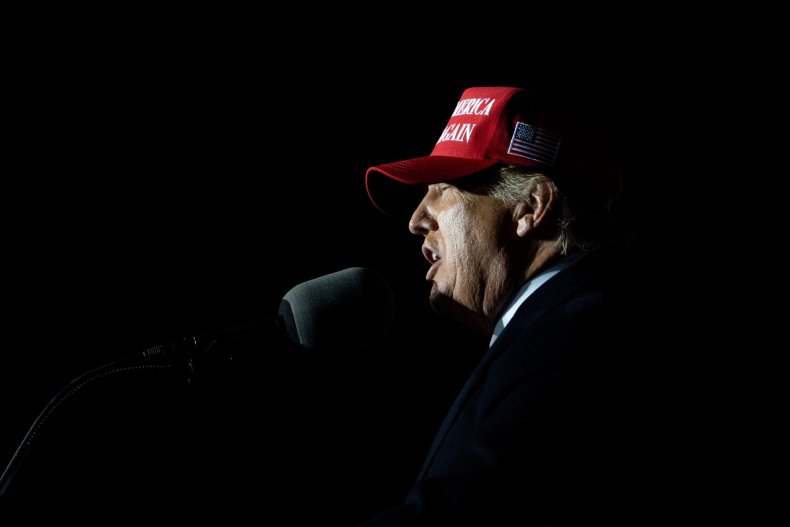 « I do believe that the great likelihood is that he's heading towards an indictment, » Eisen told The New York Times after the news of the target letters broke Friday. The legal expert previously served as special counsel to the House Judiciary Committee during Trump's first impeachment.
« There is powerful proof of violations of Georgia law in the form of the smoking gun tape of him demanding 11,780 votes, when it is perfectly clear from that tape that he knows those votes do not exist, » Eisen, who now works as a senior fellow in governance studies at Brookings, explained.
The legal expert shared similar perspective on Twitter.
« No matter what other stories break today, this is the biggest one, » Eisen wrote, tagging Yahoo News and the journalists who broke the story. « It's not just that DA Willis is getting ready to bring criminal charges against these high level GA GOP officials, » he tweeted. « She's clearly limbering up to hit Trump as well. »
In another tweet, Eisen assessed that the warnings to Trump allies in Georgia were a « signal » that criminal charges « will eventually hit » the former president as well.
Legal experts have for months pointed to the Fulton County investigation as the most likely to result in criminal charges against the former president. Close observers of the probe have contended that Trump appears to have violated some straightforward criminal statutes in Georgia, including criminal solicitation to commit election fraud. The district attorney's court filings have indicated that racketeering and conspiracy charges are also possible, according to the Times.
Laurence Tribe, professor emeritus of constitutional law at Harvard University, predicted in late May that Willis' investigation would result in charges against the ex-president.
« It wouldn't surprise me for Georgia to become the first jurisdiction to indict a former president on felony charges. I doubt it'll be the last. And I think the charges will stick, » Tribe tweeted.
Newsweek reached out to Trump's press office for comment.
The former president continues to insist that he did nothing wrong in the aftermath of the 2020 election, claiming that it was « rigged » or « stolen » in favor of Biden. Trump contends that all investigations into his actions to overturn the presidential election results are part of a « witch hunt » and overtly partisan.
Despite his claims, no evidence has emerged corroborating his allegations about the 2020 election. To the contrary, audits and recounts have consistently reaffirmed Trump's loss while a number of top officials from his own administration have said the claims are without merit.
Former Attorney General William Barr, who was widely viewed as one of Trump's most loyal Cabinet members, has said repeatedly that the claims of widespread voter fraud were « bulls**t. »
« I thought, boy, if he really believes this stuff, he has lost contact with—he's become detached from reality if he really believes this stuff, » Barr tested before the House select committee investigating the January 6, 2021, attack on the US Capitol.