Too confident, Andre Drummond ridiculed on the networks
While his future is still pending, Andre Drummond continues to push his new investment: NFT (non-fungible tokens). Unfortunately for him, the colossus has suffered a hell of a failure, which hurts the ego …
Disappointed by his time at the Lakers (a feeling probably mutual on the side of the Californian front office), Andre Drummond should look elsewhere this summer. The pivot has made it clear several times: he wants a nice check, a check that the Angelinos have neither the capacity nor the inclination to offer him.
While waiting to resolve the situation, the former player of the Pistons takes care of his investment in the NFT, his new passion. The problem is that Dédé felt himself growing wings, and launched a project that ended up … in a huge fiasco. Rather judge below, and beware – it stings: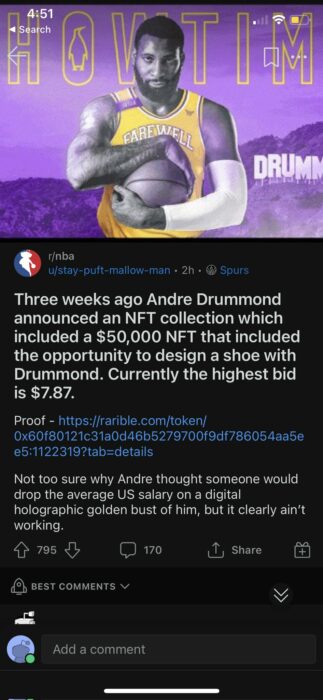 Three weeks ago, Andre Drummond announced an NFT collection that included a $ 50,000 NFT for the ability to design a shoe with him. So far, the highest bid is $ 7.87.
Suffice to say that the big man of the Lakers slightly overestimated his power of attraction with the fans. The irony is that when reporter Harrison Faigen posted this epic fail on Twitter the buzz picked up, and the sum started to rise.
Up to $ 344.49 now lmao. pic.twitter.com/hGt35rr6y3

– Harrison Faigen (@hmfaigen) July 28, 2021
It's increased to $ 60 now. They better hire me to market this stuff instead of criticizing Vogel!
It went up to 344.49 dollars mdr
With an involuntary little nudge from Harrison Faigen, Andre Drummond has his dignity saved… or almost. We advise him not to repeat this kind of attempt, or with a much more modest price!