Tom Izzo pays tribute to his former player Draymond Green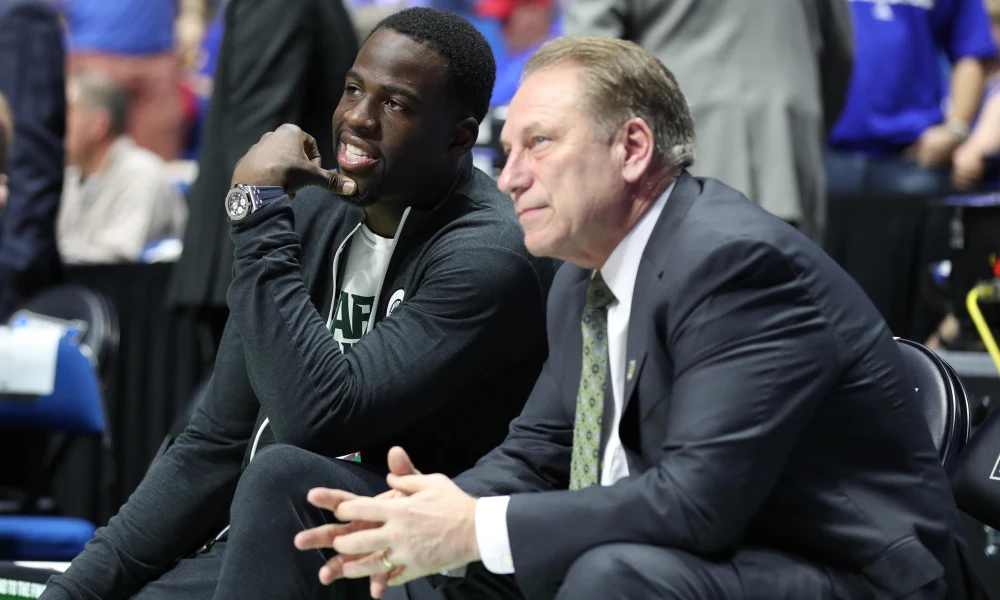 If all eyes are logically on the Hall of Fame this weekend, there is also news on the side of local pantheons. For example in Michigan State University, with nine new entrants this Friday, including Draymond Green.
The interior of the Warriors had already been honored by his university in 2019, which had retired his number. A deserved honor for the player who marked the history of the Spartans, the former faculty of Magic Johnson, during his time between 2008 and 2012.
His coach at the time, Tom Izzo, with whom Green remained very close, logically paid tribute to his former interior for this entry into the Michigan State pantheon.
"There were times when Draymond was more complicated to manage than others. He's stubborn, I think that's the right word. I was too. » remembers the man who has led the Spartans since 1995. "That's what I've always liked about him: he puts winning first, and I don't know how many players do that. He sometimes took control of the locker room, angrily, and that made the difference. I knew several players, but none was better than him to win and motivate a group. »
Still, when he got to college, Green didn't have a big rating. But Tom Izzo absolutely wanted it.
« He was a good player, but not everyone's first choice. Which is strong when you know what he will accomplish in his career next. He constantly improved, again and again. In important moments, those when you win, he is the one you want with you. »
The four-time NBA champion learned of his induction into his university's Hall of Fame in July, a few weeks after winning the title against the Celtics with the Warriors. His first reaction then had been for Tom Izzo.
"I thank him for pushing me like he did, for looking for something in me that I didn't even know myself, for teaching me to work hard. I can't thank him enough, it changed my life. »
Draymond Green
Percentage
Bounces
Season
Crew
GM
Minimum
Shots
3 points
LF
Off
Def
Early
pd
party
Int
bp
CT
Points
2012-13
GOS
79
13
32.7
20.9
81.8
0.7
2.6
3.3
0.7
2.0
0.5
0.7
0.3
2.9
2013-14
GOS
82
22
40.7
33.3
66.7
1.1
3.9
5.0
1.9
2.8
1.2
1.1
0.9
6.2
2014-15
GOS
79
32
44.3
33.7
66.0
1.4
6.8
8.2
3.7
3.2
1.6
1.7
1.3
11.7
2015-16
GOS
81
35
49.0
38.8
69.6
1.7
7.8
9.5
7.4
3.0
1.5
3.2
1.4
14.0
2016-17
GOS
76
33
41.8
30.8
70.9
1.3
6.6
7.9
7.0
2.9
2.0
2.4
1.4
10.2
2017-18
GOS
70
33
45.4
30.1
77.5
1.1
6.6
7.6
7.3
2.6
1.4
2.9
1.3
11.0
2018-19
GOS
66
31
44.5
28.5
69.2
0.9
6.4
7.3
6.9
3.0
1.4
2.6
1.1
7.4
2019-20
GOS
43
28
38.9
27.9
75.9
0.5
5.7
6.2
6.2
2.6
1.4
2.3
0.8
8.0
2020-21
GOS
63
32
44.7
27.0
79.5
0.9
6.3
7.1
8.9
3.1
1.7
3.0
0.8
7.1
2021-22
GOS
46
29
52.5
29.6
65.9
1.0
6.3
7.3
7.0
3.0
1.3
3.0
1.1
7.5
Total
685
29
44.1
31.5
71.2
1.1
5.8
6.9
5.5
2.8
1.4
2.2
1.0
8.7