Togo forced to draw at home by South Africa
[ad_1]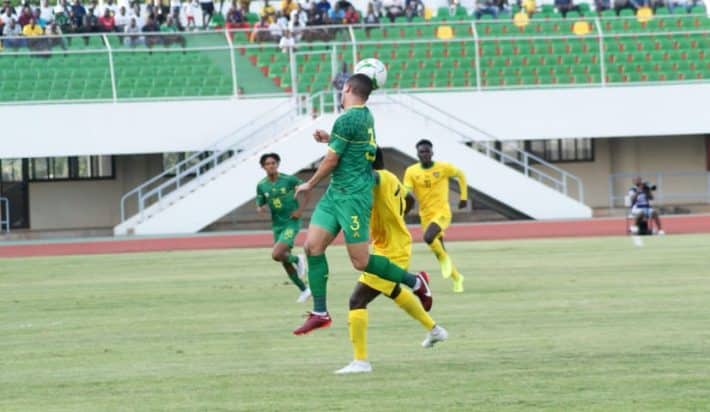 Les Éperviers du Togo were forced to a draw in the second round of the CAN U23 qualifiers by South Africa. The final score is 2 goals everywhere.
Togo took over the first fifteen minutes of play. First, it was the South African goalkeeper who was forced to run behind a clever lobe. Then it is the turn of Kévin Djona Laba to bring fear to this same goalkeeper who does not appreciate a ball that comes to him. By dint of pressure, Togo opened the scoring in the 20th minute. It was first Tom Junior Adjakly who tackled a ball and launched Tchakéi Mouchéri. The heavy center of the latter forces Lincoln Vyver to push back. Laba Djona, who came to meet the ball, scores and opens the scoring.
In the 28th minute, South Africa set the record straight, on a work by Antonio Van Wyk. Togo was even overtaken in the 31st minute after conceding a penalty that South Africa transformed victoriously by Ashley Cupido. At 2-1, the pressure changes sides. Togo is not panicking, but knows how to quickly regain the upper hand. Despite all the incursions, the Hawks will not be able to return to the mark before the end of the first part of the game.
Togo returns from the break with a fairly high pressure which forces the South Africans to withdraw. The Greens hold up quite well in the game, which has the merit of annoying the Togolese supporters in the bays of the Stade de Kégué. By dint of pushing, Togo also obtained a penalty in the 80th minute, which Abdoul Moutalebi Ouro Wetchire transformed.
Returning to the score, Tom Adjakly and his teammates tried to regain the advantage, but it will not happen until the end of the game.
Togo is forced to share points at home and will have to seek qualification in South Africa.
Arnaud BOCCO
[ad_2]