"The whole team is invited to remember that we have the same objective"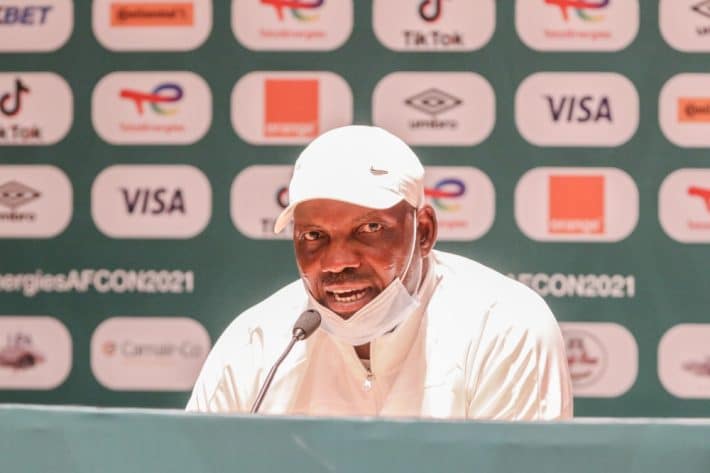 Mohamed Magassouba, coach of the Eagles and Hamari Traoré, midfielder were in front of the press this Wednesday before the Mali – Mauritania match counting for the last day of the group matches of CAN 2021.
Second in group F with 4 points on the clock, Mali will play its final match against the already eliminated Mourabitounes. To this end, Mohamed Magassouba and Hamari Traoré were at a pre-match press conference this morning. The two men answered questions from journalists present in the room.
Journalist : How is the preparation for the game against Mauritania going?
Mohamed Magassouba: it's going very well, there are no problems at the moment.
Journalist : You are going to play on the Japoma lawn, do you have any fears about your physical integrity?
MM: Of course you know that football is a game. And this game, everyone expects it to be a fun game. And for it to be a pleasant game, the players in football who are the players must be in the right conditions to be able to produce a spectacle. And among the suitable conditions, the lawn plays an extremely important role. Everyone dreams of playing on a beautiful lawn to save the game, to allow football players to develop the game. So naturally, the state of the lawn plays a vital role in the performance of the players. It is an important factor.
Journalist : Mali is practically qualified for the next round. Are you going to solicit the bench compared to those who have not had playing time?
Coach: This is part of the plans that any coach naturally has in mind. We are a football team and we rely on the whole group and at the moment we know that Mali has a national team here and everyone has to fight. So the whole team is invited to remember that we have the same objective.
Journalist to player: How do you find this competition which is the CAN?
Hamari Traoré: Sincerely as an African I am proud and very happy to compete in the CAN. For the moment it's going pretty well even if there are some errors like the case of the lawn. For now, Africa has made a lot of effort. We are pretty good in the hotels we try to do with the conditions. For the moment there are not many controversial issues there have been a few but they are everywhere. We must continue to improve so that we could be better in future competitions.
Journalist to coach: At this start of the competition, the results surprise you somewhat. For example Senegal in difficulty to win, Algeria also in difficulty in its group. We saw Gambia which is also surprising.
MM: You know we are at 21and century today and you also know, I am not going to praise CAF but I feel obliged to make something understood. At the continental level, there has been a lot of immeasurable effort, particularly in the field of training, I say this with full knowledge of the facts. CAF has deployed great means to provide African technicians with a certain number of equipment, that is to say the instruments needed to be able to raise the level of football in Africa. CAF has made so much progress and it is noticeable in all countries to such an extent that today we can say that there are no more small teams.
Journalist to player: Do you think this 33and edition can be the edition of Mali?
HT: Today you can see that we have a great generation that is rising, we have a good group. For now, we are doing great things for our country. It's not enough, it's not enough, we have to make history and we want to make history. We are in a competition where there are big nations such as Algeria, Senegal, Morocco. We, today, we are aware of what we can do and what we can bring to our people. We will continue to advance match after match why not be the surprise of this AFCON. Now it's up to us to do that and have a good tournament.
Comments collected by the journalist, Dounia MESLI, Twitter: https://twitter.com/Mesli_Dounia
As a reminder, the two nations meet this Thursday at 7 p.m. GMT at the Japoma stadium for their final Group F match.