The Thunder had Ousmane Dieng in their sights for a long time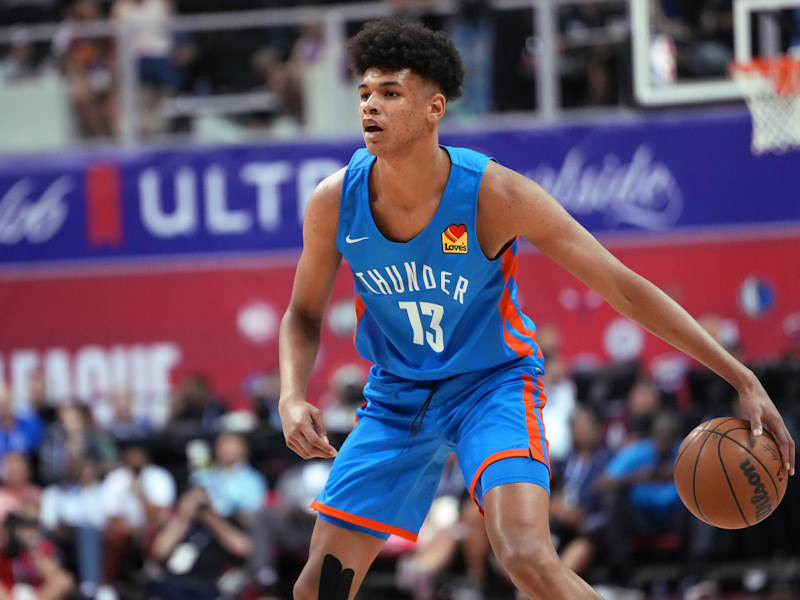 "Sam Presti is in the big halls, but he is also in the smaller gymnasiums, and abroad. He is in the rooms where the future players are. With our scout Massimo Biasin, Sam was one of the first to come to see him in France when he was 16 years old. So he was able to see it when he was younger, observe it and kind of set the tone from there."
Oklahoma City franchise vice-president Will Dawkins was a privileged witness to the process that led to the Frenchman's Draft Ousmane Dieng (19 years old, 2.08m). A long-term job, started when the native of Villeneuve-sur-Lot had not yet finished growing.
Insep and NBL, two paid choices
During these three years, Sam Presti and his team were thus able to observe the evolution of the technical capacities of the player during his height gain, and were especially seduced by his career, demonstrating a certain strength of character in their eyes.
Before joining the Australian first division last year, Ousmane Dieng had indeed had to leave his family cocoon very early to join Insep.
"It really developed me on and off the pitch because I was away from my family and everything. It's been really good for me. » he confided.
There were then two good seasons in N1 with the Federal Center, then the choice of the NBL, on the other side of the globe, to start his professional career alongside Hugo Besson, at the New Zealand Breakers. A daring choice that allowed him to adapt, with real progress during the season.
"I was really fascinated by this decision, because the easiest decision would have been to stay in a comfort zone. He pushed himself out of that area, in a situation where it wasn't always the easiest for him. »pointed out Sam Presti. « You're in a foreign country and you're playing against adults, and you're not given anything. There is nothing easy. He's going to have to keep fighting, but he has a unique set of skills and good dispositions. »
« He started the season hard but kept fighting, persevered, and finished the season a different player »
All the objectives of this ocean excursion have finally been fulfilled. Ousmane Dieng was able to focus on his game, toughen up physically, take the steps over the season to finish his last 11 games at 13.2 points with 51% shooting success and 4 rebounds on average, and finally being drafted 11th by the Thunder.
« He started the season hard but kept fighting, persevered, and finished the season a different player. We are happy that he went through this, that he had to go through these stages, that he persevered and that he showed this resilience.added Will Dawkins.
His encouraging debut in the Summer League was hampered by a broken wrist. No reason to rush, his NBA adventure has only just begun.
"It's only the beginning, so I have to get to work. I just want to learn from veterans, learn from OKC players and just improve my whole game"concluded Ousmane Dieng.
Shots
Bounces
Players
GM
Minimum
Shots
3 points
LF
Off
Def
Early
pd
bp
Int
CT
party
Points