The Suns ready to let go of Jae Crowder to recover Bojan Bogdanovic?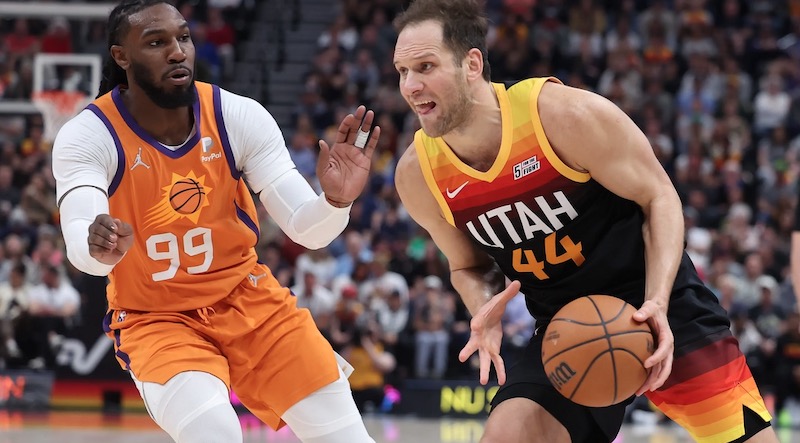 James Jones and the Suns will they move their workforce by the start of the regular season? The question may arise according to Brian Windhorst. Our colleague from ESPN, without giving further details, has explained that the Suns have been negotiating for a few weeks and discussions have begun.
Obviously, it is Jae Crowder who would be on the start side of the 2021 finalists. The strong winger is out of contract and will be free in 2023, so he is an interesting bargaining chip.
Still according to Brian Windhorst, the Suns would target Bojan Bogdanovic. We know, however, that the Jazz and Danny Ainge are greedy in Draft rounds and that the Suns are less well equipped than others in this area. But since the Arizona franchise has had the shooter in its sights for some time, why not convince Utah with the Jae Crowder contract.
Finally, Brian Windhorst announces that the leaders will try to extend Cameron Johnson. The sixth man is still under contract, until 2023, but the Suns would like to ensure his presence over several years and above all avoid reliving an episode like that of Deandre Ayton this summer.
As a reminder, Phoenix had not extended the pivot, after tense negotiations between the two camps, and during the offseason, he was therefore free but « protected ». He thus accepted the offer of the Pacers, at 133 million dollars over four years. The Suns having the last word, they finally decided to align to keep it.
Jae Crowder
Percentage
Bounces
Season
Crew
GM
Minimum
Shots
3 points
LF
Off
Def
Early
pd
party
Int
bp
CT
Points
2012-13
DAL
78
17
38.4
32.8
64.4
0.5
2.0
2.4
1.2
1.6
0.8
0.6
0.2
5.0
2013-14
DAL
78
16
43.9
33.1
75.4
0.6
1.9
2.5
0.8
1.3
0.8
0.5
0.3
4.6
2014-15*
All Teams
82
20
42.0
29.3
77.3
0.9
2.7
3.6
1.2
1.7
0.9
0.6
0.3
7.7
2014-15*
BOS
57
24
41.8
28.2
76.2
1.1
3.6
4.6
1.4
2.0
1.0
0.7
0.4
9.5
2014-15*
DAL
25
11
43.4
34.2
90.9
0.5
0.7
1.2
0.5
1.0
0.6
0.4
0.2
3.6
2015-16
BOS
73
32
44.3
33.6
82.0
1.0
4.2
5.1
1.9
2.7
1.7
1.1
0.5
14.2
2016-17
BOS
72
33
46.3
39.8
81.1
0.7
5.1
5.8
2.2
2.2
1.0
1.1
0.3
13.9
2017-18 *
All Teams
80
26
40.4
32.3
81.8
0.7
2.7
3.4
1.2
2.3
0.8
0.9
0.3
9.7
2017-18 *
KEY
53
25
41.8
32.8
84.8
0.8
2.5
3.3
1.1
2.3
0.8
0.8
0.2
8.6
2017-18 *
UTH
27
28
38.6
31.6
76.8
0.7
3.1
3.8
1.5
2.3
0.9
1.2
0.3
11.8
2018-19
UTH
80
27
39.9
33.1
72.1
0.8
4.1
4.8
1.7
2.1
0.8
1.1
0.4
11.9
2019-20 *
All Teams
65
29
40.1
34.3
77.6
0.8
5.1
5.9
2.5
2.2
1.1
1.1
0.4
10.5
2019-20 *
SAME
45
29
36.8
29.3
78.9
0.9
5.3
6.2
2.8
1.9
1.0
1.2
0.3
9.9
2019-20 *
MIA
20
28
48.2
44.5
73.3
0.6
4.8
5.4
1.8
2.9
1.3
0.8
0.5
11.9
2020-21
PHX
60
28
40.4
38.9
76.0
0.5
4.2
4.7
2.1
2.1
0.8
0.9
0.5
10.1
2021-22
PHX
67
28
39.9
34.8
78.9
0.5
4.8
5.3
1.9
2.6
1.4
0.8
0.5
9.4
Total
735
25
41.7
34.6
77.7
0.7
3.6
4.3
1.6
2.1
1.0
0.9
0.4
9.6