The shocking photo of LeBron with Lorenzo Insigne (1.63m)!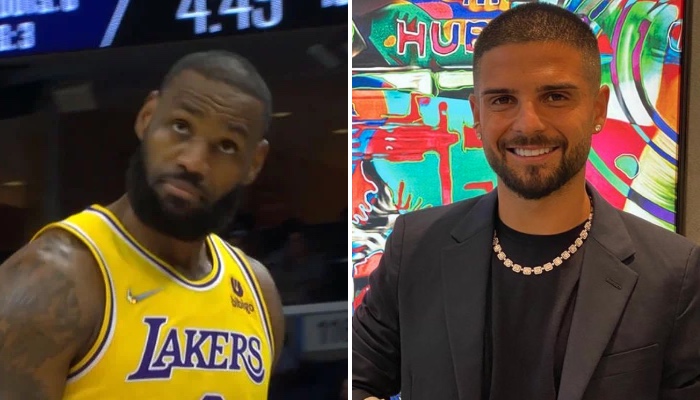 NBA (DR) / @lorenzoinsigne
Back in Los Angeles after having traveled a lot, LeBron James has the chance to meet some big stars during his night outings. For example, he was seen with football star Lorenzo Insigne, and their meeting went around social networks.
After having traveled the world in recent weeks, with trips to Europe or Canada, where he posted totally drunk with Draymond Green on the street, LeBron James is finally back in Los Angeles. The reason behind this is rather simple: he is in the middle of negotiations to extend his contract with the Purple and Gold.
Good news for fans who are worried about a possible return of the King to the Cavaliers to close the loop, the file seems to be moving in the right direction and he has already spoken at length with his agent Rich Paul and GM Rob Pelinka to talk about the future and the overall project. Barring a huge turnaround, things should quickly be settled.
Lorenzo Insigne ridiculous next to LeBron James!
While waiting for the outcome of these negotiations, LeBron obviously takes advantage of life in Los Angeles, and between two training sessions with his sons, he goes to restaurants and parties, the opportunity to meet beautiful people. For example, he ran into world football star Lorenzo Insigne, and their meeting made the rounds on social media because of their physical difference.
5ft 4 Lorenzo Insigne meeting 6ft 7 Lebron James in LA 📸 pic.twitter.com/BOc2thlyN1

— ESPN FC (@ESPNFC) August 3, 2022
When he was playing in Serie A, Lorenzo Insigne, former Napoli striker, already seemed very small on the field in the middle of rough and athletic defenders… So inevitably, the difference in size is even more glaring when he finds himself in front of an NBA player, what's more, a player as cut as LeBron James. Luckily for the striker, he shouldn't come across such opponents in MLS.
The fans were in any case unleashed in the answers.
— Victor Michael (@Viktohmykel) August 3, 2022
On the one hand LeBron James is endowed of a demi-god physique, on the other Lorenzo Insigne is particularly small, which gives a rather explosive meeting which makes the buzz on the social networks. Despite the differences, they remain two great champions.