The radical version of the Ferrari SF90, Versione Speciale, surprised with a huge spoiler
Zapping Autonews Green Land Rover Defender 130 (2022): the 8-seater hybrid variant on video
It's a particularly sporty Ferrari SF90 Stradale, which our spy photographers caught on the Nürburgring circuit, in Germany, at the beginning of September 2022. Likely called Versione Speciale, this Ferrari SF90 is in the middle of testing in these photos stolen. A sign that the prancing horse brand is developing a new version of its plug-in hybrid supercar.
Some parts of this Ferrari SF90 Versione Speciale are therefore covered in camouflage, while the rear face is dominated by a huge aerodynamic spoiler. According to our image hunters, this model is more powerful than the base SF90 Stradale. Which still develops 1,000 horsepower thanks to the combination of a 4.0 biturbo V8 engine with two electric motors.
So, spoiler or no spoiler?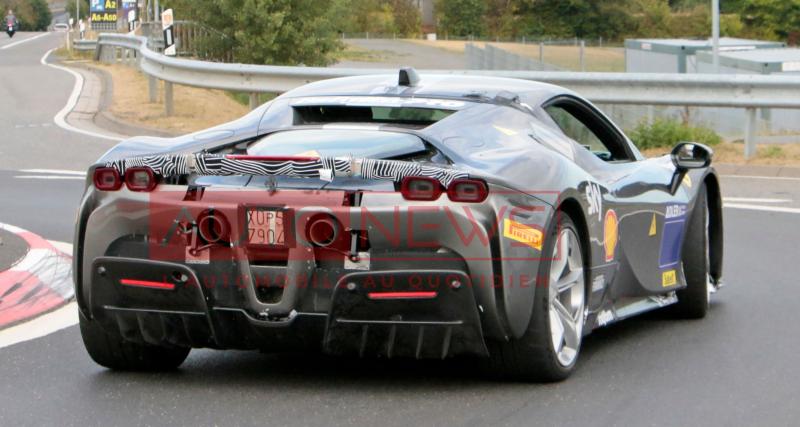 Start slideshow
Ferrari SF90 | The new spyshots of the Special Version (2023)
+9
Credit Photo – Carpix – Andrea Mau
In addition to this imposing rear wing, the Ferrari SF90 Versione Speciale surprised on the Nürburgring seems to receive a new front spoiler, additional air intakes in its front bumper, an opening in its hood, as well as new rims. Another prototype of the supercar was also surprised near the circuit, this time without a rear wing.
Already photographed in May 2022, the Ferrari SF90 Versione Speciale could be presented during the year 2023 according to information from our spies.
In short
With 1,000 horsepower, the Ferrari SF90 Stradale is already a particularly impressive supercar in its base version. The Maranello firm, however, seems to be preparing an evolution of this hybrid model, as these spyshots taken by our spy photographers on the Nürburgring circuit in Germany suggest. We discover a car probably called Ferrari SF90 Versione Speciale, decked out with a huge spoiler and other aerodynamic additions. According to our image hunters, the SF90 Versione Speciale could be even more powerful. Its release date is planned for sometime in 2023.