The new buzz photo of LeBron, Bryce and Bronny, with a crazy detail!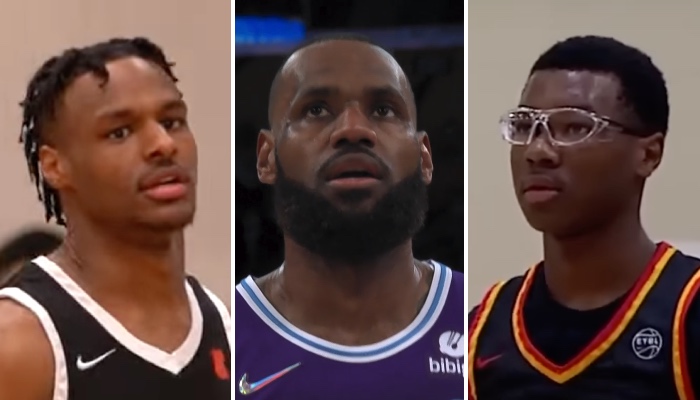 Rivals (DR) / NBA (DR) / SportsCenter NEXT (DR)
The James family continues to make the buzz on the side of the NBA, especially as Bronny is gradually approaching a possible arrival in the Elite. In any case, LeBron has no problem highlighting his sons, the proof with the last photoshoot involving the whole family for Vanity Fair. Business continues for the Akron native.
At the dawn of a new NBA season, LeBron James intends to give everything with the Lakers. While he will be 38 at the end of the year, the King knows that he does not have many opportunities to win a title and thus strengthen his legend, but we can say that he is ready. . He should organize a mini-camp in this month of September in order to bring his teammates together to get to know them better, however, it is priority for the family first.
LeBron puts forward with Bronny and Bryce!
We know that the native of Akron is very attached to his sons, especially Bronny, who could join him in the NBA within two years. The possibility exists, unlike Bryce, who will have to be patient before considering an elite future. In the meantime, business continues for the three, since the James family recently did a shoot for the Vanity Fair site, and everyone is going through it.
🤴🏾👸🏾🤴🏾🤴🏾👸🏾 James Gang at home!!! @VanityFair 📸🤎 https://t.co/rlPEYiCTLJ pic.twitter.com/kA89DHV8sx

— LeBron James (@KingJames) September 13, 2022
The detail that appeals to Internet users? The third photo, where LeBron, Bronny and Bryce pose in a crown-shaped buoy:
LeBron x Bronny x Bryce. 👑

(via @VanityFair) pic.twitter.com/M2OgqrjtBd

—Hoop Central (@TheHoopCentral) September 13, 2022
No doubt, LeBron is very proud of his family, including Bronny. The latter hopes to join him in the NBA soon and if possible on the same team, which would be unheard of in history.
Goat and two future goats 🐐

— doddery.rages (@doddery_rages) September 13, 2022
The GOAT and two future GOATS
The James family got all dressed up for Vanity Fair, with LeBron very proud of Bronny and Bryce. A little moment of respite for the King, who will find the floors in a few weeks with the Lakers. Needless to say, we expect a great season from him, especially after the fiasco last year.