THE MERCEDES ASP ON POLE AT PAUL RICARD IN GT WORLD CHALLENGE
[ad_1]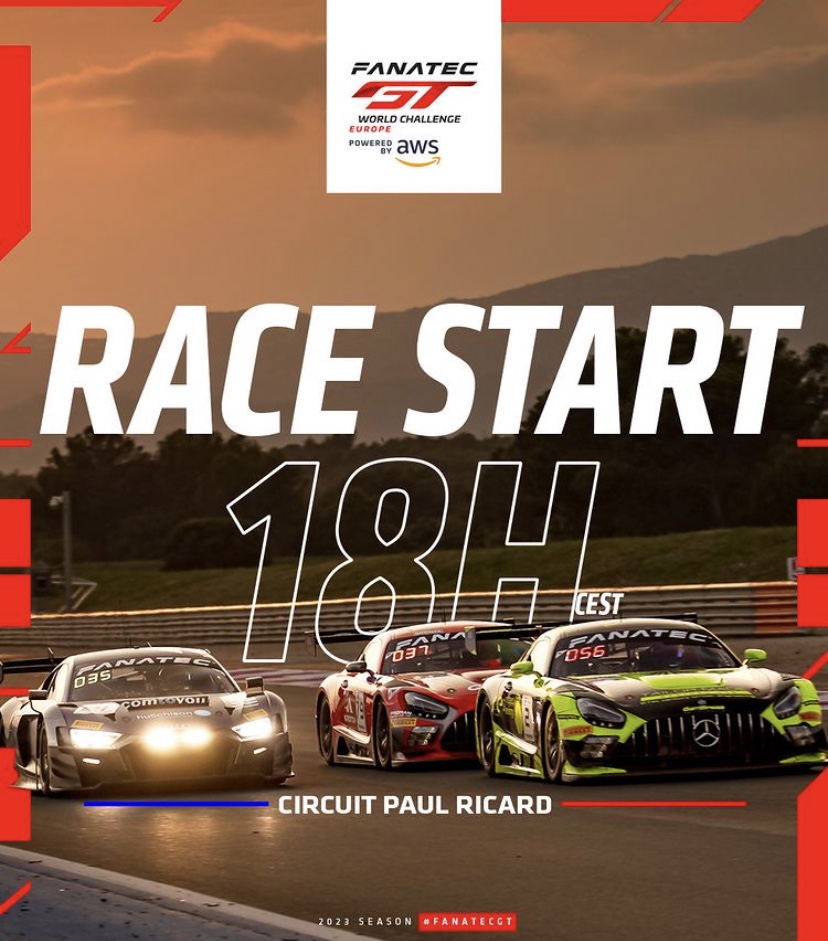 The pair formed by Raffaele Marciello and Jules Gounon clearly superior to all in the qualifications of the Fanatec GT World Challenge Europe powered by AWS, this Saturday during of the second round of the Endurance Cup which takes place on the Varoise track of the Paul Ricard circuit in Le Castellet.
The Italian and the Frenchman, aboard the Mercedes-AMG GT3 of the French team Akkodis ASP of Jérôme Policand were respectively the fastest in the first and third rounds and, with Timur Boguslavskiy finishing the job with a good time in their own session, therefore quite logically took pole position for this afternoon's race. 6 hour race.
The Stuttgart firm scored a fine double thanks to the second place obtained by the trio of Maro Engel, Luca Stolz and Fabian Schiller with the specimen of the AlManar team, but the drivers will have to watch carefully behind the well-positioned Ferraris in ambush …
Because two of the Maranello cars finished third and fifth with Alessio Rovera-Robert Shwartzman-Niklas Nielsen and Daniel Serra-Davide Rigon-Antonio Fuoco.
In the middle, inserted in fourth place, is the Audi R8 LMS Evo II of Ricardo Feller, Mattia Drudi and Dennis Marschall from the Tresor Orange1 team.
The Top 10 sees two other Audis: Christopher Haase-Gilles Magnus-Frederic Vervisch (Comtoyou Racing) in sixth place and Christopher Mies-Patric Niederhauser-Simon Gachet (Saintéloc Junior Team) in eighth place.
Mercedes-AMG also placed two other cars, those of Lorenzo Ferrari-Thomas Drouet-Maximilian Götz (Akkodis ASP Team) in seventh position and Russell Ward-Indy Dontje-Philip Ellis in tenth, first among others in the Gold Cup category.
BMW is in more trouble than in the inaugural round at Monza, with Dries Vanthoor-Sheldon van der Linde-Charles Weerts ranked ninth.
Difficult qualification for the former multiple motorcycle world champion, the Italian Valentino Rossi, who has definitely converted to motor racing and who complicated the lives of his teammates, the Brazilian Augusto Farfus and the Belgian Maxime Martin with a blockage under braking which, fact, forced the Belgian team of Vincent Vosse WRT to call him back to the pits to change the tyres.
Lamborghini did not shine with the best result, a very modest fourteenth place thanks to the performance of Mirko Bortolotti, Andrea Caldarelli and Jordan Pepper' who share the number 63 of the transalpine team Iron Lynx.
Francois LEROUX
Photos: Antoine CAMBLOR

THE STARTING GRID
1 – Marciello-Boguslavskiy-Gounon (Mercedes-AMG) – Akkodis ASP – 1'53"745
2 – Engel-Stolz-Schiller (Mercedes-AMG) – AlManar – 1'53"868
3 – Rovera-Shwartzman-Nielsen (Ferrari) – AF Corse – 1'53"909
4 – Feller-Drudi-Marschall (Audi) – Tresor Orange1 – 1'54"020
5 – Serra-Rigon-Fuoco (Ferrari) – AF Corse – 1'54"038
6 – Haase-Magnus-Vervisch (Audi) – Comtoyou – 1'54"124
7 – Ferrari-Drouet-Götz (Mercedes-AMG) – Akkodis ASP – 1'54"149
8 – Mies-Niederhauser-Gachet (Audi) – Saintéloc – 1'54"149
9 – Vanthoor-van der Linde-Weerts (BMW) – WRT – 1'54"215
10 – Ward-Dontje-Ellis (Mercedes-AMG) – Winward – 1'54"332
11 – Eng-Wittmann-Yelloly (BMW) – ROWE – 1'54"450
12 – Born-Schumacher-Zug (Mercedes-AMG) – Winward – 1'54"479
13 – Preining-Heinrich-Olsen (Porsche) – Rutronik – 1'54"491
14 – Bortolotti-Caldarelli-Pepper (Lamborghini) – Iron Lynx – 1'54"552
15 – Fagg-de Haan-MacDonald (McLaren) – Optimum – 1'54"562
16 – Harper-Verhagen-Hesse (BMW) – ROWE – 1'54"609
17 – van Berlo-Hites-Schmid (Lamborghini) – GRT – 1'54"739
18 – Chaves-Ramos-Prette (McLaren) – Garage 59 – 1'54"774
19 – Maini-Baud-Haupt (Mercedes-AMG) – HRT – 1'54"837
20 – Farfus-Martin-Rossi (BMW) – WRT – 1'54"839
21 – Bachler-Malykhin-Sturm (Porsche) – Pure Rxcing – 1'54"871
22 – Simmenauer-Williams-Krütten (BMW) –WRT – 1'54"873
23 – Machiels-Machiels-Bertolini (Ferrari) – AF Corse – 1'54"914
24 – Güven-Müller-Engelhart (Porsche) – Dinamic GT Huber – 1'54"937
25 – Kjaergaard-Goethe-Kirchhöfer (McLaren) – Garage 59 – 1'55"051
26 – Hofer-Baert-Soulet (Audi) – Comtoyou – 1'55"058
27 – Valente-Juffali-Aron (Mercedes-AMG) – Theeba – 1'55"106
28 – Hezemans-Dejonghe-Hutchison (Audi) – Comtoyou – 1'55"186
29 – Mitchell-Mapelli-Perera (Lamborghini) – K-PAX – 1'55"233
30 – Scholze-Assenheimer-Peroni (Mercedes-AMG) – GetSpeed ​​– 1'55"236
31 – Bohn-Renauer-Renauer (Porsche) – Herberth Motorsport – 1'55"255
32 – Pulcini-Beretta-Ineichen (Lamborghini) – Iron Lynx – 1'55"338
33 – Neary-Capo-Crestani (Lamborghini) – GRT – 1'55"367
34 – Gazeau-Meyuhas-Cola (Audi) – Boutsen VDS – 1'55"370
35 – Balon-Collard-Lind (Lamborghini) – Barwell – 1'55"593
36 – Eteki-di Folco-Panis (Audi) – Boutsen VDS – 1'55"598
37 – Sathienthirakul-Rappange-Di Amato (Porsche) – Dinamic GT Huber – 1'55"617
38 – Gustavsen-Nesov-Perez Companc (Mercedes-AMG) – Madpanda – 1'55"631
39 – Sager-Nakken-Barker (Porsche) – Dinamic GT Huber – 1'55"674
40 – Bastard-Demoustier-Evrard (Audi) – Sainteloc – 1'55"749
41 – Frey-Bovy-Gatting (Lamborghini) – Iron Dames – 1'55"763
42 – Baptista-Baptista-Baptista (Mercedes-AMG) – Akkodis ASP – 1'55"804
43 – Leutwiler-Jacoma-Fontana (Porsche) – Car Collection – 1'55"812
44 – Kell-Buchardt-Neubauer (BMW) – Walkenhorst Motorsport – 1'55"853
45 – Gorini-Borga-Jamin (Lamborghini) – AGS Events – 1'55"876
46 – Pierce-Jewiss-Meyrick (Porsche) – Parker – 1'55"912
47 – Mukovoz-Galbiati-Pereira (Audi) – Tresor Attempto – 1'56"045
48 – Rougier-Creed-Légeret (Audi) – CSA – 1'56"091
49 – Tutumlu Lopez-Tan-Miller (Ferrari) – ST with Rinaldi – 1'56"191
50 – Carroll-Proctor-Whale (BMW) – WRT – 1'56"262
51 – Walker-Bergstein-Lewandowski (Mercedes-AMG) – GetSpeed ​​– 1'56"716
52 – Palette-Mateu-Chevalier (Porsche) – CLRT – 1'56"799
53 – Patrese-Delli Guanti-Aka (Audi) – Tresor Attempto – 1'56"853
54 – Li-Brunot-Leitch (Lamborghini) – Leipert – 1'57"298
55 – Kingsley-Riegel-Leroux (Aston Martin) – Bullitt Racing – No time
56 – Boccolacci-Denoual-Caumes (Porsche) – CLRT – No time
57 – Hui-Froggatt-Cheever (McLaren) – SKY Tempesta – No Time


[ad_2]