The league drops its power ranking in the West, surprise at the top!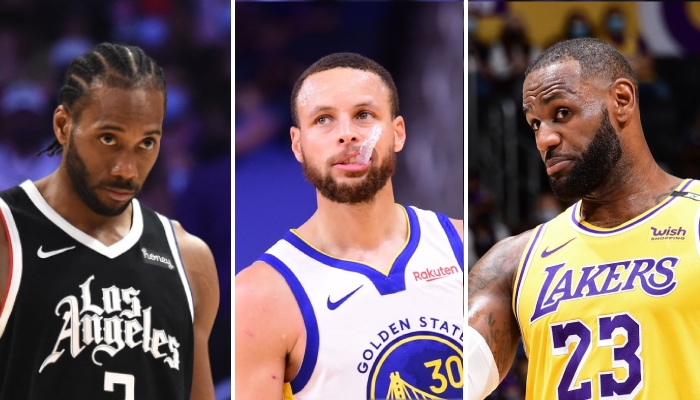 Juan Ocampo / Noah Graham / Adam Pantozzi
Although the offseason is still far from over, early predictions can be made vis-à-vis the forces present in the league. This is what the NBA had fun doing on its site, with a power ranking from the Western Conference… to the somewhat surprising leader!
After reaffirming her supremacy last year thanks to the Lakers, she once again had to hand over the reins of the league to an Eastern franchise last July. Despite this, the Western Conference will once again appear to be extreme at the start of the 2021-22 season. Several teams that compose it dare to dream of the Larry O'Brien trophy, and have made the necessary movements to justify these ambitions this summer.
In the collective spirit, the Lakers are placed there like the men to be defeated. With their brand-new all-star trident of LeBron James, Anthony Davis and Russell Westbrook, they feature in a good position in the predictions of the bookmakers for the title. Another Big Three, however, should try to block their way, namely that of the Warriors, with a Klay Thompson back.
For the rest, the outsiders are numerous. Despite Kawhi Leonard's injury, the Clippers remain a serious threat, as do the Suns, reigning finalists, and the Jazz, No. 1 last regular season. In view of this dense competition, John Schuhmann of NBA.com tried to bring clarity to the table, and establish a power ranking for the conference. A classification which risks making some surprised… and dissatisfied!
https://t.co/wWGNmWnCY9's Western Conference Power Rankings:

1) Suns
2) Lakers
3) Jazz
4) Mavericks
5) Clippers
6) Nuggets
7) Warriors
8) Blazers
9) Grizzlies
10) Timberwolves
11) Pelicans
12) Kings
13) Spurs
14) Rockets
15) Thunder

– NBA Central (@TheNBACentral) August 30, 2021
For the journalist employed by the league, Phoenix remains as the toughest franchise in the West, still strong of its participation in the NBA Finals. The formidable squad built around Chris Paul has not really been turned upside down this summer, and has even been reinforced for some with the arrival of Elfrid Payton and JaVale McGee. What relegate the Lakers to second position.
Behind, it is Utah which completes the podium, ahead of astonishing Mavericks, whose offseason was not however the most eventful. The Clippers are only fifth, while Golden State is given a relatively weak seventh. Note the demotion of Spurs, now looking to the future following the departure of DeMar DeRozan.
The Suns favorites, the Lakers and Jazz in ambush, Clippers and Warriors in the shadows… Legitimate or not, this ranking is a reminder of the exceptional level that the Western Conference will present next year!