The Knicks still want to believe in the playoffs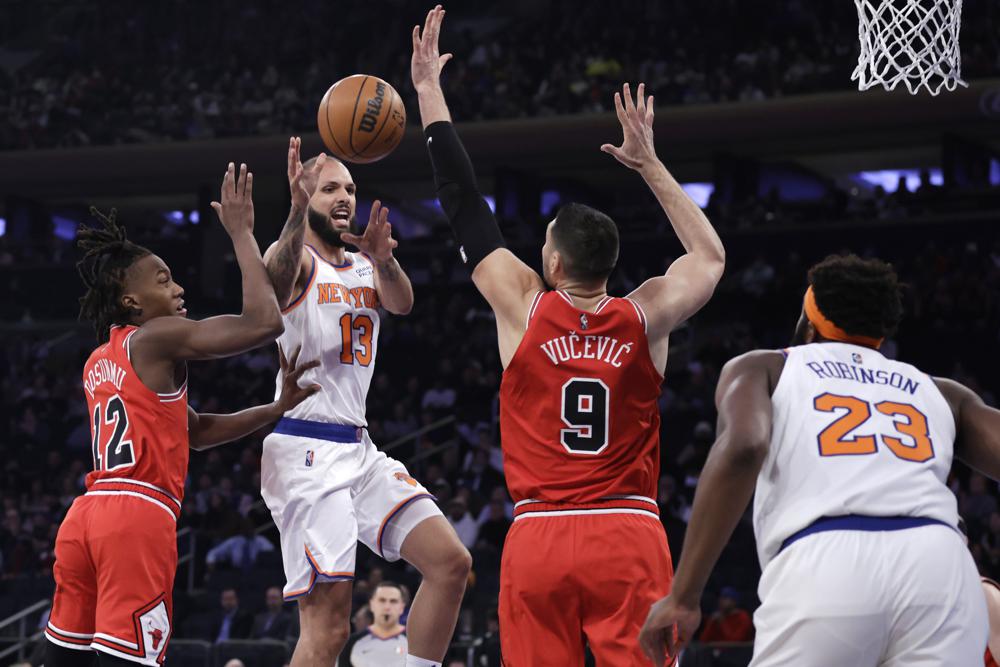 With four wins in a row, including three away, and nine in the last thirteen games, the Knicks are doing their best to stay alive and try to snatch the last place for the « play-in ». They are in 11th place in the East and are chasing the Hawks, who are ahead of them and have just won two games in a row.
Except that there are only six games left for the New York franchise and the gap with Atlanta (4 wins less, 5 losses more) seems too big. It is therefore mission impossible or almost, but the Knicks still want to believe in it. The victory against Chicago proves it.
"We play with young people who are gaining experience and we are not eliminated until it is official"announces Tom Thibodeau to SNY. "So I don't want a team giving up. I want us to keep fighting. As long as we are not eliminated, we must insist. I don't believe in anything else. »
The end of hopes this Wednesday?
But isn't this burst of the last days already coming too late? The eleven defeats in twelve matches in February and early March hurt a lot.
« Since the All-Star Break, we've been playing good basketball »believes the coach. "Unfortunately, we weren't able to win matches earlier. We play well and against good teams as well. We had a difficult away schedule and the team responded well. »
Can the franchise pull off an improbable "recovery"? Wednesday night, New York and Atlanta play. The first against Charlotte, the second in Oklahoma City. A Hawks victory, which seems very likely on paper, paired with a Knicks loss and hopes would be totally dashed.
"We fight, no matter the conditions. We are a good team"warns RJ Barrett for the New York Post. "We are disappointed with our start to the season, but we are still a good team and we are playing to win. We hang on, we play well so when we have something like that, we try to build on it. »
And even if New York wins, the gap will not have changed. Thus, going up 4.5 games behind with only 5 games to play will be a miracle…
Shots
Bounces
Players
GM
Minimum
Shots
3 points
LF
Off
Def
Early
pd
bp
Int
CT
party
Points
Julius Randle
70
35.4
41.3
30.9
76.2
1.8
8.2
10.0
5.1
3.4
0.8
0.5
2.8
20.3
Rj Barrett
64
34.5
41.0
34.5
71.6
0.9
5.0
5.9
2.9
2.2
0.6
0.2
2.1
19.9
Evan Fournier
73
29.7
41.8
39.2
69.6
0.5
2.2
2.6
2.1
1.3
1.0
0.2
2.2
14.2
Derrick Rose
26
24.5
44.5
40.2
96.8
0.8
2.2
3.0
4.0
1.5
0.8
0.5
0.6
12.0
Kemba Walker
37
25.6
40.3
36.7
84.5
0.4
2.6
3.0
3.5
1.3
0.7
0.2
1.0
11.6
Alec Burks
74
27.9
38.7
39.5
82.2
0.6
4.1
4.7
2.8
1.0
1.1
0.3
2.5
11.3
Immanuel Quickley
71
22.3
38.9
34.8
90.7
0.4
2.5
2.9
3.1
1.3
0.6
0.0
2.1
10.7
Mitchell Robinson
68
25.3
75.9
0.0
49.1
4.0
4.5
8.6
0.5
0.9
0.8
1.8
2.7
8.4
Obi Toppin
65
15.5
52.4
24.8
75.3
1.0
2.6
3.6
1.0
0.8
0.3
0.4
1.4
7.6
Quentin Grimes
45
17.1
40.9
38.9
68.4
0.5
1.5
2.0
0.9
0.6
0.7
0.2
1.6
6.1
Cam Reddish
15
14.4
41.5
25.8
90.6
0.3
1.1
1.4
0.7
0.9
0.8
0.3
1.0
6.1
Taj Gibson
47
18.1
53.9
44.8
79.5
1.7
2.7
4.4
0.6
0.5
0.4
0.8
2.8
4.3
Kevin Knox
13
8.5
37.5
35.7
70.0
0.6
1.1
1.7
0.2
0.4
0.2
0.1
0.4
3.6
Nerlens Noel
25
22.5
53.3
0.0
70.0
1.9
3.7
5.6
0.9
0.8
1.2
1.2
2.7
3.4
Miles Mcbride
35
9.1
28.6
23.6
70.0
0.1
0.9
1.0
1.1
0.1
0.4
0.0
1.2
2.1
Damyean Dotson
2
10.3
50.0
0.0
0.0
0.0
1.0
1.0
0.5
0.0
0.0
0.0
0.0
2.0
jericho sims
34
11.4
75.7
0.0
37.5
1.3
2.2
3.4
0.4
0.4
0.2
0.4
1.4
1.8
Wayne Selden
3
6.4
25.0
50.0
50.0
0.0
0.3
0.3
0.3
0.0
0.0
0.0
0.3
1.7
Ryan Arcidiacono
6
2.8
66.7
100.0
0.0
0.0
0.2
0.2
0.0
0.0
0.0
0.0
0.0
1.0
Tyler Hall
1
1.9
0.0
0.0
0.0
0.0
0.0
0.0
0.0
0.0
0.0
0.0
0.0
0.0
Daniel House
1
3.4
0.0
0.0
0.0
0.0
0.0
0.0
0.0
0.0
0.0
0.0
0.0
0.0
Matt Mooney
1
1.9
0.0
0.0
0.0
0.0
0.0
0.0
0.0
1.0
1.0
0.0
0.0
0.0