The Kings give a big slap to the Blazers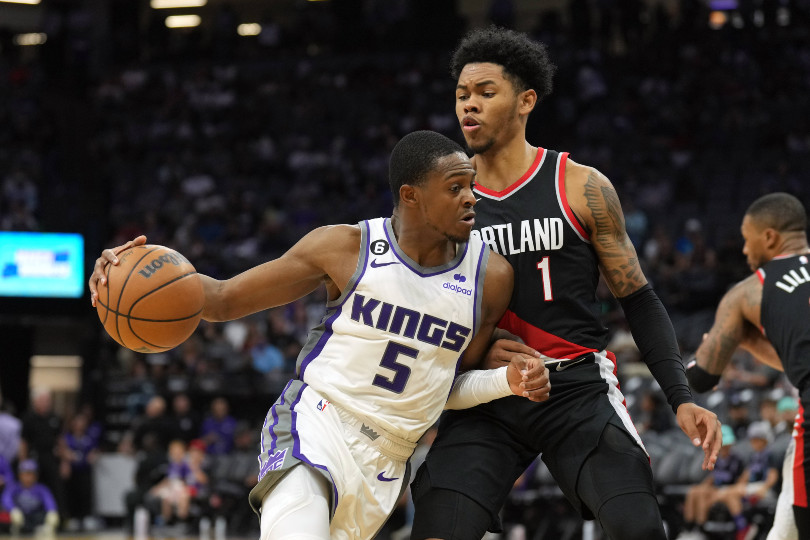 It's still only the preseason but Chauncey Billups certainly did not appreciate the spectacle of his troops on Sunday in Sacramento. Because the Blazers never entered the game defensively.
At the end of the first quarter, they had already collected 31 points, then 70 at the break! Not only was the defense failing, but also the attack, with an uninspired Damian Lillard (2/10 on the shot) and a lot of waste, symbolized by 21 lost balls.
Result: De'Aaron Fox, Kevin Huerter and Terence Davis had ammunition to hurt 3-pointers. In the second quarter, Keegan Murray also showed behind the arc and despite Mike Brown's numerous rotations, Sacramento always maintained the gap, even in the second half.
The Kings therefore won 126-94 with eight players at more than 10 units and excellent percentages (50% success in shooting, 46% at 3-pts). It's their second victory in two games this pre-season. For the Blazers, we will have to react because the next opponents will be the Warriors, beaten against the Lakers.
Sacramento

/

126
Shots
Bounces
Players
Minimum
Shots
3 points
LF
O
D
T
pd
party
Int
bp
CT
+/-
Points
Rating
D. Sabonis
23
4/8
1/2
4/5
2
5
7
4
2
0
2
0
+18
13
17
K.Okpala
12
1/3
0/2
2/4
0
2
2
1
4
0
0
0
+13
4
3
H.Barnes
24
5/11
1/5
0/1
3
2
5
2
1
1
1
0
+17
11
11
D.Fox
22
4/8
3/3
3/4
1
1
2
3
4
1
1
0
+9
14
14
K.Huerter
21
4/7
3/5
0/0
0
2
2
4
4
2
3
1
+9
11
14
T.Lyles
12
4/8
2/4
0/0
2
2
4
1
2
0
1
0
-7
10
10
C.Metu
13
2/6
0/4
2/2
0
3
3
1
4
0
2
0
-3
6
4
K.Bazemore
10
1/2
0/1
1/3
0
1
1
3
1
2
0
1
+4
3
7
K.Murray
23
5/6
5/6
1/2
0
3
3
1
0
2
2
1
+20
16
19
A.Len
12
2/2
0/0
0/0
2
3
5
1
3
1
1
1
+17
4
11
N.Queta
10
2/3
0/0
0/0
1
4
5
1
2
0
1
2
+4
4
10
D.Mitchell
17
2/6
0/1
0/0
0
0
0
5
2
0
1
0
+19
4
4
T.Davis
11
5/8
4/5
0/0
1
2
3
4
0
1
2
1
+19
14
18
Mr. Monk
17
3/9
2/7
2/2
0
4
4
1
1
1
1
0
+19
10
9
Mr. Dellavedova
9
0/1
0/0
0/0
1
0
1
2
3
0
1
0
+4
0
1
K. Ellis
5
1/1
0/0
0/0
0
0
0
0
0
0
1
0
-2
2
1
45/89
21/45
15/23
13
34
47
34
33
11
20
7
126
153
Portland

/

94
Shots
Bounces
Players
Minimum
Shots
3 points
LF
O
D
T
pd
party
Int
bp
CT
+/-
Points
Rating
J.Grant
25
5/8
2/3
5/5
0
1
1
2
1
2
2
2
-4
17
19
J. Nurkic
22
4/10
0/1
6/6
2
7
9
1
1
0
5
1
-7
14
14
D.Lillard
27
2/10
0/4
4/4
0
0
0
6
3
1
2
0
-23
8
5
J.Hart
24
1/4
0/0
1/2
1
5
6
1
1
1
0
0
-5
3
7
A.Simons
28
5/9
4/8
2/2
0
2
2
3
2
0
1
0
-8
16
16
D. Eubanks
9
0/1
0/0
2/2
0
0
0
0
1
0
0
0
-1
2
1
T.Watford
12
2/4
0/1
0/0
0
1
1
1
3
0
2
0
-19
4
2
G.Brown III
11
0/2
0/1
3/4
0
0
0
0
0
1
0
0
-9
3
1
J Walker
6
0/0
0/0
0/0
0
1
1
0
0
0
0
0
+4
0
1
N.Little
18
3/4
0/1
1/2
1
2
3
0
3
0
1
1
-31
7
8
O. Sarr
17
1/4
1/3
2/2
0
1
1
1
3
0
0
0
-24
5
4
K. Johnson
22
2/6
1/4
0/2
1
0
1
2
0
1
3
0
-36
5
0
I.Miller
6
1/3
0/0
0/0
0
1
1
1
1
2
4
0
+4
2
0
S.Sharpe
13
3/7
2/3
0/0
1
2
3
0
1
1
1
0
-1
8
7
29/72
10/29
26/31
6
23
29
18
20
9
21
4
94
85