The James family hit by a dirty scourge, LeBron reacts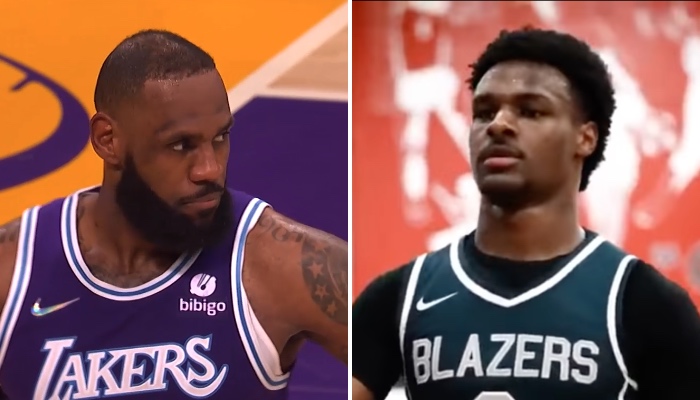 NBA (DR) / BallIsLife (DR)
The James family is perhaps one of the best known in the world, LeBron and his relatives are not necessarily spared from certain scourges. For example, his eldest Bronny just fell victim to a very common trap, and they decided to react.
Not everyone moves at the same pace in the James family. Indeed, as LeBron kicks off preparations for next season, with a totally crazy idea in the middle of the night, Bronny is destroying everything on the AAU circuit, where he leads his own team against the best young people in the United States. He also shows surprising ease in attack, which gives substance to his father's dream.
But if one is in the middle of the recovery phase and the other in the middle of a rush, the perhaps future teammates must have met for a small family crisis meeting. Indeed, Bronny was the victim of a cyber-attack, and he decided to post a press release on his father's Instagram account, which has no less than 120 million subscribers.
Bronny James hacked, LeBron pissed off
Please know that the only official form of communication for me is either through my parents or directly with me. If you've received a message from an account impersonating me, or if you've received a message from me that doesn't look like me, stop replying immediately. I or my family will contact you via another means if necessary. Thank you. 🖤👑
As you will have understood, Bronny James has been hacked on social networks, and this is not the first time that this has happened to him. It must be said that he represents a perfect target for internet criminals, since he is young, already rich, and that he also has 6 million subscribers on Instagram, enough to find a few young people to scam. The situation is now clear, he is no longer responsible for what happens to subscribers who think they are talking to him.
The King has in any case taken the time to add a little spicy comment on this disabling situation for his eldest:
Prince 🤴🏾 has spoken. 📝 There are some really weird people here dude!! 🤦🏾‍♂️ PS: I sincerely apologize for any problems this hack may have caused 🙏🏾
Bronny James and LeBron reacted to the hacking of the high school student's Instagram account, and they are visibly upset. Attacking them is in any case quite daring, since they have the means to push the investigation far enough and to go back to the culprits.