The huge confession about James Harden that will not please Kyrie and Durant!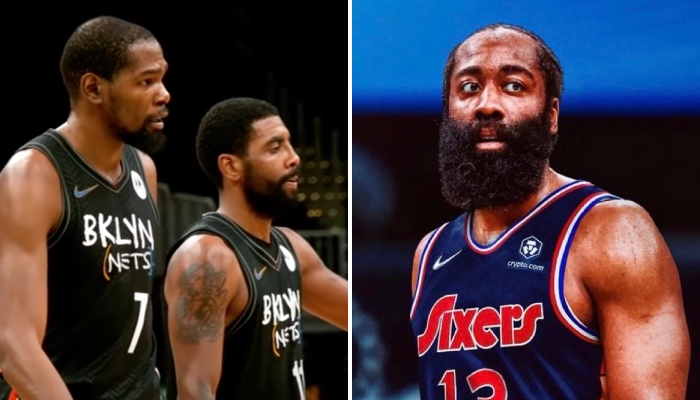 NBA (DR) / Legion Hoops (DR)
Traded by the Nets in Philadelphia during last season, James Harden says he has since been much happier in the ranks of the 76ers. One of his teammates has just dropped a big revelation that could go wrong in Brooklyn!
Stuffed with ambition for years, the franchise had probably not registered on its running board an elimination from the second round of the playoffs last year. Prematurely eliminated by the Heat, the 76ers paradoxically did not make many changes to their workforce during the offseason. Daryl Morey preferred to assert continuity, and leaves the keys to the truck to Joel Embiid and James Harden.
Fully invested in his mission, the Barbu has not been idle this summer. This is transcribed on his physique, unrecognizable and overpowered as the start of the season approaches. But while most of the discussions focused precisely on his transformation, the viral release of one of his new partners reopened with a bang the file of his controversial departure from the Nets.
The inflammatory statement about James Harden and Brooklyn
Arrived last February from Brooklyn, Harden had then done everything to join the Sixers, supposedly cold with Kevin Durant and or Kyrie Irving. It finally turns out that his departure for Philadelphia could have taken place much earlier, and at his request. In any case, this is what PJ Tucker said without filter, this Monday, on the occasion of the Media Day of his new team:
PJ Tucker on making the move to Philadelphia: "Honestly, me and James were trying to come the year before"

— Kyle Neubeck (@KyleNeubeck) September 26, 2022
PJ Tucker on moving to Philadelphia: "Honestly, James and I tried to come here a year ago"
A good friend of Harden since their joint stay at the Rockets, Tucker had obviously already planned to find him in Philly during the last offseason. In other words, The Beard considered leaving Kyrie and KD earlier than he did, and therefore reluctantly played for four months under the colors of the Nets. Not ideal for ensuring a healthy climate in a New York locker room.
Knowing that Brooklyn already had to manage the soap opera linked to Irving's non-vaccination, it does not seem surprising that the franchise ended up exploding in flight afterwards. To see now if the same scenario will happen again during the coming campaign, after Durant has also tried to pack up in recent weeks. Tucker, for his part, can be delighted to have finally been able to find the MVP 2018!
Did James Harden wear the Nets jersey with desires elsewhere in the back of his mind at the start of last season? This is what PJ Tucker says, very happy to find him in Philadelphia a year later… and to drop this bomb!