The Good Sea is not for freshwater sailors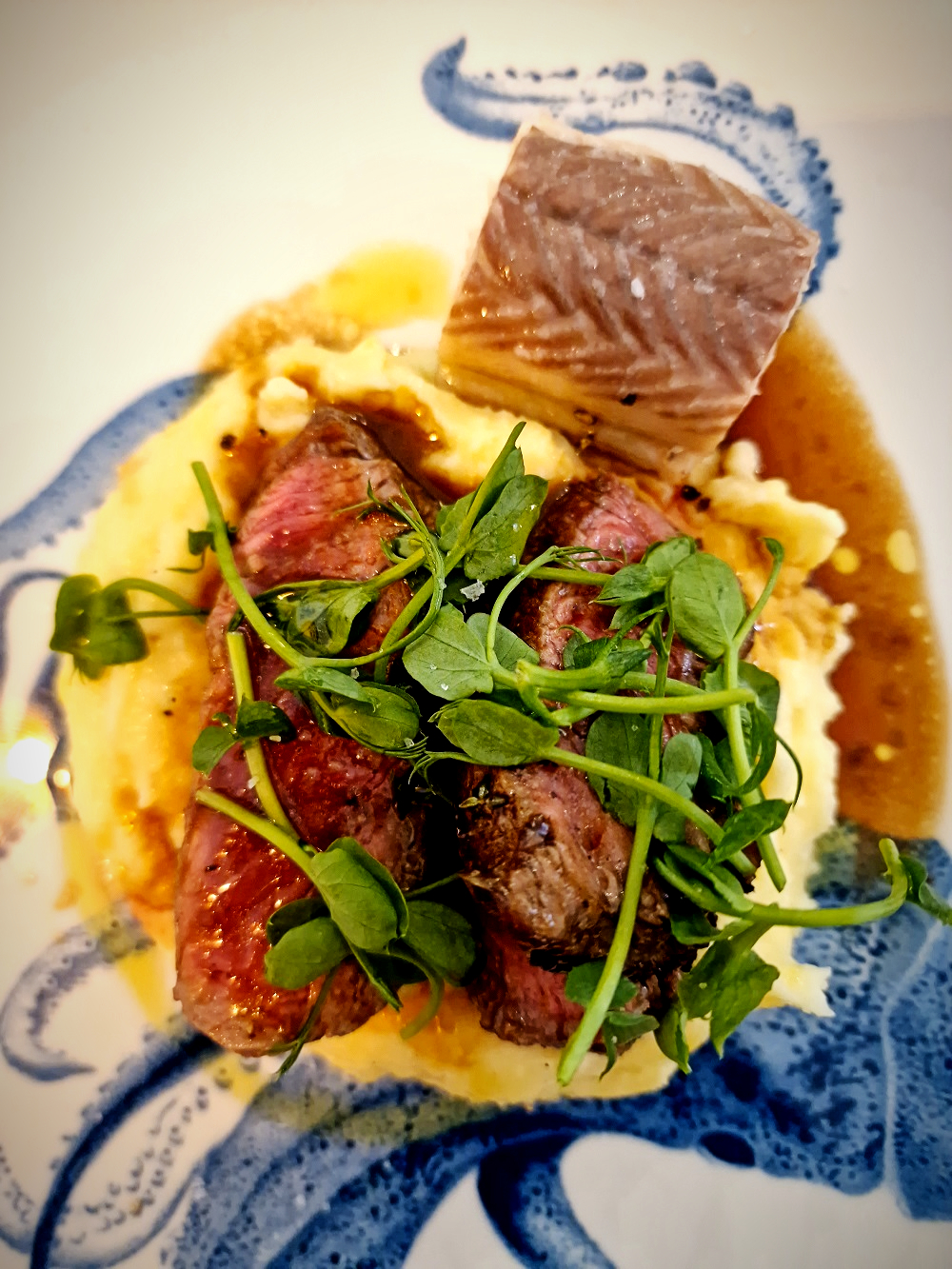 Defying gusts and storms, the founding quartet of La Bonne Mer, Vauban's fishmonger-restaurant, held the helm. At the time of the progress report, a year after the opening of their address at the foot of the basilica, Alex, Benjamin, Momo and Julien took up the challenge of offering a regular menu, with dishes that correspond to the promise. Neighborhood address, haunt of friends, everyone comes here to lean on the counter at aperitif time in white mode, of course. The wine list invites you to leave the beaten track of Provence in favor of a Savenières (le Parc, dom. FL 2016) or a very elegant Condrieu d'André Perret 2020 (more at ease with poultry, this is why we will confine it to the pre-meal).
Those who don't like oysters should try these (fines de claire and vertes de claire n°3, Gillardeau n°3), just sprinkled with a dash of lemon. They will be surprised by their delicate iodized accent, their lightness coupled with freshness and, for sure, will fall under their spell. Tempura cuttlefish dipped in aioli is suitable for sharing. Rare in restaurants, eel is served smoked and grilled with beef pear on mashed potatoes drizzled with gravy. Still in the land-sea register, the chef, Mamadou Kebe (ex-les Trois coups), smoked breast bacon with a few pieces of monkfish cheek and garnished his round-trip scallops with a cream of chorizo ​​for tone and vivacity. To accompany it all, a very reasonable Chardonnay from the Dom. Doudet-Naudin (€25), in Savigny-les-Beaune, served chilled, ideal with scallops or cod cooked in a rustic way.
For a long time, La Bonne Mer offered an aioli on Fridays, what a beautiful abandoned idea for which we would be the first to demonstrate to speed up the return! At lunch, the room and the service make friends, the spirit weekend approaching, we feel that many want to hang around at dessert time at the Amandine patisserie and coffee. So should we push the door of the Good Sea? Yes, because the address offers a wild fish of the day like a dish of the day, simply cooked in the oven with a relevant accompaniment. Yes because the team makes great efforts to offer wild and local « whenever possible » and Atlantic if necessary with insurance: – We do with what the sea offers us ». Yes, because the menu changes every week and Mamadou Kebe's diligent work deserves our full attention. Yes, finally, for the small school of fish that allows you to have fun, at home, with a few pieces of irreproachable freshness.
La Bonne Mer, 13, rue Fort du Sanctuaire, Marseille 6th arr. ; 07 88 31 25 89. Card €50-55.
If the sea is good, the Good Sea takes us on board
The Bonne Mer team had the good idea of ​​equipping a Marseille boat, all in wood, with an electric motor, to offer us unusual cruises. The formula proposes to leave the Old Port for a tour of one and a half hours – or even two hours if you are nice and cool – to connect the Vallon des Auffes, Malmousque and Petit Nice, before returning to the fold. On board, box lunches, sea urchins, shellfish platters to enjoy in private mode (12 people) or with other strangers who will quickly become friends. Great idea for celebrating a birthday or event. To awaken the Captain Haddock in you.
€600 for the privatized boat and €50 per person for the meal. Info on 07 88 31 25 89.