The creepy photo of Bryce James, 15, with his father LeBron!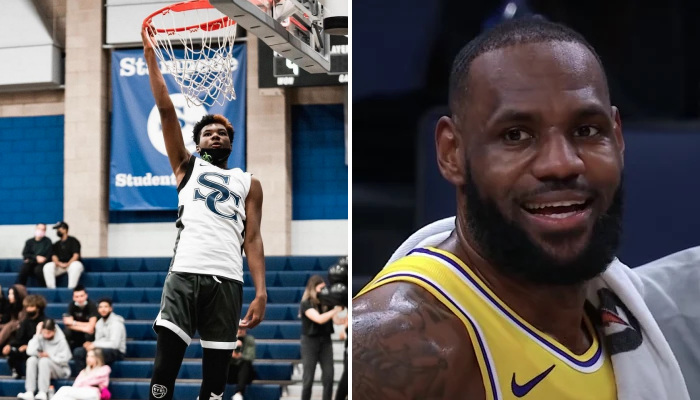 @bryce_m_james / NBA (DR)
We talk a lot about Bronny James, but his brother Bryce Maximus is not left out either. The boy is a small phenomenon on social networks and proved it again recently with a surreal photo, showing him with LeBron.
LeBron James can sleep peacefully, his succession on the basketball courts is a priori assured. His sons indeed follow the same path as the four-time Lakers champion, brilliant on the side of high school in Sierra Canyon, California. Bronny James should join the league in two years, by the time he finishes his schooling and goes to university. However, his little brother Bryce Maximus will also be one to watch very closely.
Indeed, although he is not yet as publicized as his elder, the man has real qualities with the ball in hand. Not long ago, he had also ignited the canvas thanks to a superb move, proof that he had acquired certain skills from his father. About L-Train, he was also present during the last game of his two offspring. However, one photo in particular with his youngest son caught the eye. As you can see, they are almost as tall as each other, even though the boy is only 15!
Bryce Maximus almost as tall as LeBron!
15 yo Bryce is almost as tall as Bron already 🤯🤯🤯 pic.twitter.com/ePVGAlpBDA

— Masked In LA 🎭 (@MaskedInLA) July 6, 2022
We already knew it for a few weeks, Bryce had caught up with his two-year-older brother when it came to height. However, it would seem that he has even exceeded him since and that he is squarely approaching his father, who measures 2m06. And its growth curve is still very far from complete… Could it be a future giant? It's possible. On the fan side, we are in any case absolutely hyped by the potential of the boy, if he were to choose to go to the NBA:
Y'all gotta stop sleeping on Bronny

Both of them will be nasty in the pros 👑

Follow for more content like this 🫡

— Masked In LA 🎭 (@MaskedInLA) July 6, 2022
Stop underestimating Bryce over Bronny. Both are going to be wild in pro
close enough pic.twitter.com/hXr6p0hlki

— ara g (@_aragg) July 6, 2022
While still going through puberty, Bryce Maximus is now almost as tall as his four-time champion father. If he can acquire the skills of LeBron, then we will have the right to a new nuclear weapon in the James family.