The Celtics squandered a 'golden opportunity'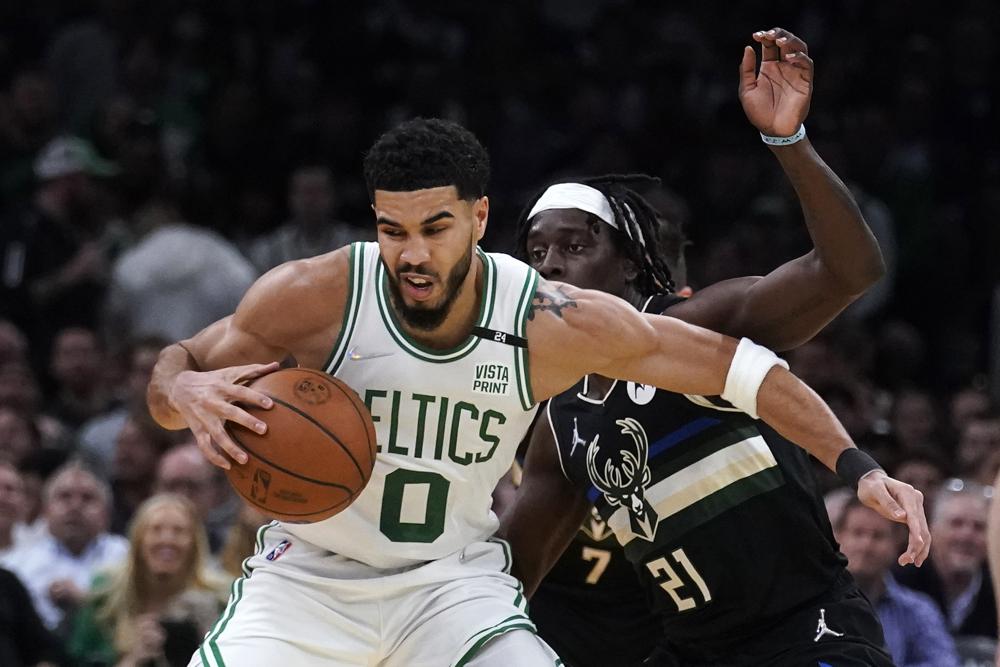 The streak isn't over yet and it certainly wouldn't have been had Boston won Game 5 anyway. However, it would have taken a better turn for the Celtics, for sure, so that they find themselves with their backs to the wall now.
Because with a 14-point lead ten minutes from the end of the game, Ime Udoka's men were heading for a very precious victory, to lead 3-2 in this conference semi-final. Except that, when the final buzzer sounded, the Bucks were in front…
"Of course it will hurt"assumes the Celtics coach at Mass Live. "The guys are going to be shocked by this result, knowing that we dominated for more than three quarters. It will be even better when we bounce back. But we wasted a golden opportunity. We still have an opportunity, the series is not over after this game, we can do it again. But it will be harder, because you have to win two in a row. We're going to Milwaukee to take one game at a time. »
Same philosophy at Marcus Smart, who is already turned to Game 6, in Wisconsin, Friday evening.
"We have to come back and keep fighting," assures the defender of the year, always for Mass Live. "We don't have time to dwell on how we lost. We don't have time to tell ourselves that we've lost and that it hurts. Yes, it hurts, but we don't have time for that. It's simple: if you're not ready for the next match, then there's no need to come to the courts. »
"These are the defending champions, they have done champion actions"
The playmaker and his coach also returned to the source of this defeat. How to explain that the Celtics, so solid for almost 40 minutes, foiled in the last quarter?
"The offensive rebound is the story of this game. They took 17 and scored 20 second-chance points, with a majority of points scored after the break. » Ime Udoka analysis. « If we block on the rebound, we win this game », continues Marcus Smart. "They've been good at getting extra shots and putting them on. They are the reigning champions, they have done champion actions. »
The coach obviously thinks of the seven offensive rebounds of the Bucks in the last act and two in the last minute, which allowed the baskets of Giannis Antetokounmpo and Bobby Portis. He also emphasized the defense in the last quarter, which he did not appreciate, and an attack that was too static and inaccurate in important moments.
« We gave up, that's how we lost »comments on his side Jaylen Brown. "You have to give credit to Milwaukee. They played hard for 48 minutes and we weren't as determined as we needed to go down the stretch. We paid him. We have to be smarter, we have to do what works. »
Shots
Bounces
Players
GM
Minimum
Shots
3 points
LF
Off
Def
Early
pd
bp
Int
CT
party
Points
Jayson Tatum
76
35.9
45.3
35.3
85.3
1.1
6.9
8.0
4.4
2.9
1.0
0.6
2.3
26.9
Jaylen Brown
66
33.6
47.3
35.8
75.8
0.8
5.3
6.1
3.5
2.7
1.1
0.3
2.5
23.6
Dennis Schroder
49
29.2
44.0
34.9
84.8
0.6
2.8
3.3
4.2
2.1
0.8
0.1
2.4
14.4
Marcus Smart
71
32.3
41.8
33.1
79.3
0.6
3.2
3.8
5.9
2.2
1.7
0.3
2.3
12.1
Derrick White
26
27.4
40.9
30.6
85.3
0.5
2.9
3.4
3.5
1.2
0.6
0.6
2.2
11.0
Al Horford
69
29.1
46.7
33.6
84.2
1.6
6.1
7.7
3.4
0.9
0.7
1.3
1.9
10.2
Robert Williams
61
29.6
73.6
0.0
72.2
3.9
5.7
9.6
2.0
1.0
0.9
2.2
2.2
10.0
Josh Richardson
44
24.7
44.3
39.7
85.9
0.6
2.3
2.8
1.5
0.9
0.8
0.5
1.9
9.7
Daniel Theis
21
18.7
59.8
35.7
68.8
1.3
3.4
4.7
1.0
0.7
0.4
0.7
2.3
7.9
Grant Williams
77
24.4
47.5
41.1
90.5
0.8
2.7
3.6
1.0
0.8
0.5
0.7
2.4
7.8
Payton Pritchard
71
14.1
42.9
41.2
100.0
0.5
1.4
1.9
2.0
0.6
0.4
0.1
0.9
6.2
Romeo Langford
44
16.6
42.9
34.9
58.8
0.7
1.7
2.4
0.4
0.4
0.5
0.4
1.0
4.7
Jabari Parker
12
9.4
47.4
50.0
100.0
0.4
1.9
2.3
0.5
0.7
0.3
0.1
1.1
4.4
Aaron Nesmith
52
11.0
39.6
27.0
80.8
0.3
1.4
1.7
0.4
0.6
0.4
0.1
1.3
3.8
Enes Freedom
35
11.8
52.6
40.0
85.7
1.7
2.8
4.6
0.2
0.6
0.1
0.4
1.2
3.7
matt ryan
1
5.3
20.0
20.0
0.0
0.0
0.0
0.0
0.0
0.0
1.0
0.0
0.0
3.0
Sam Hauser
26
6.1
46.0
43.2
0.0
0.2
0.9
1.1
0.4
0.1
0.0
0.1
0.3
2.5
Luke Kornet
12
7.1
57.1
0.0
66.7
0.8
1.3
2.1
0.7
0.0
0.3
0.2
0.6
2.2
Joe Johnson
1
2.0
100.0
0.0
0.0
0.0
0.0
0.0
0.0
0.0
0.0
0.0
0.0
2.0
justin jackson
1
2.0
0.0
0.0
100.0
0.0
0.0
0.0
0.0
0.0
0.0
0.0
0.0
2.0
Malik Fitts
8
3.5
60.0
50.0
0.0
0.3
0.6
0.9
0.6
0.0
0.0
0.0
0.1
1.9
Brodric Thomas
12
5.0
44.4
22.2
60.0
0.2
0.7
0.8
0.9
0.5
0.1
0.1
0.6
1.8
Nik Stauskas
6
2.5
33.3
33.3
50.0
0.0
0.0
0.0
0.2
0.2
0.0
0.0
0.0
1.2
Juancho Hernangomez
18
5.3
18.5
16.7
66.7
0.5
0.9
1.4
0.2
0.3
0.2
0.1
0.4
1.1
Bruno Fernando
20
2.9
50.0
100.0
80.0
0.4
0.4
0.8
0.2
0.3
0.0
0.2
0.3
1.0
Juwan Morgan
1
3.6
0.0
0.0
0.0
0.0
0.0
0.0
0.0
0.0
0.0
0.0
0.0
0.0
Kelan Martin
3
1.9
0.0
0.0
0.0
0.3
0.3
0.7
0.0
0.0
0.0
0.0
0.0
0.0
cj miles
1
2.0
0.0
0.0
0.0
0.0
0.0
0.0
0.0
0.0
0.0
0.0
1.0
0.0