The Cavaliers part ways with Tacko Fall | NBA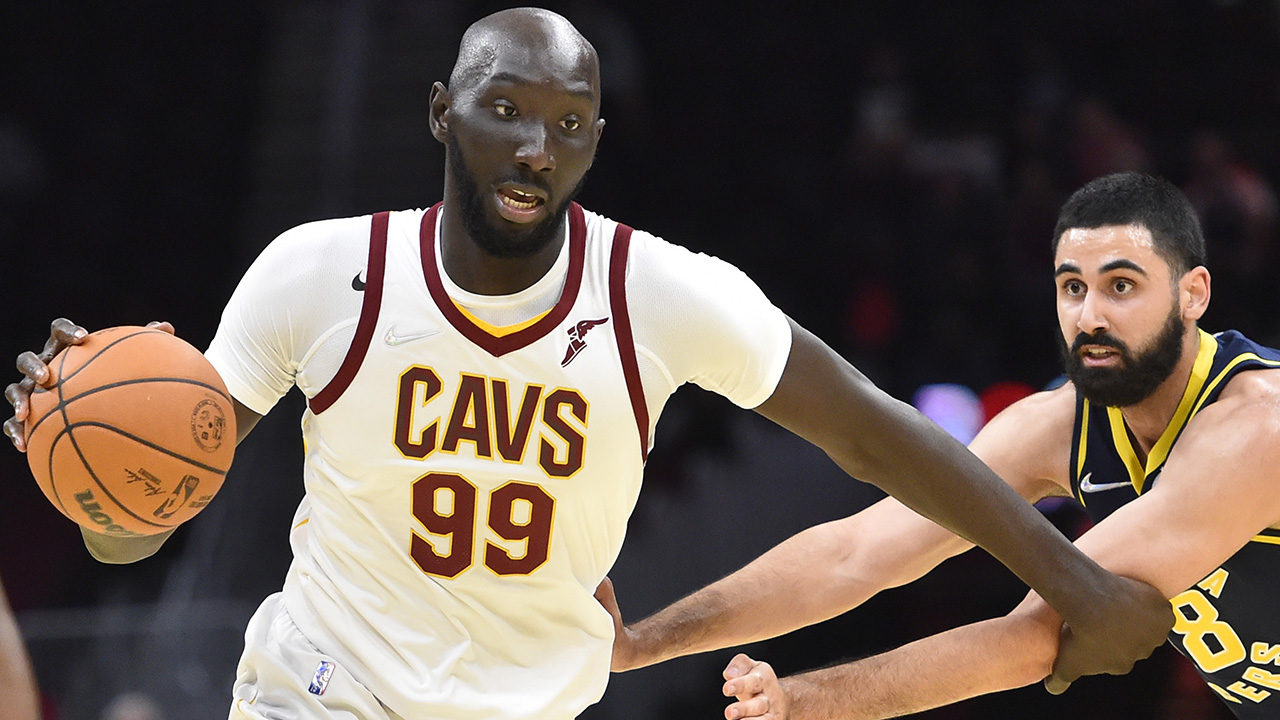 In « two-way contract », as was the case with the Celtics for two years, Tacko Fall will not end the season with the Cavaliers since The Athletic announces that his leaders decided to sacrifice him to sign an additional leader. This is Brandon Goodwin, first signed as a medical joker, and whose performance convinced the staff of JB Bickerstaff.
In three games, this former Hawks and Nuggets point guard averaged 7.3 points, 4.7 assists and 3.7 rebounds.
In a formation already armored under the panels, Fall will have played just 59 minutes in 11 matches.
Shots
Rebounds
Players
MJ
Min
Shots
3pts
LF
Off
Def
Early
Pd
Bp
Int
Ct
Fte
Pts
Darius garland
33
34.4
47.6
38.9
91.4
0.5
2.5
3.0
7.3
3.6
1.3
0.1
1.6
19.9
Jarrett allen
32
32.8
70.5
14.3
70.7
3.3
7.5
10.8
1.9
1.9
0.9
1.4
1.9
17.0
Collin sexton
11
28.8
45.0
24.4
74.4
1.2
2.1
3.3
2.1
2.8
0.9
0.0
2.3
16.0
Evan mobley
31
33.7
50.1
30.6
74.5
1.6
6.5
8.2
2.5
1.6
0.8
1.8
2.1
14.9
Kevin love
31
21.8
43.9
42.6
88.2
1.2
6.4
7.6
2.1
1.2
0.4
0.2
1.1
14.5
Lauri Markkanen
30
30.3
41.4
30.6
85.2
1.1
4.2
5.3
1.7
0.9
0.7
0.5
1.8
13.4
Ricky rubio
34
28.5
36.3
33.9
85.4
0.4
3.7
4.1
6.6
2.6
1.4
0.2
2.2
13.1
Cedi osman
27
22.7
45.6
40.5
70.7
0.4
2.3
2.7
1.7
0.9
1.0
0.3
1.9
11.6
Rajon Rondo
1
16.8
22.2
25.0
83.3
0.0
5.0
5.0
3.0
1.0
1.0
0.0
3.0
11.0
Isaac okoro
27
28.4
45.4
32.1
71.9
1.2
2.4
3.6
1.9
1.1
0.8
0.3
2.5
9.0
Malik newman
1
7.7
60.0
0.0
100.0
0.0
1.0
1.0
1.0
1.0
0.0
0.0
0.0
8.0
Brandon goodwin
3
22.7
38.5
0.0
25.0
0.7
3.0
3.7
4.7
1.7
0.7
0.0
2.3
7.3
Dean wade
28
20.2
43.2
32.9
76.9
0.8
2.7
3.5
1.2
0.4
0.5
0.1
1.6
5.1
Justin anderson
3
15.5
50.0
33.3
75.0
0.0
2.0
2.0
2.0
0.7
0.3
0.0
1.3
4.3
Lamar stevens
25
12.9
38.9
30.3
61.1
0.7
1.4
2.0
0.6
0.4
0.2
0.2
1.3
3.8
Tre Scott
2
5.7
50.0
0.0
0.0
0.5
0.5
1.0
0.0
0.0
0.5
0.5
1.0
3.0
Denzel valentine
22
9.3
37.1
40.9
0.0
0.4
1.3
1.7
0.5
0.5
0.3
0.0
0.8
2.9
Dylan windler
24
10.5
44.4
41.7
75.0
0.5
1.5
1.9
0.9
0.4
0.2
0.1
1.1
2.8
Rj nembhard
5
8.0
45.5
0.0
50.0
0.0
0.4
0.4
2.0
0.2
0.0
0.0
0.4
2.2
Kevin pangos
18
8.7
33.3
23.1
75.0
0.1
0.4
0.6
1.7
0.4
0.1
0.0
0.6
2.2
Luke kornet
2
7.4
20.0
0.0
66.7
1.0
0.5
1.5
0.5
0.0
0.0
0.5
0.5
2.0
Ed davis
12
9.3
75.0
0.0
16.7
0.4
2.7
3.1
0.1
0.2
0.2
0.6
1.4
1.6
Tacko Fall
11
5.3
41.7
0.0
28.6
0.6
1.5
2.1
0.2
0.3
0.0
0.5
0.3
1.1