The bookmakers give the favorites for the title, the Lakers 2nd ?!
After more than a month of competition, some observers believe it is time to take stock of the regular season. This is notably what the American betting sites have done, by updating the odds of the favorites for the title. Surprise, the Lakers are 2nd despite their difficulties!
After more than fifteen games played for each franchise, it is time to take stock and draw some conclusions. And the first thing that stands out is the difference in the dynamics of the leaders of each conference. In the West, complete confidence reigns among the Warriors, who can count on a Stephen curry in MVP mode, on a historically good defense, and which will also record the returns of Klay Thompson and James Wiseman.
In Brooklyn, on the other hand, the machine is less well oiled even if the results are there for the moment. Yes Kevin Durant is in the shape of his life and playing his best basketball, there is still a lot of work for this collective to impress and intimidate. For example, they bowed against all the big guys, which is not reassuring in the quest for a title.
The Nets favorites, the Lakers second according to the bookmakers
Following this first month of competition, fans and observers are not the only ones to give their opinion on the form of the contenders for the Finals and on the state of the stars. Bookmakers are also starting to update their odds, and the favorites are no longer necessarily those of the offseason. One thing is certain, stacking the stars helps to show off in Las Vegas.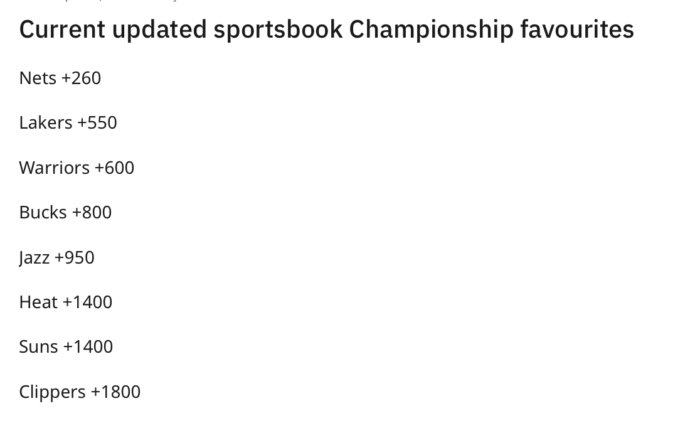 The updated ranking of favorites for the title according to the bookmakers:
At the moment, it is the Nets who remain favorites according to the bookies, since a return of Kyrie Irving would take this team to another dimension. But the more time passes, the more he posts mysterious messages on social networks, and the less this solution seems possible. But most surprisingly, it is undoubtedly the second place of the Lakers in this ranking. Yes, you should never bet against LeBron James, but what the Purple and Gold are showing at the moment is not reassuring.
And it is all the more surprising that they are in front of the Warriors, in very good shape and not yet complete, and the defending champions Bucks who find sensations with a historic Giannis! If Los Angeles continues in this sad dynamic, the drop should be severe when updating the odds. Note also the 7th place of the Suns, yet on a series of 11 consecutive victories …
The Lakers are for the moment far from among the favorites for the title with poor play and disappointing individualities, but that could change quickly. In the meantime, they have a long way to go to honor this second place.