The Ariel Hipercar, electric with a gas turbine
Ariel made a name for itself with the Atom, an extreme sports car made up of a tubular chassis with a basic body and powered by different engines, each more explosive than the other. But the future will be electric and as early as 2017, Ariel announced its Hipercar project – for High Performance Carbon Reduction – powered by electric motors and possibly equipped with a gas turbine range extender. This project is entering its concrete phase with the testing of a rolling prototype. And this Ariel Hipercar will bear its name well since it should offer performance worthy of an electric hypercar!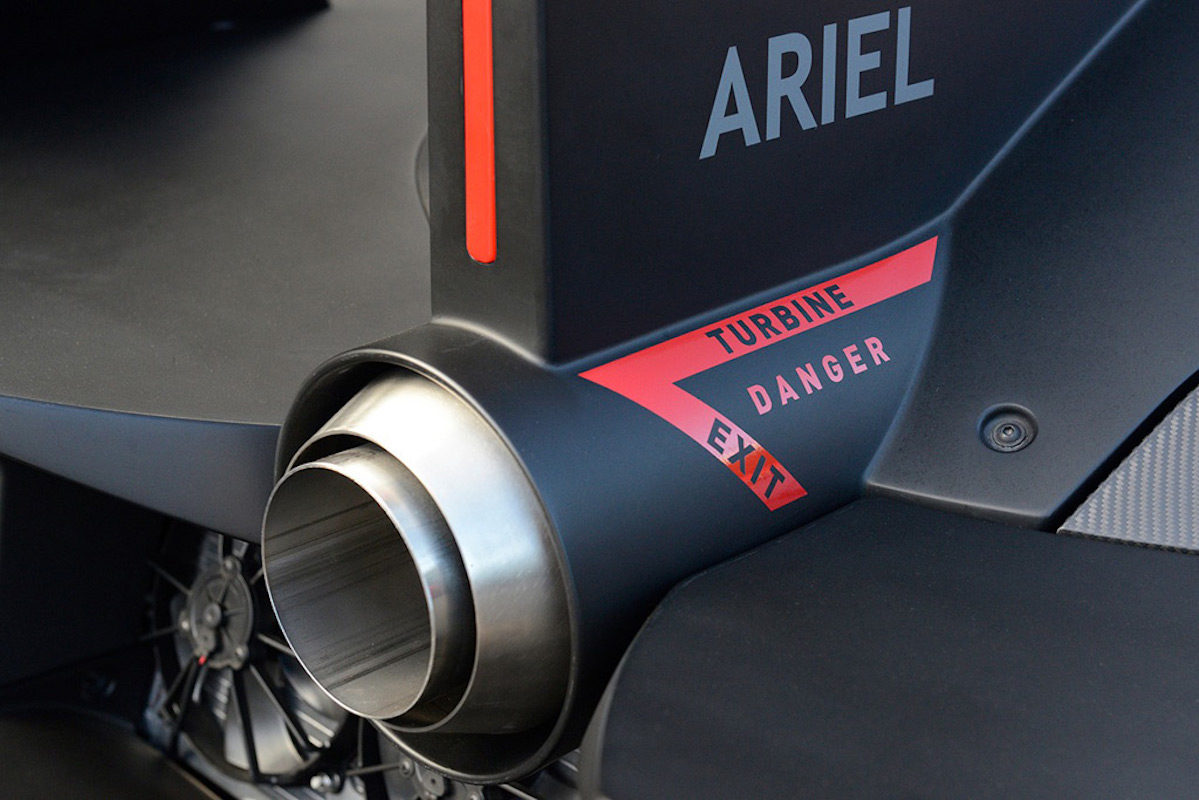 Gas turbine
The Ariel Hipercar is built around a bonded aluminum monocoque structure on which are grafted removable aluminum sub-frames, both front and rear. Without compromise, the suspensions are double superimposed wishbones, combined with shock absorbers provided by the specialist Bilstein. Still in the spirit of maximum lightening, the rims can be in carbon fiber, fitted with Michelin Pilot Sport Cup 2 in 265/35 at the front and 325/30 at the rear.
But the main focus is on the powertrain. The Hipercar will be available with 2 or 4 electric motors each driving one wheel in direct drive via a single-speed transmission. The 4-motor version will develop up to 1180 hp for a phenomenal 1820 Nm of torque (just divide by two for the two-motor variant). What relativize the mass of 1550 kg targeted by Ariel and propel the Hipercar from 0 to 100 km / h in about 2 s. More impressively, 0-100mph (160kph) would take just 4.4s and the top speed would be 150mph, or 240kph.
These engines are powered by a battery with a capacity of 62 kWh (56 useful kWh) which should ensure a range of 240 km (pessimistic or realistic?) which can be extended – as an option – thanks to a gas turbine used to recharge, maintain or increase the charge of the battery depending on the circumstances.
>> Read also – Ariel Nomad: an even crazier R

Transformer look
In terms of aesthetics, as much as the Atom was « pure » – although the V8 version with its single-seater fins was not half measures – as much as this Hipercar sports a Transformer look. Clearly, aerodynamics dictated the shapes of the bodywork and on such a short length of 4298mm with a wheelbase of 2685mm, elegance becomes hardly compatible with the search for maximum downforce. In addition, the gas turbine emitting a sound similar to that of a jet jet, Ariel has equipped the Hipercar with some tricks reminiscent of this world of aviation. In the end, the Ariel Hipercar looks like a habitable cell surrounded by fins – printed in 3D – superimposed on a prominent "nose". If the aesthetics are clearly not exceptional, we bet that the efficiency will be there.
Ariel plans to start production of the Hipercar in 2024 and the price will be steep. The manufacturer speaks of « a little less than £1 million according to current prices », or €1.16 million.