Tesla Roadster: it will arrive in 2023
At Tesla, we like to keep the fans waiting… sorry the customers! Presented in 2017, the Tesla Roadster will not finally be launched until 2023, 6 years later. A new ignition delay for the rocket on wheels of the American manufacturer. According to Elon Musk, this new postponement would be the consequence of the Cobid-19 pandemic and supply problems with subcontractors, including the famous electronic chips.
>> Read Also – Elon Musk: Chip Shortage Coming To An End
Delays and advanced technologies
The saga of the Tesla Roadster and its multiple delays therefore continues. Already postponed several times due to difficulties in developing the very advanced technologies it conceals, whether it is the 3-engine powertrain or the latest « in-house » battery technology, the first model  » sporty "brand since the initial small roadster, derived from a Lotus Elise.
It is true that the new generation of batteries represents a major commercial and industrial stake for Tesla thanks to its advances which should offer greater energy density while allowing simplified and less expensive production. These "4680" batteries will equip the manufacturer's entire range of sedans and SUVs in addition to the Roadster.
>> Read also – LFP batteries: the new holy grail of the electric car?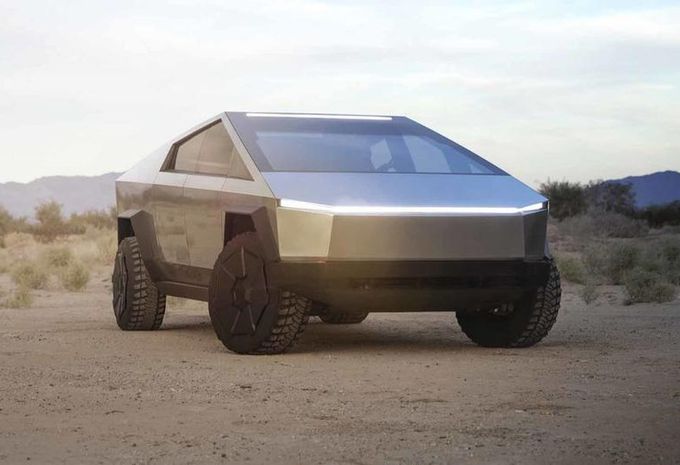 The Cybertruck in 2023 also
In addition to the Roadster, Tesla will launch production of the futuristic Cybertruck pickup. A highly anticipated model that could bring additional innovation by being devoid of door handles. Some pictures of rolling prototypes revealed blank doors with any handles, recessed or not. However, Elon Musk is not closing the door on a possible start of production in 2022: « Most likely we will see production of the Cybertruck in the next year and then hit volume production in 2023 ».
As for the Roadster, the first 1000 copies will constitute a limited "Founders Edition" series and will be invoiced at $ 250,000 (€ 216,500). The rest of the production will be more affordable at € 200,000 (€ 173,000). A discount price for a car that announces dantesque performance: less than 2 seconds for 0 to 100 km / h, 4.2 s to reach 160 km / h and a 400 m standing start in 8.9 s!