Suns surprised by Adelaide 36ers in Phoenix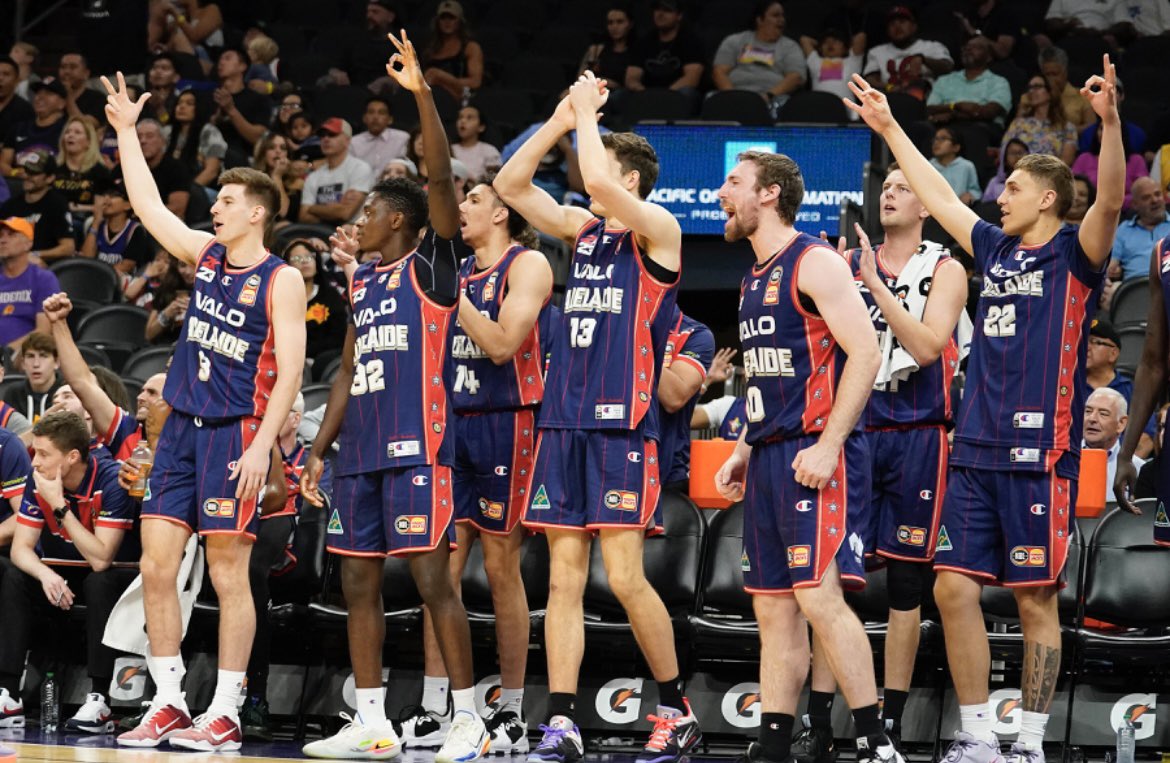 The Suns were probably hoping for another start in this preseason. But that's the kind of mishap that can happen when an NBA team just looking to get back on their feet meets a non-NBA team that wants to make a big splash with a big win.
Put in difficulty from the start by the Australian team, determined to shoot in all directions, the troops of Chris Paul (6 points, 12 assists in 22 minutes) were thus forced to chase after the score from the end of the first act by conceding an 11-4, the work of the trio Drmic-Dech-Franks (26-31).
Craig Randall confirmed Adelaide's will by slamming three 3-point baskets in a row, enough to allow Kai Sotto's teammates (11 points) to reach the break with a 12-point lead (59-71).
Until the end, we will have believed in the revolt of the Suns to avoid being the first team since Brooklyn, in 2015, to lose a preseason game on American soil against a team outside the NBA. Especially after the return to business of the Paul-Booker-Ayton trio after returning from the locker room. The Australian Jock Landale even reduced Phoenix to -1 at the end of the third quarter (83-84).
But the Australian formation has found a way to bounce back each time, thanks in particular to a Craig Randall on fire behind the arc (35 points, 9/17 from afar). Antonius Cleveland (22 points) and Robert Franks (32 points) accompanied him to the end to keep the Suns at a safe distance and clinch victory (124-134).
phoenix

/

124
Shots
Bounces
Players
Minimum
Shots
3 points
LF
O
D
T
pd
party
Int
bp
CT
+/-
Points
Rating
C. Johnson
22
2/7
0/4
0/0
1
2
3
3
1
1
1
0
+11
4
5
Mr Bridges
22
8/12
3/4
3/4
0
7
7
1
2
3
0
1
+11
22
29
D.Ayton
22
11/14
0/0
0/1
1
5
6
2
0
0
0
0
+11
22
26
C. Paul
22
2/4
1/2
1/1
0
1
1
12
4
0
1
0
+11
6
16
D.Booker
22
5/8
0/2
3/3
0
2
2
4
1
2
1
1
+11
13
18
I. Wainright
12
1/3
1/3
0/0
0
0
0
0
0
1
1
1
-2
3
2
T.Craig
26
4/10
1/4
1/2
4
2
6
0
1
2
4
0
-21
10
7
B.Biyombo
3
0/1
0/0
0/0
1
1
2
0
2
0
1
0
-3
0
0
J.Landale
22
4/9
0/4
4/4
4
2
6
0
0
0
2
0
-18
12
11
C.Payne
26
8/19
1/5
6/6
0
1
1
4
1
2
2
0
-21
23
17
D.Lee
16
1/3
1/2
0/0
1
0
1
1
1
0
0
0
-21
3
3
L.Shamet
23
2/8
1/4
1/2
1
0
1
2
4
3
3
0
-19
6
2
48/98
9/34
19/23
13
23
36
29
17
14
16
3
124
136
/

134
Shots
Bounces
Players
Minimum
Shots
3 points
LF
O
D
T
pd
party
Int
bp
CT
+/-
Points
Rating
Mr McCarron
36
2/6
0/2
0/0
0
9
9
16
2
3
1
1
+13
4
28
D. Johnson
19
5/9
2/3
3/3
2
2
4
1
1
0
3
0
+2
15
13
A.Cleveland
30
6/10
3/4
7/9
0
5
5
1
4
1
3
2
+9
22
22
R.Franks
42
11/18
6/10
4/4
2
5
7
2
4
2
5
1
+13
32
32
C.Randall
37
13/21
9/17
0/0
0
3
3
2
4
2
4
1
+13
35
31
A.Drmic
21
3/5
1/2
0/0
3
2
5
1
1
0
0
0
+11
7
11
K. Galloway
1
0/0
0/0
0/0
0
0
0
0
0
0
0
0
-3
0
0
S.Dech
18
3/6
2/3
0/0
2
3
5
1
1
0
3
0
-8
8
8
K. Sotto
18
3/6
1/2
4/4
0
2
2
1
2
2
2
0
+11
11
11
H.Harris
9
0/0
0/0
0/0
0
0
0
1
1
0
0
0
+6
0
1
N.Marshall
5
0/0
0/0
0/0
0
0
0
1
0
0
0
0
-6
0
1
C.Thew
1
0/0
0/0
0/0
0
0
0
0
0
0
0
0
-3
0
0
D.Acuoth
4
0/0
0/0
0/0
0
0
0
0
1
0
0
0
-5
0
0
F.Ipassou
1
0/0
0/0
0/0
0
0
0
0
0
0
0
0
-3
0
0
46/81
24/43
18/20
9
31
40
27
21
10
21
5
134
158