Suns interested in Bojan Bogdanovic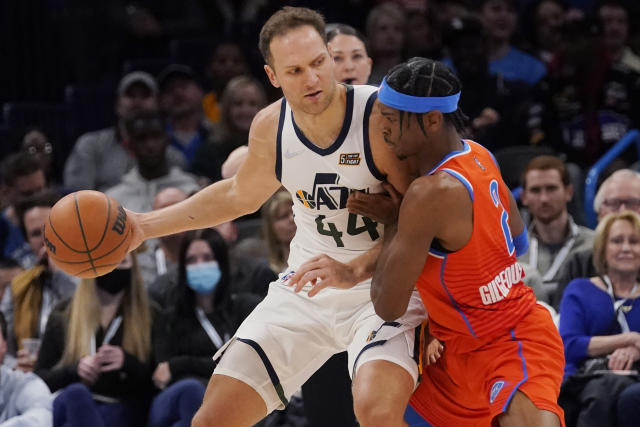 Rudy Gobert and Donovan Mitchell left, things should still move in Utah, which seems ready to make everything disappear.
Mike Conley, Jordan Clarkson or Bojan Bogdanovic could quickly pack their bags and the always very well informed John Gambadoro ensures that the Suns are particularly interested in the Croatian.
Determined to bounce back very quickly after his elimination in the conference semi-finals against Dallas, Phoenix would like to get their hands on the 33-year-old shooter, capable of playing in the 3/4 positions and above all of dismissing the game around the duo Chris Paul – Devin Booker, with his 39.2% 3-point success since his arrival in the NBA.
The concern is that Bojan Bogdanovic's salary is high (19.5 million dollars) and that it will therefore be necessary to send several players to Utah (Dario Saric and Torrey Craig?) to recover him, in addition of course to Draft picks .
Not to mention that the Croatian's contract runs out at the end of next season in the summer of 2023, so it would be a short-term reinforcement, but the Suns have no time to waste on their ambitions.
Bojan Bogdanovic
Percentage
Bounces
Season
Crew
GM
Minimum
Shots
3 points
LF
Off
Def
Early
pd
party
Int
bp
CT
Points
2014-15
BRK
78
24
45.3
35.5
82.1
0.6
2.1
2.7
0.9
1.3
0.4
1.0
0.1
9.0
2015-16
BRK
79
27
43.3
38.2
83.3
0.5
2.8
3.2
1.3
1.5
0.4
1.5
0.1
11.2
2016-17*
All Teams
81
26
44.5
36.7
89.3
0.5
3.0
3.4
1.4
1.8
0.4
1.6
0.1
13.7
2016-17*
BRK
55
27
44.0
35.7
87.4
0.4
3.2
3.6
1.6
1.8
0.4
1.7
0.1
14.2
2016-17*
WAS
26
23
45.7
39.1
93.4
0.5
2.5
3.1
0.8
1.8
0.4
1.5
0.2
12.7
2017-18
IND
80
31
47.4
40.2
86.8
0.4
3.0
3.4
1.5
1.6
0.7
1.3
0.1
14.3
2018-19
IND
81
32
49.7
42.5
80.7
0.4
3.7
4.1
2.0
1.7
0.9
1.7
0.0
18.0
2019-20
UTH
63
33
44.7
41.4
90.3
0.6
3.5
4.1
2.1
1.8
0.5
2.5
0.1
20.2
2020-21
UTH
72
31
43.9
39.0
87.9
0.6
3.4
3.9
1.9
1.6
0.6
1.8
0.1
17.0
2021-22
UTH
69
31
45.5
38.7
85.8
0.8
3.5
4.3
1.7
1.7
0.5
1.7
0.0
18.1
Total
603
29
45.7
39.2
86.1
0.5
3.1
3.6
1.6
1.6
0.6
1.6
0.1
15.0