[Street] The first stolen photo of the Chinese sports car, the CFMoto SR-C21
The Chinese manufacturer CFMoto caused a lot of ink to flow when it presented the SR-C21 concept in October 2021, then at the EICMA in Milan, by unveiling this machine with a futuristic look. A first stolen photo shows a derivative development version of the concept presented shortly before. The bike could be fitted with a 450 cc twin, developed to encroach on the flower beds of Japanese rivals of equivalent displacement.
CFMoto presented the SR-C21 concept, dedicated to circuit use, alongside the SR300, a road-type model from the Chinese manufacturer's range. While the small-displacement machine tops CFMoto's current sportbike offerings, the SR-C21 appears to have taken a giant leap forward in terms of technology. However, the company has still not revealed the engine that will equip this concept.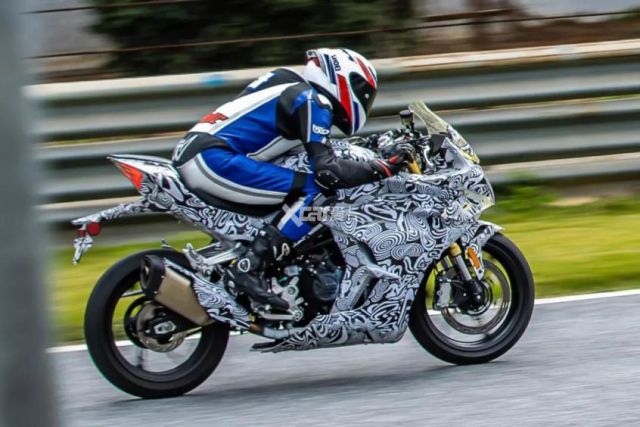 Here is the first photo of the motorcycle derived from the SR C21 concept, perhaps the most interesting of the Chinese brand's offerings for European markets. Apparently the bike seems to have gone from concept to prototype in record time and contrary to what we thought a month ago, the engine does not seem to be created to compete with the Ducati Panigale since it appears to be a 450cc twin cylinder. The machine is expected to be named 450SR, according to various Chinese sources.
This machine seems to be created to encroach on the flower beds of the Kawasaki Ninja ZX-4R, equipped with its 400 cc 4-cylinder engine and, said to be scheduled for 2023. For now, the photo above shows that the development model remains close to the concept in terms of design.
The concept's rear end and single-sided swingarm are clearly inspired by the Ducati Panigale V4, while the inspiration for the front end has been taken from Aprilia, with its all-new RSV4. Manufacturers rarely give such cosmetic care to an entry-level machine, but the fins and brake disc covers also indicate the performance ambitions of the SR-C21.
if (d.getElementById(id)) return; js = d.createElement(s); js.id = id; js.src = "//connect.facebook.net/en_US/sdk.js#xfbml=1&version=v2.5&appId=417184695094507"; fjs.parentNode.insertBefore(js, fjs); } (document, 'script', 'facebook-jssdk'));