Steve Kerr announces change in his staff | NBA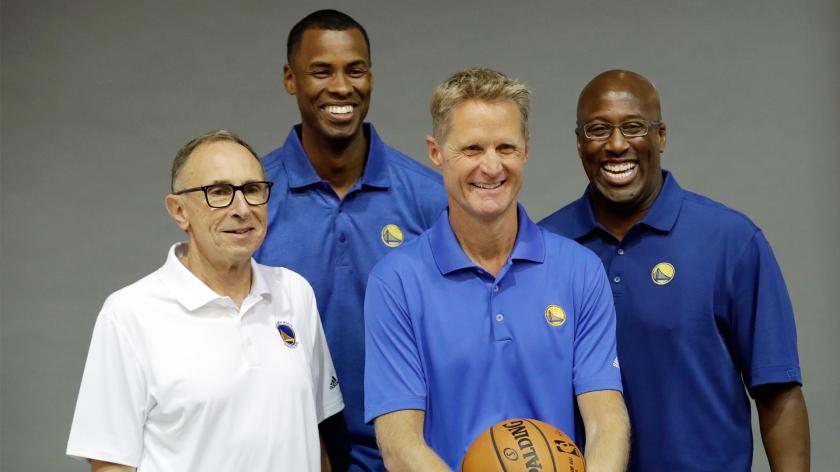 The Warriors failed to snag the playoffs, and Klay Thompson's comeback won't be enough to make them title contenders. It will also be necessary to recruit, why not organize exchanges, and Steve Kerr announces that there will undoubtedly be change in his staff.
« There will be changes, and I talked about it with the staff » he warned over the microphone of The Athletic podcast. "I have met every person. We are now in a situation where we have been together for a long time, and we have not had an internal change for five years and the departure of Luke Walton to the Lakers, when he left with a few guys. A staff is not that different from a workforce when you stagnate a bit and you need a little new blood. We need new energy, we need to change certain things, to move certain parts, to change roles. We discuss it a lot, and there will be changes although I don't know exactly what it will be yet. « 
For Kerr, it is therefore the end of a cycle on his bench, and we find Ron Adams, Jarron Collins and Bruce Fraser since his arrival in 2014, but also Mike Brown since 2016. For the training of players, Chris DeMarco is the manager, assisted by Aaron Miles, Theo Robertson, Luke Loucks and Seth Cooper. Finally, since this season, Leandro Barbosa has been the interface between the players and the staff in a role of "super mentor".
« I really think we are in a situation where we need a little change in the energy inside the franchise » Kerr repeats. "This is something we discussed with Bob (Myers, GM). And like I said, I discussed it with all the staff. We all agree on that, frankly, we all need a little extra push. « 
Perhaps we should expect the arrival of a « super assistant » to support Kerr. Among the renowned coaches without a job, we think of Lloyd Daniels (ex-Hawks), Brett Brown (ex-Sixers) or now Terry Stotts (ex-Blazers).
Shots
Rebounds
Players
MJ
Min
Shots
3pts
LF
Off
Def
Early
Pd
Bp
Int
Ct
Fte
Pts
Stephen curry
63
34.2
48.2
42.1
91.6
0.5
5.0
5.5
5.8
3.4
1.2
0.1
1.9
32.0
Andrew Wiggins
71
33.3
47.7
38.0
71.4
1.2
3.7
4.9
2.4
1.8
0.9
1.0
2.2
18.6
Kelly Oubre, Jr.
55
30.7
43.9
31.6
69.5
1.5
4.5
6.0
1.3
1.3
1.0
0.8
2.2
15.4
Jordan poole
51
19.4
43.2
35.1
88.2
0.3
1.5
1.8
1.9
1.0
0.5
0.2
1.7
12.0
James wiseman
39
21.4
51.9
31.6
62.8
1.4
4.4
5.8
0.7
1.5
0.3
0.9
3.1
11.5
Eric Paschall
40
17.4
49.7
33.3
71.3
0.7
2.5
3.2
1.3
1.1
0.3
0.2
1.7
9.5
Kent bazemore
67
19.9
44.9
40.8
69.2
0.4
3.0
3.4
1.6
1.2
1.0
0.5
2.4
7.2
Draymond green
63
31.5
44.7
27.0
79.5
0.9
6.3
7.1
8.9
3.0
1.7
0.8
3.1
7.0
Damion lee
57
18.9
46.7
39.7
90.9
0.4
2.8
3.2
1.3
0.5
0.7
0.1
1.6
6.5
Marquese Chriss
2
13.4
35.7
20.0
50.0
1.5
5.0
6.5
1.0
1.0
0.0
1.0
1.5
6.5
Juan Toscano-anderson
53
20.9
57.9
40.2
71.0
0.5
3.9
4.4
2.8
1.2
0.8
0.5
2.1
5.7
Mychal Mulder
60
12.8
44.9
39.7
63.6
0.1
0.9
1.0
0.4
0.3
0.2
0.2
0.9
5.6
Brad Wanamaker
39
16.0
35.3
21.3
89.3
0.2
1.5
1.7
2.5
0.9
0.7
0.2
1.4
4.7
Kevon Looney
61
19.0
54.8
23.5
64.6
1.9
3.4
5.3
2.0
0.6
0.3
0.4
2.2
4.1
Nico mannion
30
12.1
34.2
36.7
82.1
0.2
1.3
1.5
2.3
1.0
0.5
0.0
1.0
4.1
Gary Payton II
10
4.0
76.9
50.0
75.0
0.2
0.9
1.1
0.1
0.1
0.6
0.1
0.8
2.5
Alen smailagic
15
5.6
40.7
40.0
33.3
0.4
0.7
1.1
0.3
0.3
0.2
0.3
0.7
1.9
Jordan bell
1
14.7
0.0
0.0
50.0
1.0
4.0
5.0
2.0
1.0
0.0
2.0
2.0
1.0