Shaq's mind-blowing 37-year streak could come to an end!
With a career as long and prestigious as his, Shaquille O'Neal holds a crazy record that already spans no less than… 37 years! But this series is coming to an inexorable end, and it could be just a few days away.
Quadruple NBA champion, almost unanimous MVP, multiple All-Star and All-NBA… Shaquille O'Neal won almost everything in the big league between 1992 and 2011. But one of his unofficial trophies inevitably catches the eye with its barely believable character: the NBA Finals have been taking place with one of his teammates for 37 years!
We must indeed go back to the victory of the Sixers against the Lakers in 1983 to find traces of the NBA Finals without the presence of a player who played with the Big Cactus at one point in his career. Check out the dizzying list below: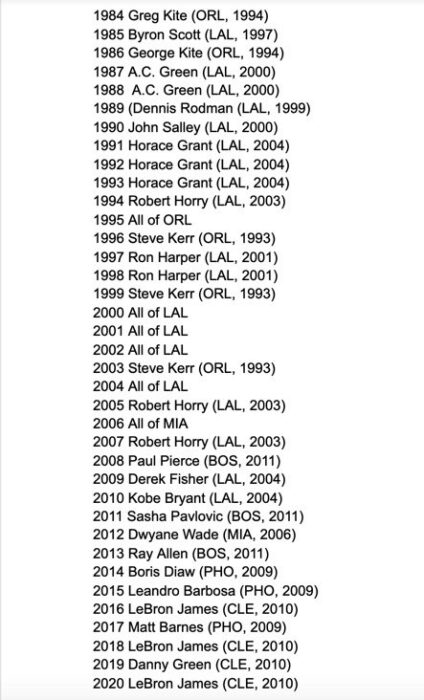 What about 2021? Will Shaq be able to extend his record to 38? It looks complicated, but possible. The Diesel lost ammunition with the successive eliminations of Jeff Green in Brooklyn and Danny Green in Philadelphia, but it still has a cartridge, and only one: Rajon Rondo.
The point guard was in the same Boston squad as the Diesel in 2010-11, for the pivot's very last season in the league. The 39-year-old and overweight, O'Neal was no more than a shadow of himself, and his stats attest to it: 9 points and 5 rebounds in 20 minutes on average over 36 regular season games. As for the playoffs, he had hardly taken part.
Statistically, the Shaq has nevertheless spent a season on the floor with Rondo, and all his hopes now rest on the Clippers to extend his feat. It seems for the moment badly started, but the teammates of Paul George have already demonstrated on several occasions their mentality and their ability to return to these playoffs.
Shaquille O'Neal is aiming for 38 years of his crazy streak, but he will be able to do nothing but hope. Rajon Rondo knows what to do!