Sergio Scariolo: « A triumph for basketball as a team sport »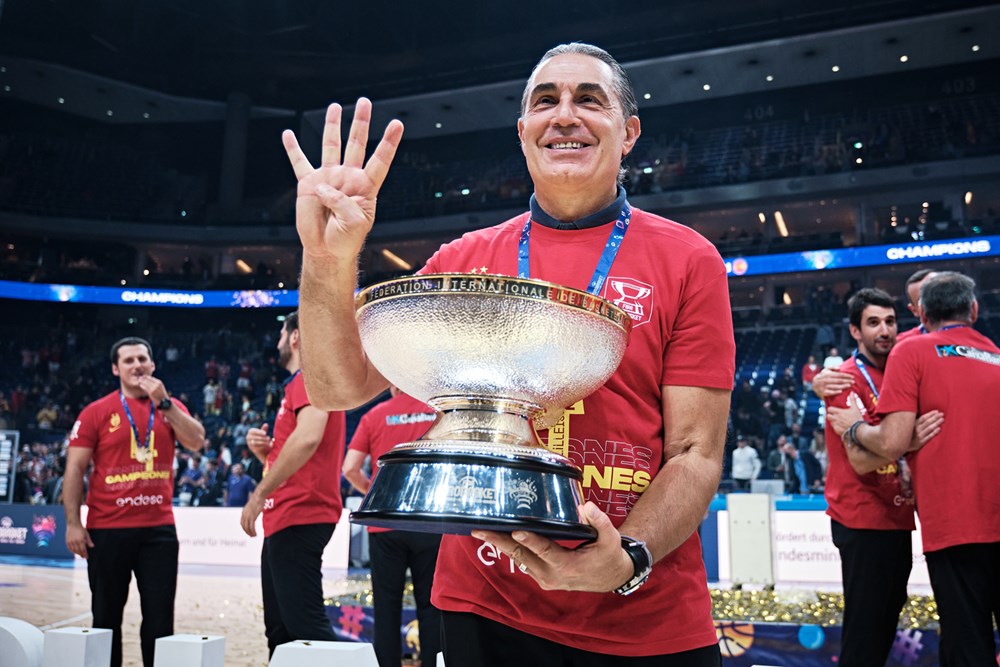 Major nation of European basketball for the last fifteen years, and reigning world champion, Spain arrived almost on tiptoe at this EuroBasket. Sergio Rodriguez, Pau and Marc Gasol had retired after the Olympics, and the Rubio/Llull duo had to withdraw due to injuries.
Sergio Scariolo still managed to concoct a competitive group and improved it thanks to his principles of play and his requirement. Despite a small hitch in the group stage against Belgium, La Roja was able to find its cruising speed in the final stages to finish in apotheosis against France in the final (88-76). However, the Italian technician is the first to admit that he did not expect such success in view of the forces present.
« Honestly, no », he said after donning his fourth European champion gold medal. "You always believe that you can do a good job, play good basketball, have your team enter a competition and have a more positive journey than a negative one. Honestly, I never really doubted. But no one could have expected this result".
Fruit of the work and the seriousness of each one
As has always been the case, even when he led the previous generation, Sergio Scariolo put the collective before individualities. And as we saw in the final, it was through the variety of their threats and an intense and regular defense that Spain still managed to hold their own.
"I'm very happy with the level of our performance in the tournament and with the efforts of the guys since day one. At the end of the day, basketball has been generous to those who really lived up to its collective values, who passed the ball, who worked very hard in practice, who defended against all opponents, who helped each other and played for the team. It was a triumph for basketball as a team sport. Of course, a trainer can't be unhappy with this style, regardless of everything else. We played well from start to finish."
The collective identity has indeed prevailed on this EuroBasket. While Giannis Antetokounmpo, Nikola Jokic and Luka Doncic had to watch the final on TV, the Spaniards delivered a collective basketball lesson, the fruit of everyone's hard work and seriousness since the start of the tournament.
"You have to go with what you have, every day, and do it well. That's all. Whether it's working out, watching a scouting video or five, doing the morning shootaround and assimilating the game plan. There are no secrets, no small part of the process should be underestimated"added Sergio Scariolo. "The addition of all these little good things leads to success. It was a huge success, but it still helps to emerge as a respectable team, with players playing and working together to form a collective identity.