Sensational battle between Giannis and Jokic, Batum reacts!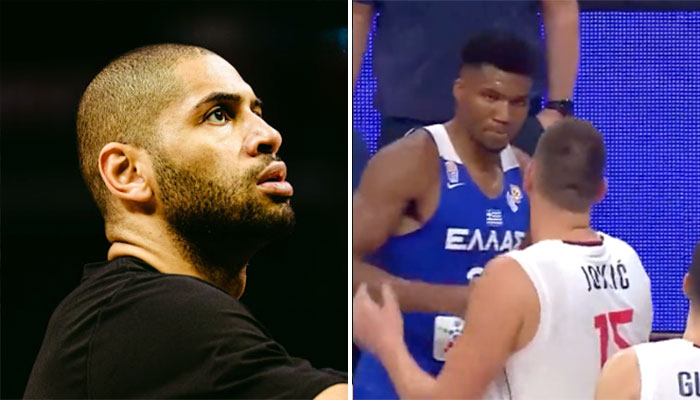 Rawel Visual / Screen capture (DR)
No need to wait for the return of the NBA to attend big games between stars, since Giannis Antetokounmpo and Nikola Jokic were on the floor this Thursday evening. Results ? A great game, with a lot of suspense. On his twitter account, Nicolas Batum was quick to react, he who appreciated the spectacle offered by the two monsters.
While waiting for the start of the Euro, which will take place on September 1, the different nations continue to chain the matches, including for the qualifications for the next World Cup. Meetings that should not be lost, even if this competition has much less flavor in basketball. Anyway, it is Nikola Jokic's teammates who will be able to smile this Thursday, after a victory against Greece in Giannis Antetokounmpo.
Giannis and Jokic set the court on fire!
And yet, the Greek Freak is already in the legs, as we have seen with a game with 40 points, 8 rebounds and 5 assists, 56% shooting. The Bucks player is completely launched, but it was not enough to get the better of his NBA friend. It must be said that Jokic is also MVP, and finished at 29 units, 8 rebounds and 6 assists. The highlight of this part? This shot at 1:30 from the end of the match, on the head of Giannis.
This shot from Jokic over Giannis. 😳🔥

—Hoop Central (@TheHoopCentral) August 25, 2022
Jokic and Giannis went at it during the FIBA ​​Basketball World Cup European Qualifier 🔥

(via @MozzartSport) pic.twitter.com/4tZqSba7q0

— Bleacher Report (@BleacherReport) August 25, 2022
On arrival, Serbia won with a score of 100-94, with a lot of suspense in the last minutes. This is not to displease Nicolas Batum, who enjoyed the match:
This Serbia vs Greece ending, tuned in if you can

— Nicolas Batum (@nicolas88batum) August 25, 2022
This end between Serbia and Greece, see if you can
How Jokic just made this step back, turnaround, one foot 3 with Giannis all over him in the corner? 🤦🏽‍♂️

— Nicolas Batum (@nicolas88batum) August 25, 2022
How could Jokic put that step back, turning around, on a three-point leg on Giannis, all in the corner? 🤦🏽‍♂️
Nikola Jokic once again worked his magic on a basketball court, to the delight of Serbia. Giannis Antetokounmpo was not left out, but it will take more to allow Greece to dream. In any case, we are not saying no to a rematch in a few weeks.