Savannah James ignites the networks, LeBron reacts!
Savannah James is not one to take the spotlight and put herself forward too much, but on Instagram, she decided to ignite Internet users with a video in which she is sublime. LeBron couldn't prevent oneself to react, with apparent pride.
LeBron and Savannah James are a true model couple. They met in high school, and never left each other, despite the money, the glory, the many absences of the King during the regular season and the temptations that inevitably go with it… Today they have 3 perfectly fulfilled children, including Bronny, who is trying to follow in his father's footsteps, and the whole family is united behind this dream.
But LeBron and Savannah do not forget one thing: before being exemplary parents, they are a couple. So from time to time, they take pleasure in keeping the flame awake. On her Instagram account, the Queen of the family posted a rather surprising video, in a gala outfit, which did not fail to titillate the pillar of the Lakers. He reposted the video on his own account, and commented on the original post, with stars in his eyes.
LeBron James speechless in front of the beauty of Savannah
THE QUEEN OF THE GODDESS 👸🏾!! I am a lucky black man. SHEEESH she is FRESH!! It's going to be a great week when you start with a Monday like this 🖤🖤🖤🖤🖤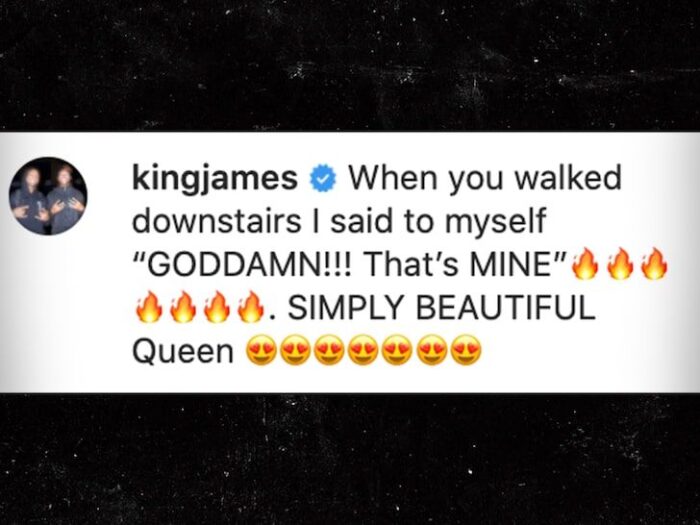 When you came down the stairs I said to myself: "DAMN!!!! This is MINE" 🔥🔥🔥🔥🔥🔥. SIMPLY BEAUTIFUL Queen 😍😍😍😍
LeBron James is a man in love, and it shows in his reaction to his wife's gorgeous outfit. Even after 20 years of relationship he is still surprised by the beauty of Savannah, which explains the solidity of this star couple. Moreover, the King was not the only one speechless, Internet users were also captivated by this video. Some reactions made the buzz.
Savannah James is very pretty.

I'm about to start referring to LeBron as Savannah James husband https://t.co/s0tIEYODLl

— Kaio-Ken & Valyrian Steel (@RatchetSensei) January 17, 2022
Savannah James is very beautiful. I'm going to start calling LeBron « Savannah's husband. »
Savannah James still knows how to please her husband, and he is more than receptive. This is perhaps what gave him the strength to overcome Rudy Gobert's Jazz that very evening!