S1-X: a powerful electric scooter exceeding 100 km / h
The automotive industry is a major contributor to climate change. Fossil fuels are responsible for a considerable part of pollutant emissions. Hence the need for the sector to move towards green energies.
The eSC Championship was founded last year with this in mind. Its main objective is to promote micromobility and energy transition. Remember that micromobility refers to the range of electric vehicles traveling at less than 25 km / h. This range includes machines such as bicycles and electric scooters.
A first eScooter championship in preparation
Micromobility has seen significant technological advances in recent years. It is to demonstrate the progress made in this area that the eSC Championship will be held. The first season of the eSkootr Championship will see 30 teams compete.
The drivers will compete for the title of champion on circuits specially designed for the participating vehicles. Their length varies between 400 and 800 meters. In this regard, the organizers of the eSC have opted for a standard model of electric scooter. The decision was motivated by the desire to make the race more accessible by lowering preparation costs.
Meeting of micromobility and motorsport engineering
The organizers trusted the Italian start-up YCOM for the design of the sports scooter. It should be noted that the latter is called the S1-X. The YCOM team is made up of technicians from Formula 1 and the FIA ​​World Endurance Championship. They used their expertise to concentrate motorsport engineering in a micromobility vehicle.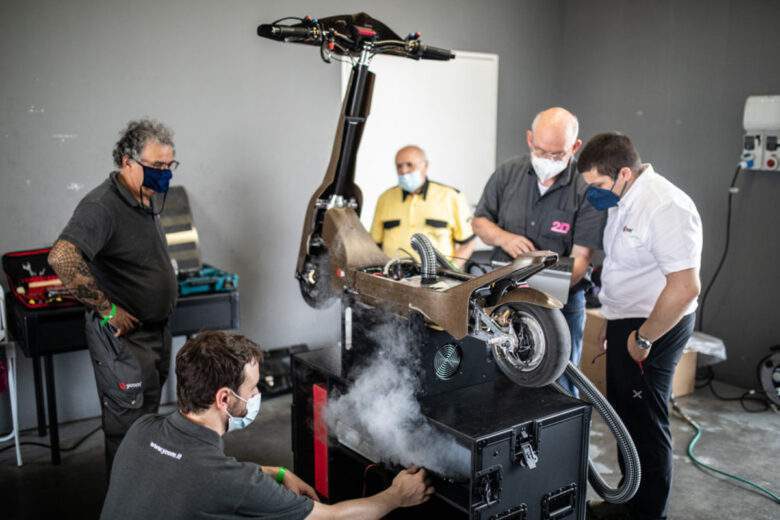 The S1-X has nothing to do with the electric scooters available in free circulation. As it is a sporty model, it has high end performance. For example, it has two powerful 6 kW motors powered by a 1.5 kWh battery.
Note in passing that the accumulator was designed by Williams Advanced Engineering. The machine also has a carbon fiber chassis and body. It is also equipped with aluminum suspension elements. This design has enabled YCOM to offer a vehicle that weighs just 35 kg and can travel over 100 km / h.
Successful trials for the S1-X
The transalpine sports scooter is ready to take the competition next year. The prototype developed by the Italian firm has been the subject of several tests. In particular, a team of 16 pilots was involved in two test sessions. The scooter was configured at 40% of its capacity for the first session. The value then rose to 70 for the second. 100% capacity testing is scheduled for this month.
The eSkootr Championship promises to be a thrilling car competition with a real physical challenge for the drivers. However, the date of the inaugural race has yet to be decided.