Rudy Gobert pays tribute to the influence of Dirk Nowitzki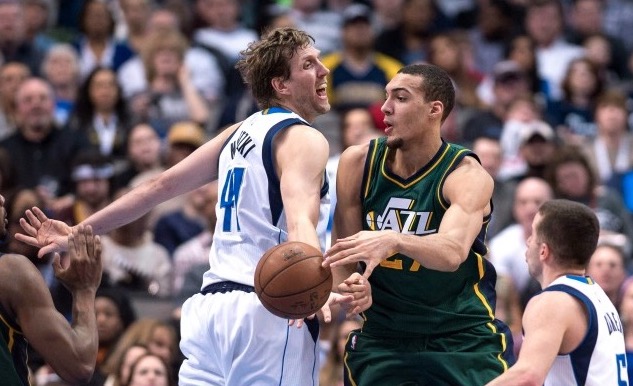 Sometimes it happens to Rudy Gobert to receive unexpected congratulatory messages. This is what has already happened to him several times with Dirk Nowitzki. » I believe it was for the defender of the year trophy. He didn't really need to, but he did. I was really grateful ", Testifies the French for BasketNews, who speaks of positive contacts with the German.
The latter will see his number 14 worn in the German selection be withdrawn this evening, on the occasion of the clash between the France team and the main host country of Euro 2022, in Cologne. So it's the turn of the Wolves pivot to salute the former legend of the Mavs.
A word comes to the mind of the tricolor to designate the 2007 MVP: » Inspiration. He was a huge inspiration to all of us, especially those who grew up in Europe and were trying to make it to the NBA. His dedication to the game, his competitive spirit, and the big heart and person that he is… It's just amazing for European basketball and in general. I hope that when I retire I will inspire as many people as he inspired in his life and career. »
"We both have very different games, but I loved its authenticity"
Rudy Gobert, who worked during the summer of 2015 with the German's mentor, Holger Geschwindner, is aware that the two men do not have the same game at all, even if he takes advantage of the training to work on his shot on one leg. He exclusively does damage in the keyhole where the great Dirk was one of the first modern post 4s, able to deviate from the circle and punish the defenses in the periphery.
» He showed you could be a seven-footer and a great shooter. At the time, everyone was taught to play indoors and not to shoot. He really changed the game. All the young insides are now working on dribbling, shooting and spreading the game. This phenomenon is no longer limited to power wingers but now extends to all positions in the league, including pivots who started out as 'traditional' insiders.
» We both have very different games, but I loved its authenticity. He remained true to himself throughout his life and career. Everyone has a different path, but if you stay true to yourself… That's something I'll always respect him for. ", ends Rudy Gobert.