RML Short Wheelbase: restomod of the Ferrari 250 GT SWB
Across the Channel, the RML company presents the Short Wheelbase which echoes the Ferrari 250 GT SWB Berlinetta, the latter having been produced in only 167 units between 1959 and 1962. This new 2-seater coupé will be marketed in 30 units and not one more. This restomod does all the more honor to the Maranello firm because it is based on the 550 Maranello.
This RML Short Wheelbase, reinterpretation of the Ferrari 250 GT SWB Berlinetta, has something to dream about as it respects the original model knowing that the three letters SWB correspond to Short Wheelbase (short chassis). The experts at RML have therefore used the Ferrari 550 Maranello as a technical basis for developing this restomod, one of the most beautiful of this new trend which consists, as the expression goes, in the noblest sense: « of making new with old".
Visually, almost only the "Prancing Horse" is missing from this restomod Ferrari 250 GT SWB Berlinetta. As such, we notice the presence of rims with a very classic look. Compared to the Ferrari of yesteryear, the RML Short Wheelbase is not equipped with metal bumpers. At the front, we also notice that its shield is more curved going up towards the wings. Among the other so-called "modern" additions designed for the RML Short Wheelbase, there are in particular mirrors with shiny shells.
Inside (partially visible in the video to see at the end of the article), the passenger compartment of the RML Short Wheelbase ignores unsightly plastics to make way for leather and Alcantara.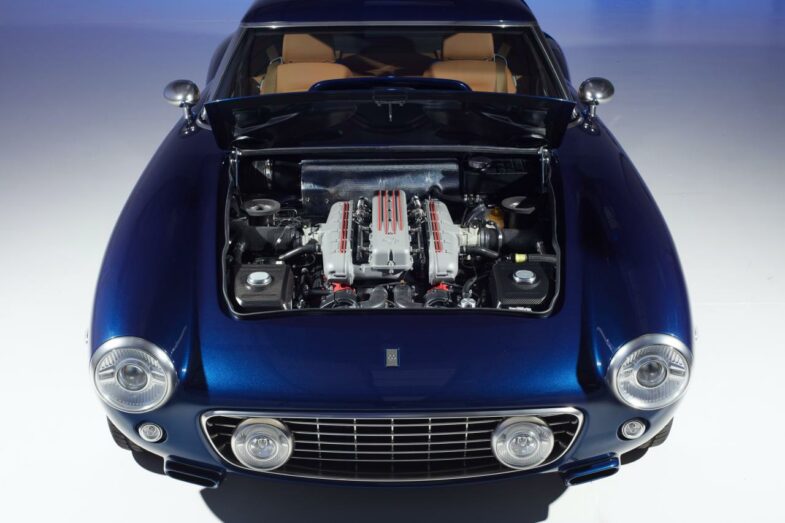 Let's go back to the mechanical part by specifying that the atmospheric 5.5 l V12 of this restomod is therefore that of the Ferrari 550 Maranello. This block develops 485 hp for 568 Nm, all of which is sent to the rear wheels only via a 5-speed manual gearbox. Note that RML has revised the running gear of the 550 Maranello for its Short Wheelbase which is fitted with Öhlins shock absorbers and springs specifically created for this restomod.
Weighing 1,700 kilos, the RML Short Wheelbase is announced for 4.1 s on the 0 to 60 mph and for a maximum speed of 180 mph (290 km/h).
Finally, you will have to be patient to see the 30 copies of the RML Short Wheelbase on the road because their production will be spread over 2 years, the British company mainly targeting potential American buyers. In terms of price, this restomod is offered for £1.35 million (excluding taxes). As promised, here is the Short Wheelbase on video.
Writing
Photos: RML Group