Regular season | These records impossible to beat in a match | NBA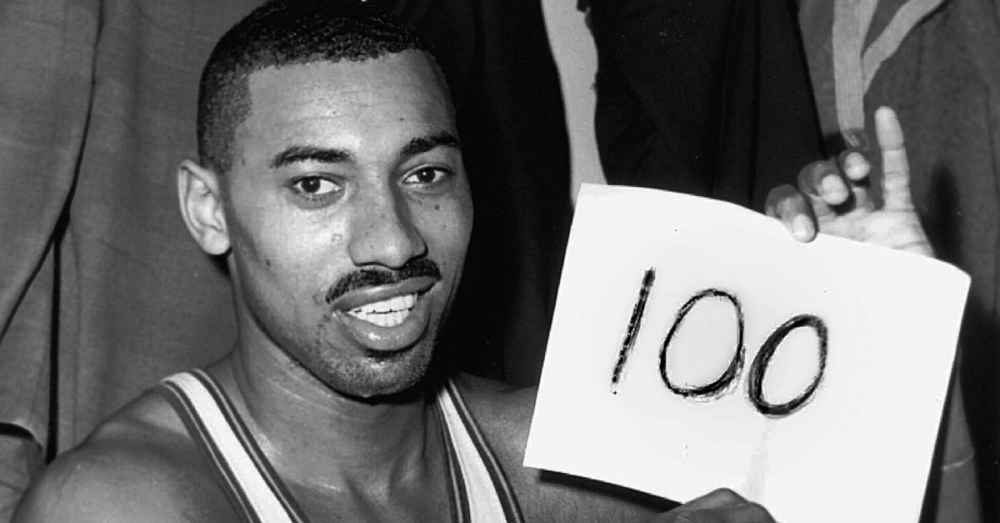 More than a decade ago, we were already debating together these records deemed impossible to beat.
However, a few have fallen in the meantime, such as the Bulls' 72 wins (for 10 losses) in the 1995-96 season, or Oscar Robertson's triple-double totals: 41 in a season (1961- 62) and 181 in career.
And the executioners of Chicago and the "Big O" are none other than the Warriors of the 2015-16 season (73 wins – 9 losses) and Russell Westbrook (42 triple-doubles in 2016-17, with 184 in career for the moment. ).
Proof that the impossible can become possible, with certain anomalies in this sport. But, while it is customary to "never say never", there is a good chance that the vast majority of the records listed below will never be broken in the future.
For the first part of this retrospective, let's focus on these records a priori impossible to dust off, on a match.
100 points – Wilt Chamberlain (1962)
What more iconic record in the history of the league than that set by Wilt Chamberlain on March 2, 1962? So in his third NBA season, the "Big Dipper" had compiled an incredible line of stats against the Knicks: 100 points and 25 rebounds, 36/63 on shots and 28/32 on free throws! All without ever resting for a second (48 minutes), with 41 and 59 points on each of the two halves.
Since then, in more than 50 years, and despite the emergence of 3-point shooting, only Wilt Chamberlain, again him (72 points, in 1962; 73 points, in 1962; 70 points, in 1963), David Thompson (73 points, in 1978), David Robinson (71 points, in 1994), Kobe Bryant (81 points, in 2006) and Devin Booker (70 points, in 2017) managed to reach the mark of 70 units scored, during a match.
Without anyone exceeding, at the same time, the bar of 30 shots registered during a match, or that of 55 points registered in a single half-time.
37 points in one quarter – Klay Thompson (2015)
A hot stroke as improbable as it is incredible, signed by the less publicized "Splash Brother" of the two. On January 23, 2015, in the third quarter of the 100% Californian duel between the Warriors and the Kings, Klay Thompson simply decided to steal the show from Stephen Curry, then on his way to his first MVP title. And the All-Star rear registered, thus, the trifle of 37 points in 12 minutes! Above all, he is particularly skilful, with a 13/13 on shots and a 9/9 on 3-points!
In the wake of his wisp, which eclipses the 33 points in a single quarter of George Gervin (1978) and Carmelo Anthony (2008), Golden State crushes Sacramento. With a performance of madness, therefore, that only Kevin Love (34 points in a quarter, in 2016) has managed to approach, since.
55 rebounds – Wilt Chamberlain (1960)
Who other than the inevitable Wilt Chamberlain to own the rebound record? Even his illustrious Celtics rival, Bill Russell, who was also on the floor that night, could not do better than the gargantuan total of 55 rebounds captured by « Wilt the Stilt » on November 24, 1960, to support its 34 points!
Suffice to say that no one will beat this mark, since apart from Wilt Chamberlain and Bill Russell, precisely, no player has exceeded 45 rebounds in a match. And, since the 1976 merger between the ABA and the NBA, only Moses Malone (37, in 1979) and Charles Oakley (35, in 1988) have recovered at least 35 rebounds, during a meeting.
30 Assists – Scott Skiles (1990)
One of the few passing records not belonging to John Stockton or Magic Johnson. On December 30, 1990, Scott Skiles simply delivered a legendary performance, delivering no less than 30 assists (to go with his 22 points and 6 rebounds), in the overwhelming victory of the Magic, against the Nuggets.
The old record in the matter, owned by Kevin Porter (29, in 1978), has therefore been dusted off by a hair and, since then, only four of them have distributed at least 25 passes, during a match. : John Stockton (28, in 1991), Kevin Johnson (25, in 1994), Jason Kidd (25, in 1996) and Rajon Rondo (25, in 2017).
17 blocks – Elmore Smith (1973)
From Kareem Abdul-Jabbar to Hassan Whiteside, including Mark Eaton, Manute Bol, Hakeem Olajuwon, Dikembe Mutombo, David Robinson, Shaquille O'Neal and Shawn Bradley, the NBA has had huge blockers in its ranks since 1973. Either the year since which counters are counted. However, none of them could do better than the 17 blocks made by Elmore Smith on October 28, 1973.
Since that date, when the former Lakers pivot made history, it was Manute Bol and Shaquille O'Neal who were the closest to breaking this record, with 15 blocks each: January 25, 1986 and the February 26, 1987 for the late Sudanese pivot; on November 20, 1993 for the « Big Diesel ».
69 minutes – Dale Ellis (1989)
It took no less than five overtime (!) For the Bucks and the Sonics to decide on November 9, 1989. Obviously, the playing times of the players of both teams have reached new heights, like that of Dale Ellis , who spent the trifle of 69 minutes on the floor, out of the 73 possible!
For such a total to be beaten, it will therefore be necessary for a meeting to take place, at least, in five overtime, and for a player to take, at most, only three minutes of rest. For information, apart from Dale Ellis, only one other player exceeded 65 minutes in a match: Xavier McDaniel (68 minutes)… also in uniform for the same Bucks / Sonics.
7 fouls – Carl Bowdler (1999)
This record is first of all that of an error in counting the referees and officials at the scorer's table. On November 13, 1999, a « garbage time » between the Blazers and the Hawks effectively gave rise to an improbable lack of attention from the refereeing body, with Carl Bowdler taking the opportunity to stay in play, despite his six faults committed, supposed to be worth him. an exclusion.
It will ultimately take a seventh and final foul for the Atlanta rookie to leave the field for good. At the same time recovering this record, which he may not give up anytime soon. Because, to be beaten, it will be necessary for a franchise to have only five « valid » players and for one of its players to be allowed to continue playing, after his sixth foul, so that there are still 10 players. on the floor.
6 fouls in 2 minutes 43 – Bubba Wells (1997)
It took only 163 seconds for Bubba Wells to be sent off for six fouls. Sent on the field only to intentionally foul Dennis Rodman, December 29, 1997, the back of the Mavericks followed the instructions of his coach to the letter, for 2 minutes 43.
And even if he only spent one season in the league, Bubba Wells at least had the merit, that night, to put his name in the history books of the NBA, against the Bulls. .
Quadruple-double
If the triple-double has now become commonplace, or almost, in the NBA, the same cannot be said of the quadruple-double, which has not been successful for more than a quarter of a century. To date, only four of them have accomplished this feat: Nate Thurmond (1974), Alvin Robertson (1986), Hakeem Olajuwon (1990) and David Robinson (1994).
Statistical monsters, the Russell Westbrooks, LeBron James, Giannis Antetokounmpo and other Jason Kidds have never been able to add their names to this prestigious list. And, since 1994, it's likely Clyde Drexler, Mookie Blaylock and Draymond Green who have been the closest to signing a quadruple-double.
While the Rockets winger had compiled 25 points, 10 rebounds, 9 assists and 10 steals on November 1, 1996, the Hawks point guard finished with 14 points, 8 rebounds, 11 assists and 10 steals on April 14. 1998. As for the strong winger of the Warriors, he had accumulated 4 points, 11 rebounds, 10 assists and 10 steals on February 10, 2017.
62,046 spectators – Hawks / Bulls (1998)
To beat such an attendance record, established on March 27, 1998, it will undoubtedly have to wait a long time, since all the halls of the league now have between 15,000 and 20,000 seats. However, at the time, the Georgia Dome in Atlanta had welcomed 62,046 people, to attend the final trip of Michael Jordan to Georgia, before his second sports retirement.
That evening, if the Bulls had quietly imposed themselves in front of a delirious crowd, the Hawks had nevertheless taken the opportunity to write history, while awaiting the delivery of their new sports enclosure. And, thus, better than the 61,983 people who attended the game between the Pistons and the Celtics on January 29, 1988.
44 years and 224 days – Kevin Willis (2007)
Almost 23 years after his debut in the league, the inexhaustible Kevin Willis became the oldest player to play in the NBA, on the occasion of the final meeting of the 2006-07 regular season. Then a member of the Mavericks, the former interior All-Star came into play at the age of 44 years and 224 days, on April 18, 2007. Improving one last time this record, which he had stolen a few days earlier from Robert Parish (43 years and 232 days, in 1997).
Since then, a certain Vince Carter has believed he could pick up Kevin Willis, but he finally retired at 43 years and 45 days, in 2020, due to the Covid-19. And, among active players, Udonis Haslem (41 years and 90 days) is the most likely to dislodge Kevin Willis from the top step of the podium. The inside of the Heat must still play, during the 2024-25 financial year …
18 years and 6 days – Andrew Bynum (2005)
The youngest player to play in an NBA game has set the bar very, very, high and it's none other than Andrew Bynum, retired at just 26 and now 33. Already the youngest player drafted in the NBA, at 17 years and 249 days, the former pivot of the Lakers had continued his momentum by entering the game at the age of 18 years and 6 days, on November 2, 2005. Doing better than Jermaine O'Neal's 18 Years and 53 Days (1996).
To date, the youngest player in an NBA squad, that of the Spurs, is named Joshua Primo, aged 18 years and 257 days. And since Andrew Bynum in 2005, it is the Russian Yaroslav Korolev who has come closest to this precocity record, with his 18 years and 181 days (also in 2005).