Profile | Robert Parish, Flight Over the Cuckoo's Nest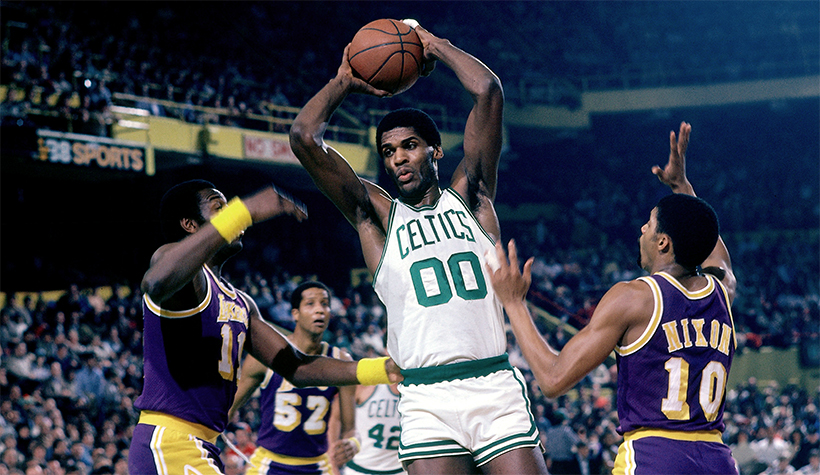 At his age, he could play as a veteran on Sunday morning. But he decides otherwise. Last vestige of the glorious era of the Celtics, member of the most famous trio in the NBA with Larry Bird and Kevin McHale, Robert Parish decides to head for Charlotte. We are in 1994.
At 41, he was the oldest player in the NBA. In North Carolina, Bob is entering his 19th season. The secret to its longevity? Several draconian rules.
We start with the prohibition of red meats. "Too many toxins. » Few known defects. And a very marked penchant for solitude. "I have never been sociable, admits the native of Shreveport (Louisiana). Life in society tends to tire me. » Another rule: never look back.  » It's no use. What is done is done. »
Loyal to the Celtics
Born on August 30, 1953, the forty-something Parish is still capable of mastering pivots who could be his kids. His long career is obviously made up of unforgettable moments (three NBA titles in 1981, 84 and 86) but also painful episodes. Like the tragic disappearance of Reggie Lewis, victim of a heart attack during training in July 1993, at only 27 years old.
"It was awful. Now, every time I walk onto a pitch, I think of Reggie. Even with him, the season would have been difficult. So without him…"
The 8th choice of the 1976 Draft could already have left the Celtics at the time for a team playing for the title. He showed a certain loyalty to the club that had given him everything. « The Celtics have always been good and fair to me. I didn't want to leave leaving them in the shit. »
In this summer of 1994, Parish becomes a Hornet. "The Chief", as Cedric Maxwell nicknamed him in reference to the silent Chief Bromden, the giant Indian of the movie "One Flew Over the Cuckoo's Nest", never laughs. His face remains closed. He appears stoic in all circumstances. Parish rarely speaks out, but he always does so wisely. Some in Shreveport remember a shy young boy, embarrassed by his centimeters. Little Parish never finds pants that fit him. Her mother does extra odd jobs so she can tailor clothes for her. Yet, even with this size, he had to be forced to play basketball.
"My biggest problem was clumsiness. I was growing so fast that I didn't have time to get used to my size. I bumped into everything. If I raised an arm, I touched a lamp. I knocked over lots of things, I tripped over the carpets. It was a disaster…"
Union Junior High School coach Coleman Kidd acknowledges the benefits of basketball in Parish's case. "He was withdrawn into himself. Basketball helped him solve his height complex. Although even then he never smiled, he was very focused and hardworking. »
Despite his 2.16 m, the future pivot of the Celtics is not approached by the big universities. He owns a Dobermann who perhaps frightens recruiters… "A very good dog"he slips with a particular sense of humor.
Drafted by the Warriors
Parish stays at home. He goes to Centenary College (Louisiana). This allows her to take care of her two younger sisters since her mother works a lot. The NCAA, surprised to see such great hope in such a small college, is investigating. It is discovered that the entrance exams have been rigged. The organization suggests that Parish choose another university. He refuses. Centenary is banned from official competition for six years. Four years later, in 1976, Robert was drafted by the Golden State Warriors (8th, therefore). The expression on his face and his behavior give the impression that he doesn't give a damn. He becomes the favorite target of the media and the general public.
"I was made responsible for errors that were not mine. I became even more introverted. The situation has deteriorated. My transfer to Boston saved me. »
In 1980, the Warriors traded Parish and a first-round pick (who would be Kevin McHale) for Joe Barry Carroll and Ricky Brown. Everyone knows what happens next: Bird, McHale and Parish win three NBA titles. This exchange remains the worst in the history of the League. KC Jones, who coached the Celtics for two of those titles, says Parish was the element that stuck most to his philosophy.
« He's the team player par excellence. He was Boston's backbone. He sacrificed his individual performances for the good of the club. Without him, we wouldn't have been champions. »
A few years later, the one who wore a double zero at the Celtics is therefore still there. During his last season in Massachusetts, he posted 11.7 points (49.1%), 7.3 rebounds and 1.3 against over 27 minutes. There is no reason for it to stop in Charlotte, one thinks, since Robert pulls out other weapons to last: kung fu – « for flexibility and reflexes » -, swimming, racquetball (different from squash in that you can hit the ball against the wall as low as you want, there is no imaginary net) and jogging – 'to keep in shape'. No alcohol. "It took me 15 years to realize that alcohol dehydrates the body. »
No alcohol but ginseng every day, meditation and jazz, "to promote relaxation". The picture would have been idyllic had it not been for the discovery, during the winter of 1992-93, of marijuana in a letter intended for him… Kareem Abdul-Jabbar ended his career at the age of 42. Robert Parish will beat him quietly. "As long as I can do my job on the pitch, I continue, he then explains. Age means nothing to me. When I'm 50, then yes, it will count. This will mean that I will have lived half a century…"
Parish was unaware at the time that he only had three years left in the League. In the shadow of Alonzo Mourning, he drops to 4.8 points on average (4 times starter, 16 minutes of playing time). The departure of « Zo » for Miami in 1995 does not change anything. He holds 34 times but his playing time drops again and so does his production. In 1996, "The Chief" joined Chicago. His contribution is totally anecdotal but he won a fourth champion ring in a personal capacity.
Four rings and a place in the Hall of Fame
At 43, Parish bows out. He is the third oldest player to have played an NBA match after Nat Hickey (46 years old, very precisely 45 years and 363 days in 1948…) and Kevin Willis (44) who was still dragging his carcass on the US floors there. a few seasons. His record of 1,611 matches played – spread over 21 seasons – has not been beaten.
In 1996, the Bird-McHale-Parish trio, considered the best frontcourt of all time, joined the famous club of the 50 greatest players in history. Boston retired its 00 jersey in January 1998 at halftime of a Celtics-Pacers game, allowing then-Indiana coach Larry Bird to participate in the ceremony. Five years later, « The Chief » became Hall of Famer.
Parish tried his hand at coaching in 2001 with a minor league team (the Maryland Mustangs in USBL). Twenty-five years after the end of his career, he leaves a double image. That of a touchy and inaccessible man. And that of a player nine times All-Star (more than 23,000, more than 14,000 rebounds and more than 2,300 blocks in career), pillar of a legendary team and atypical pivot: slender, versatile, quick in counter- attack and skillful at mid-range.
Like Abdul-Jabbar with the skyhook, Parish invented his special, a very curved jump shot. Bill Walton, who was his teammate from 1985 to 87, once spoke of the « best big man shooter of all time » based on the address of the person concerned (53.7% in career shots and 72.1% in throws francs).