Profile | BJ Armstrong walked on the moon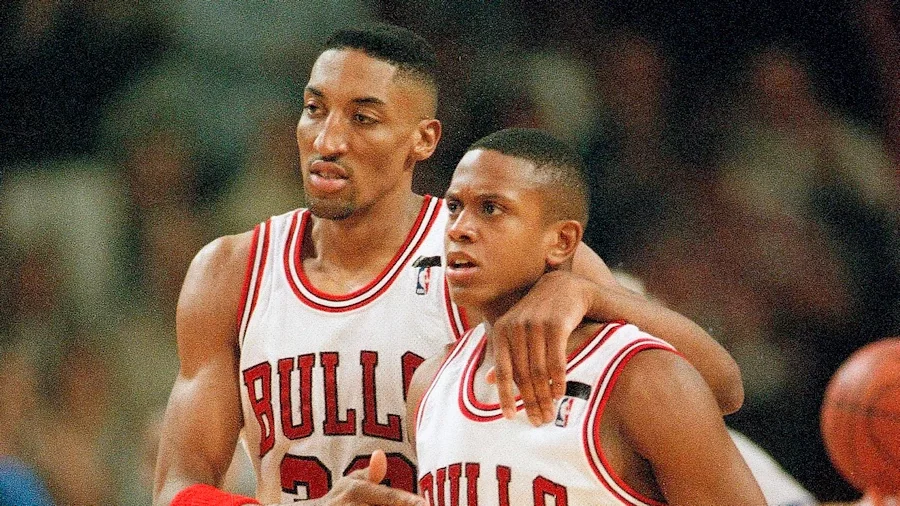 BJ (pronounced "Bi-Djè") as a rapper name. BJ as Handsome Young Man. BJ as Bulls Junior. A leader of 1m88 and 79 kg who has the face and the smile of a kid. "For my son Jeffrey, 6 years old, BJ is the best player in the world. Normal, he thinks that BJ is only four years older than him! »laughs Michael Jordan the day after his first "threepeat".
Benjamin Roy « BJ » Armstrong is also and above all the leader of the best team on the planet in the 90s, the Chicago Bulls. The most envied role in world basketball. Who wouldn't want to be the second element of the back pair? To be associated with Her Majesty and her Lieutenant Scottie Pippen? This is what BJ's life was like from 1989 to 1993, two years before he left for Golden State. As always, it was not all easy. BJ was born on September 9, 1967 in Detroit. At the time, Michigan's largest city, known for its harshness, was still living its golden years as the capital of automobiles and black music. But the ghettos are the toughest in the country. Just like the basketball that we practice there, perhaps the beginnings of the « Bad Boys » double at the end of the 80s. Raised in a close-knit and very religious middle class family, BJ escapes poverty but not the big orange ball . Basketball without stopping but also a brilliant schooling. "I have always had the reputation of being a very promising basketball player and a serious student. »
Doesn't it look like the little crack from the sideboard? And yet, it is the strict truth. At the time, BJ already had a baby face. "It comes from my father. Even today, he must present his identity card to enter a bar…"he exclaims in a great burst of laughter.
His look as a young teenager does not prevent him from being respected on the playgrounds as with his high school team. His two models evolve of course to « Motown ». "I loved Isiah Thomas and Bill Laimbeer. The silky and flawless game of the first, the mental strength of the second. »
As soon as he arrives in the NBA, he thinks about his retraining
In 1985, Armstrong chose the University of Iowa to take a degree in communications and beat the records of the « basketball program ». Four years later, BJ is still frail in pace but he became the best passer in college history, his 4th best scorer and 3rd best interceptor (18.6 pts, 5.4 pds and 1.84 int for his last season with the Hawkeyes). All of this, of course, topped off with a nice diploma. Ah, this physique… Its featherweight has given saliva to gossips. He was even advised to go « be seen » in Europe. "No way. My goal was written in three capital letters: NBA"
In September 1989, the Bulls, who drafted him in 18th position, offered him a contract of 2.4 million dollars for five years. Cheap paid but the competition is huge. Michael I is obviously untouchable. BJ will be number 3, behind Craig Hodges and John Paxson, to form the back pair. At the time, he took care to enroll in a course to follow higher studies in law and history. When we like it… "I continue my studies to be sure to do exciting things after the NBA"he announces.
He arrives in Chicago with two objectives: to gain weight and to learn. Two means: bodybuilding and… John Paxson. "John helped me like no one else. Thanks to him, I always got answers to my questions. I owe him a lot. »he acknowledges.
A first year in the NBA is already a challenge in itself. Even more so with the Bulls… BJ doesn't play much but he's on his way with 5.6 points and 3 assists per game. His learning continues, his playing time increases. The next two seasons, Armstrong won a world champion ring. What to attack the 1992-93 season inflated to block. The opportunity is too good. With the knee injury of John Paxson and the departure of Craig Hodges (cut by the Illinois franchise), the coveted place of starter is offered to him. "BJ is not of an aggressive temperament but he has learned to be. This allowed him to broaden his game, "says Phil Jackson.
Only small problem: its lack of regularity. He is also sometimes criticized for thinking more about creating his own shoot than organizing the game itself. Rather embarrassing for a leader. What's more, Paxson is operational and effective at 3 points again…
But during the 1993 playoffs, Armstrong will make everyone agree. The kid-faced man devours all the opposing leaders. In its own way. A suffocating defense. A perfect mastery of the Bulls' highly elaborate game. And to crown the game, an insolent address spiced up with a few killer 3-point baskets. A true leader. No wonder for someone with ambition « to play a political role on a global scale ». Pretty smile. Cultivated. Passionate about literature and rap. Hardworking, fine, well brought up. And three times basketball world champion… Here is an interesting and original CV for posting on election billboards. BJ repeats it over and over again: « I'm a proud black man » (I am a proud black). Michael Jordan himself pays tribute to him: "BJ has proven himself to be a great leader. After experiencing difficult times, he imposed himself with brilliance and pride. »
Ask Mookie Blaylock (Atlanta), Mark Price (Cleveland), Doc Rivers (New York) or Kevin Johnson (Phoenix), his opponents during the final phase, if it is normal for Armstrong to be the worst starting point guard then paid from NBA. The answer is unanimous. » Nope. He is going to be raised and paid like a star. » » It's planned « says one in the entourage of Jerry Krause, the GM of Chicago.
Number 1 3-pointer in the NBA in the year of the « Threepeat »
For BJ, this third title is worth gold. First because he participated as a holder (and in what way). Then because the Bulls found themselves back against the wall during the regular season and during the Finals. Also, « Gueule d'ange », the most skillful 3-point player in the League in 1993 (45.3%), can savor: "You can't imagine how happy I am. It is an experience that will bring me a lot. We won't stop therehe prophesied. This title is the most important of the three because it took a lot more work. We had challenges to meet all year, on and off the pitch. Me, I had to improve my level of play and prove that I had my place in the five. I believe it is done. We are the best in the world! »
With Michael Jordan gone, Armstrong assumes his responsibilities. He ranks 3rd in the Bulls' leading scorer behind Scottie Pippen and Horace Grant (14.8 pts on average) and finishes 2nd in the League for 3-point success percentage (44.4%).
Second in the Central Division with 55 wins and 27 losses, Chicago was beaten by New York in the Conference semi-finals (4-3). At least BJ has obtained the ultimate recognition: he is named starter for the All-Star Game in Minneapolis (11 pts and 4 pds in 22 mn) where Pippen and Grant accompany him. During the following season, BJ remained the team's third best scorer (14 pts), behind Pippen and Kukoc, until the return of Michael Jordan. Another failure awaits the Bulls in the semis (4-2 against Orlando). End of the prosperous period for BJ who will be, for the record, the last Chicagoan to wear the number 10 (later withdrawn in memory of Bob Love).
On June 24, 1995, the Detroit native was Toronto's 1st pick in the expansion draft. No exile in Canada: the following September 18, he was sent to Golden State in exchange, in particular, for Carlos Rogers and Victor Alexander. The competition with Tim Hardaway only lasts for a while.
Assistant GM to the Bulls, then scout, then agent for Derrick Rose and Javale McGee
During the year, the former member of "Run TMC" goes to Miami. Armstrong appears at 12.3 points on average in a team now entrusted to the tandem Latrell Sprewell-Joe Smith (1st draft pick 1995). The best is behind him, even if he will establish the third biggest series of matches played consecutively, 577. In November 1997, the three-time NBA champion takes over the management of Charlotte, exchanged for Muggsy Bogues and Tony Delk. In March 1999, new move, this time in Los Angeles (transferred with Glen Rice and JR Reid against Eddie Jones and Elden Campbell). Left free by the Lakers, Armstrong will pass through Orlando before ending his career in Chicago, his team forever, in 1999-2000.
Contrary to what we thought, « Gueule d'ange » will not go into politics. He assists the GM, Jerry Krause, until the latter's resignation in 2003. In a small wink of fate, BJ is dismissed from the position of president of basketball operations in favor of John Paxson, whom he had replaced as starting point guard a decade earlier. Armstrong played scouts for Chicago until 2005 before becoming a consultant and then a players' agent.
He still defends the interests of Derrick Rose, in particular, but also those of Javale McGee or Josh Jackson. In total, its customers will accumulate nearly 30 million dollars this season!
Career Stats
13 years
747 matches (341 times starter)
9.8 pts, 1.8 rbd, 3.3 pds, 0.71 int
47.7% on shots, 42.5% on 3 points, 85.6% on free throws